Operation Rescue continues to call for criminal prosecutions of Planned Parenthood officials who are breaking the law

By Cheryl Sullenger
[Corrected from previous version.]
Washington, DC – Early this morning, the Center for Medical Progress released their ninth video exposé on Planned Parenthood's participation in illegally selling fetal body parts for profit.
Today's installment focuses on one luncheon meeting with actors posing as representatives of a biotech company and StemExpress' CEO Cate Dyer.
Dyer explains how her relationship with Planned Parenthood has been a profitable one because of the increasing demand for fetal tissue. Planned Parenthood provides the volume they need to keep up with the demand, which StemExpress struggles to fill. Fetal livers, in particular are in such great demand that her business cannot keep up.
Dyer was seeking a partnership with the actors, hoping to increase her supply of fetal tissue products.
"What would make your lab happy?" the buyer asked.
"Another fifty livers a week," Dyer responded without hesitation.
"We're working with, you know, almost triple digit number of clinics. So it's a lot on volume, and we still need more than what we do. So it's a lot," she said.
According to Dyer, StemExpress does about half their fetal tissue procurement business with Planned Parenthood and the other half with "independent" abortion clinics. But she explained, "Planned Parenthood has volume, because they're a volume institution."
Dyer said she feels great support from Planned Parenthood CEO Cecile Richards and Senior Medical Director Deborah Nucatola.
"You know, Everyone at PPFA and just the affiliates – I just think you're either in the cause or you're not. And if you're not in the cause, like, they don't need you around," Dyer said. "The need champions, and if you're not a champion, then you should go. Because that's just, you know – I don't know, the clinics, they're very guarded, as they should be. Who do they let in their house? They want champions in their house. Right?"
As for profitability, StemExpress makes sure that their partner clinics see a financial benefit from partnering with it. A brochure produced for Planned Parenthood abortion clinics assure them that they will see fiscal rewards from their participation in fetal organ harvesting. The brochure is even endorsed by Planned Parenthood's Dr. Dorothy Ferguson of the Mar Monte affiliate.
"But there's clinics out there that have been burned that feel like they're doing all this work for research and it hasn't been profitable for them. . .I don't see that either," said Dyer.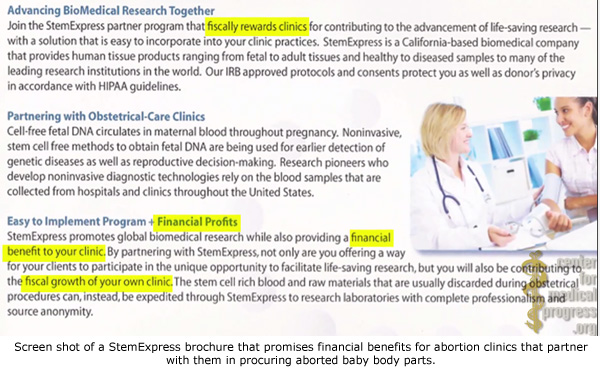 "There can be no doubt of the profit motive behind Planned Parenthood's participation in the illegal selling of aborted baby remains. If they say otherwise, they are just trying to deny their part in criminal conduct. Right now, everyone at Planned Parenthood is trying to save their own hides from criminal prosecution, so they'll never admit to anything," said Troy Newman, President of Operation Rescue who sits on the Board of the Center for Medical Progress.
Dyer also discusses the challenges of organ procurement from abortion clinics. She complains that some providers are destroying samples that have been promised to StemExpress customers. Others, she said, cannot properly identify organs and have, for example, misidentified blood clots for fetal livers, which costs her company money.
But dealing with clinics that supply tainted tissues seems to be her main problem with abortion facilities.
"Big issue I mean, so you know, we've seen all sorts of things, but yeast contamination, you know, that can be an issue, she said.
Dyer said her company is forced to take steps to make sure they are not investing a lot of money in tissue samples that are contaminated.
"Sometimes you find that it can be clinic-specific. I've seen really rampant, rampant problems with bacteria in certain clinics. Some where you're kind of like in question of really, should they, you know – I've see staph come out of clinics. So, I mean, I've seen all sorts of things come out of clinics. . ."
Dyer discusses the difficulties of procuring brains for those who request them.
"As you probably know, potentially, I mean, I think that one of the issues with neural tissue, it's so fragile. It's insanely fragile. . .I know we get requests for neural. It's the hardest thing in the world to ship."
She agrees that shipping the whole calvarium, or head of the baby, is the easiest way to ensure the brain tissue arrives at its destination intact and usable.
"And I mean, we've actually had good success with that," said Dyer, indicating that intact heads are the best way to procure brains.
"But make sure the eyes are closed," joked the buyer. Dyer obviously appreciated the joke and laughed heartily. It even got a bit of a smile out of the otherwise stoic gentleman that accompanied Dyer to the business lunch.
Dyer took the joke further, "Yeah! Tell the lab it's coming! So they don't open the box and go, 'Oh God!'"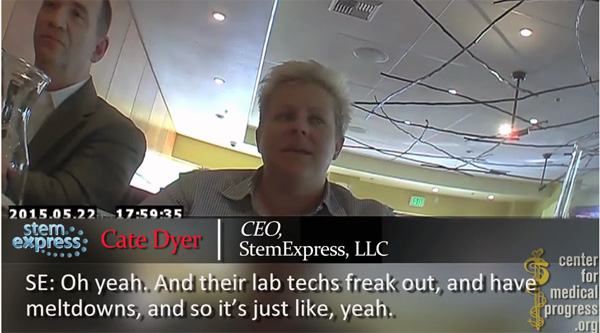 After the laughing subsided, Dyer relates an important insight about researchers she deals with and the denial many of them must embrace in order to conduct their experimentation on human baby body parts.
"So yeah, whereas so many of the academic labs cannot fly like that, they're just not capable. . .It's almost like they don't want to know where it comes from. I can see that. Where they're like, 'We need limbs, but no hand and feet need to be attached.' And you're like, ? Or they just want the long bones and they don't want to see – They want you to take it all off, like, 'Make it so that we don't know what it is.'"*
"Yeah, 'Bone the chicken for me and then I can eat it," the buyer adds.
"That's it. But we know what it is, I mean, but their lab. . .And their lab techs freak out, and have meltdowns, and so it's just like, yeah," said Dyer.
Dyer described why many researchers are squeamish about using fetal tissue.
"Because they sort of want to get away from having to publish a picture – a paper that says this was derived from fetal tissue," she explained.
"There are ethical and moral issues with experimenting on human tissues derived from aborted babies. It is completely different than handling adult tissues," said Newman.
Adult tissue procurement is highly regulated. Consents are signed and the remains are treated with respect. Often, the unused remains are returned to the families for interment. But not so with fetal remains.
"Babies can't consent. Their remains are treated as a commodity, not with the respect of a human being. There is something innately exploitive and morally troubling about using baby remains in this way," said Newman. "It is a fact that exploitive human experimentation on murdered people took a toll on the Nazi doctors during World War II. There is plenty of historical precedent to warn us against such barbarity. In truth, there are other ways to conduct beneficial research other than abusing the remains of pre-born babies."
In the meantime, Operation Rescue continues to call for criminal prosecutions of Planned Parenthood officials engaged in the trafficking of aborted bay remains for profit.
The Center for Medical Progress plans to release additional videos in the coming days and weeks.

View full press release from the Center for Medical Progress
View Operation Rescue's full archive of stories related to the CMP Videos
*Note: Corrected quote above properly attributes the "bone the chicken" quote to the buyer, not Dyer.