By Cheryl Sullenger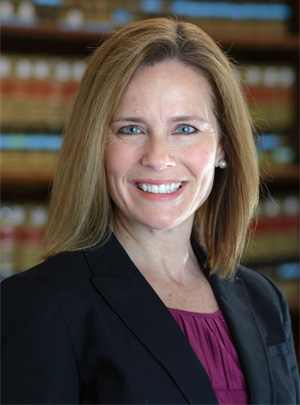 Washington, DC – In a rare Sunday session, the U.S. Senate voted to limit debate, clearing the way for a final confirmation vote on Amy Coney Barrett's nomination to the U.S. Supreme Court, which is expected later today. Barrett is the first nominee to openly hold personal pro-life beliefs.
Initially, Senate Democrats indicated they may boycott the final vote and just not show up, as they did in the Judiciary Committee last week.  But now, it appears there will be a full vote on Barrett's confirmation with Democrats and Republicans voting.
All Democrats are expected to vote "No," including Sen. Joe Manchin (D-WV), who bucked party pressure two years ago and voted to confirm Brett Kavanaugh after a contentious confirmation process.
Also announcing her "No" vote over the weekend was Sen. Susan Collins (R-ME), who cast the dramatic deciding vote on Kavanaugh's confirmation. Collins is locked in a tight re-election race, and is appears she is attempting to appease her pro-abortion supporters who roundly criticized her Kavanaugh vote.
However, Lisa Murkowski (R-AK), who had voiced disapproval for the Barrett nomination so close to an election, has announced that she will be voting to confirm President Trump's third nominee to the Supreme Court.
Despite the partisan nature of this vote, Barrett, who sailed through her hearing in the Judicial hearing while displaying great intelligence and grace – is expected to be easily confirmed and take her place on the Supreme Court. That will give conservatives a 5-4* majority on the nation's highest court for the first time in decades.
A final vote is expected to take place today, October 26, 2020, at around 7:00 and 8:00 p.m. Eastern time.
"For years, we have seen one openly leftist, pro-abortion Supreme Court Justice after another, but if nominees held personal pro-life viewpoints, they have been unfairly required to remain mute on their beliefs out of fear of being disqualified. Amy Coney Barrett has broken that mold and has proved that she is just as worthy as any other justice to sit on the U.S. Supreme Court," said Operation Rescue President Troy Newman. "We are very proud of her and thankful to President Trump for her nomination."
Please take a moment today to contact both your Senators and ask them to vote to confirm Amy Coney Barrett to the Supreme Court. Even Democrat Senators need to hear from us so they understand the deep support for her.
Contact information for all Senators at this link.
______
*Chief Justice John Roberts, who many believed was a conservative, has repeatedly voted with the liberal faction of the court on important cases, and, in our opinion, can no longer be counted as a part of the conservative majority.