By Cheryl Sullenger
Washington, DC – The House Judiciary subcommittee investigating Planned Parenthood will hold its second hearing today, October 8, 2015, at 2:00 p.m. Eastern. It will be webcast live at http://judiciary.house.gov/.
Wednesday, the House voted 242-184 to establish a select committee that will have broad powers to subpoena documents and call witnesses and will have great latitude to investigate not only the subject of fetal tissue trafficking, but abortion practices in general.
Today's hearing comes on the heels of a Federal Court ruling earlier this week that allows the Center for Medical Progress, which conducted an undercover investigation of Planned Parenthood's involvement in the illegal sale of aborted baby remains, to honor a subpoena from the House Oversight Committee for the complete undercover videos taken at National Abortion Federation annual meetings.
Other recordings that were taken by the CMP at Planned Parenthood facilities and meetings were never at issue in the case and some of that footage has already been released in the form of 10 summary videos that show Planned Parenthood engaged in negotiations for top dollar in exchange for fetal organs. These videos prompted four Congressional investigations, as well as investigations in a number of states.
Previously, the NAF sued the CMP, David Daleiden, and board member Troy Newman to block the release of the video. The NAF was granted a temporary injunction by San Francisco Federal Court Judge William H. Orrick III, preventing the release of video related to the NAF to any third party. At first, this included law enforcement and Congress.
However, on October 6, Judge Orrick finally issued an order that allowed the CMP to honor the Congressional subpoena so the raw footage could be released to Congress, clearing the way for all the evidence involving the illegal sale of aborted baby remains to be fully evaluated.
"We are encouraged that Congressional committees can how hear the whole truth that clearly shows Planned Parenthood and the NAF working together to traffic aborted baby remains," said Newman. "We believe the videos contain enough evidence to launch criminal investigations into Planned Parenthood's side business selling baby parts."
"The National Abortion Federation is a criminal organization that has spent years conspiring with Planned Parenthood on how to violate federal laws on partial-birth abortion and fetal tissue sales," noted David Daleiden, who led the investigation.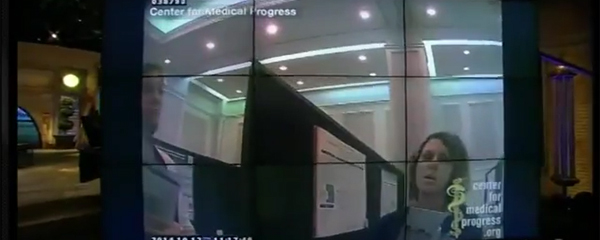 The news that Congress can finally have access to the CMP's raw video follows the release of a careful forensic analysis of the videos done by Coalfire Systems, Inc. at the request Alliance Defending Freedom. This report that shows the videos are authentic. Full videos posted by the CMP's Youtube.com channel were edited to remove only extraneous immaterial footage such as bathroom breaks, and traveling in the car on their way to a Planned Parenthood event or facility.
The Coalfire Systems report essentially debunked a dubious "analysis" done by leftist political cronies of Planned Parenthood that claimed the CMP videos were "altered."
Meanwhile, new video footage released during an interview with David Daleiden by Lila Rose for The Blaze shows abortionist Amna Dermish of Planned Parenthood Greater Texas in Austin, nonchalantly describing how she manipulates the child into "breech" position in order to ensure intact body parts that can then be sold to biologics companies. In the short video clip, Dermish noted that she tries to keep the torso of the baby intact by grasping the baby's spine and pulling the baby's remains from the womb. Dermish conducts abortions up to 24 weeks gestation.
Altering an abortion procedure for the purpose of ensuring intact fetal remains for sale or donation is illegal.

Today's Congressional hearing will feature testimony from the following people:
• Dr. Anthony Levatino, Obstetrics and Gynecology, Las Cruces, New Mexico
• Ms. Susan Thayer, Former Planned Parenthood Manager, Storm Lake, Iowa
• Ms. Caroline Fredrickson, President, American Constitution Society
• Ms. Luana Stoltenberg, Davenport, Iowa
"We look forward to hearing testimony from Dr. Levatino, who is a former abortionist that is now pro-life, and from our good friend Susan Thayer, who exposed Planned Parenthood's practice of fraudulently billing government programs," said Newman. "We are gratified that Planned Parenthood's dirty little secrets are being exposed and look forward to criminal prosecutions that are sure to result."