By Cheryl Sullenger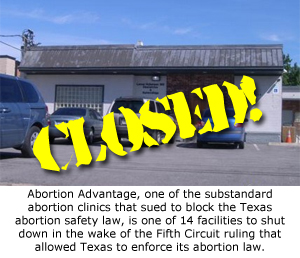 Austin, TX – On the first Monday after an appeals court ruled that Texas abortion laws could be enforced, Operation Rescue has confirmed that 14 of 23 abortion facilities in Texas that were open for business before last Thursday's ruling are either closed or no longer accepting abortion patients.
Operation Rescue called each of the 23 remaining Texas abortion clinics on the morning of October 6, 2014, and confirmed the closures. The research also revealed that the closures simply have not resulted in long waiting times for abortion appointments as wrongly predicted by abortion supporters.
"We are encouraged by the closure of these fourteen abortion facilities that were operating under substandard conditions that endangered the lives of women," said Troy Newman, President of Operation Rescue, which has worked to expose abortion abuses in Texas uncovered during its investigations in that state. "Abortion numbers should reach all-time lows in Texas, and that should be welcome news to everyone."
Already, about half of the abortion clinics in Texas have closed due to a provision that requires abortionists to maintain local hospital privileges. Those closures have resulted in dramatic decreases in abortions in Texas, according to numbers released recently.
On Thursday, the Fifth Circuit Court of Appeals ruled that Texas could immediately begin to enforce HB2, a controversial state abortion safety law while the legal challenges is being appealed. This meant that for the first time, the state could enforce the regulation that requires abortion facilities to meet Ambulatory Surgical Center standards. Facilities that could not meet those safety standards were forced to close.
The fourteen abortion facilities that have halted abortions are:
• Austin Women's Health Center in Austin
• International Healthcare Solutions in Austin
• Abortion Advantage in Dallas
• Planned Parenthood Health Services of North Texas in Dallas
• Routh Street Women's Clinic in Dallas
• Hilltop Reproductive Health Services in El Paso (currently referring to their abortion facility in Santa Theresa, New Mexico)
• Whole Women's Health in Fort Worth
• AAA Concerned Women's Center in Houston
• Aalto Women's Center in Houston
• Houston Women's Clinic in Houston
• Suburban Women's Clinic on Richmond in Houston
• Suburban Women's Medical Clinic on Red Oak in Houston
• Women's Center of Houston
• Whole Women's Health in McAllen
Operation Rescue confirmed that nine abortion facilities remain open in Texas, including one in Austin, two in Dallas, one in Fort Worth, two in Houston, and three in San Antonio. Those abortion businesses are:
• Planned Parenthood of South Austin
• Southwestern Women's Surgery Center in Dallas
• Planned Parenthood South Dallas Surgical Center
• Planned Parenthood of Southwest Fort Worth
• Texas Ambulatory Surgical Center in Houston
• Planned Parenthood Center for Choice in Houston
• Alamo Women's Reproductive Services in San Antonio
• Whole Women's Health in San Antonio
• Planned Parenthood Babcock Clinic in San Antonio
However, of the nine abortion centers that remain open, Southwestern Surgery Center in Dallas was suffering a power outage and could not immediately take abortion appointments. A receptionist at that facility was asking women to call back later.


Listen to the Southwestern Surgery Center receptionist discuss power outage.
At the Planned Parenthood center in San Antonio a message noted that the "call could not be completed as dialed." Phones at Planned Parenthood facilities in South Dallas, Austin, and Fort Worth simply did not ring Monday morning and appointment schedulers were unreachable.
Other facilities that remained open for abortions quickly answered their phones and most offered the first appointment this week that is required before an abortion can be done. Appointments for the abortion procedures available between Tuesday and Monday.
The Texas Ambulatory Surgical Center in Houston, owned by the notorious late-term abortionist Douglas Karpen, offered a first appointment today and the abortion tomorrow. Karpen holds no hospital privileges and cannot legally do abortions, although pro-life witnesses who offer help to women outside his facility have told Operation Rescue that they see him at the clinic several times per week.
Only Whole Women's Health in San Antonio had a longer than expected appointment wait time, with the earliest offered appointment being two weeks away.
"This is such great news for those who cherish life. Our experience, confirmed by state abortion statistics proves that when abortion facilities close, abortions are reduced and lives are saved," said Newman. "There are literally dozens of pregnancy help centers in Texas that offer free resources to women in crisis pregnancies standing at the ready to assist women with life-affirming help. With that kind of support, there is no reason for women to not get the help they need during their pregnancies."
Interestingly, the recorded message that was played while callers were on hold at the Planned Parenthood in Houston assured callers that "Planned Parenthood stores are open."
"It's unusual for an abortion facility to describe itself as a 'store' but that is really what they are. They sell abortions to women, often using high-pressure sales techniques," said Newman. "Marketing abortions to vulnerable women is what the abortion cartel is all about. Their resistance to meeting basic medical standards proves that they put profit first and the safety of their customers last."
Newman and his colleague, Cheryl Sullenger, detail the strategy for closing abortion facilities in their new book, Abortion Free, which was released last week and is now available at Amazon.com.