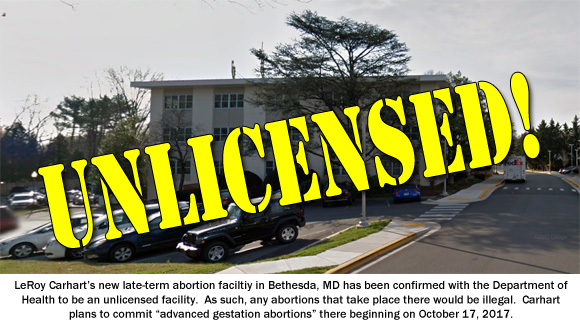 By Cheryl Sullenger
Bethesda, MD – Operation Rescue has received confirmation from the Maryland Department of Health and Mental Hygiene that the new late-term abortion facility located at 10401 Old Georgetown Road, Suite 104 in Bethesda, Maryland, is not licensed as an abortion facility as required by state law.
The facility, currently operating under the name AbortionClinics.org, Inc., is run by Nebraska late-term abortionist LeRoy Carhart.
That means any abortions he plans to do beginning on October 17, 2017, would be illegal.
Since Operation Rescue released the address of Carhart's secret new abortion facility yesterday, the AbortionClinics.org web site has been changed to show a location in Bethesda, Maryland, along with an announcement that it would be "Offering advanced gestation abortion care in Maryland Starting Tuesday, October 17th!"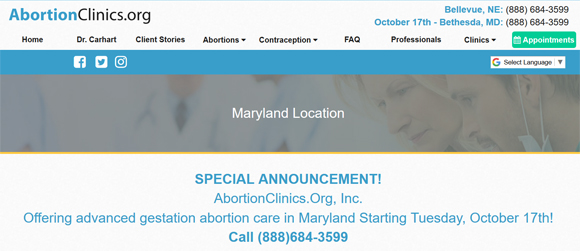 "There is no way Carhart could get the Bethesda location licensed by next Tuesday. It looks like he thought he could sneak some abortions in under the radar without having to comply with licensing laws," said Troy Newman, President of Operation Rescue. "This is just another example of how much disregard Carhart has for the law and for the safety of his patients."
Operation Rescue researchers uncovered the location of Carhart's unlicensed abortion business through a successful undercover investigation.
Today, two complaints were filed by Operation Rescue with the Maryland Department of Health and Mental Hygiene and with the Maryland Board of Physicians.
"We trust that any effort to open that Bethesda facility without a valid license will be met with swift action on the part of Maryland authorities, who are already aware of the situation," said Newman.
Meanwhile, local and national pro-life leaders plan to hold a press conference outside the illegal Bethesda abortion office on October 17, 2017, to announce further plans to oppose the dangerous new facility. Details to follow.