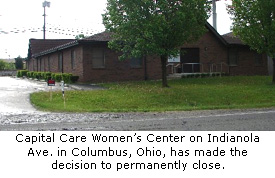 Columbus, OH – Capital Care Women's Center, an abortion clinic in Columbus, Ohio, will be closing this week, according to local pro-life activists.
Operation Rescue released leaked hospital transcripts last week that show a history of botched abortions Capital Care. Most recently, a 19-year old Capital Care abortion patient was admitted to a Columbus hospital after suffering excessive bleeding and pelvic pain after her abortion in her tenth week of pregnancy. According to transcripts, she suffered from a hematoma, (internal bleeding inside the tissues), and excessive clotting.
The decision to close the clinic came just two days after Operation Rescue released the information about the botched abortion and announced complaints would be filed.
"This closure is one of several in the past few weeks that has brought the number of surgical abortion clinics to a new low of 659. We thank God for these closures, because we know when abortion clinics close, innocent lives are spared," said Cheryl Sullenger, Senior Policy Advisor for Operation Rescue and Pro-Life Nation. "We congratulate the faithful pro-life activists in Columbus, and look forward to the day when Columbus and all American cities are abortion-free."
Capital Care has been plagued with decreased business and financial problems. They recently cut back clinic hours due to difficulty keeping abortionists. An increasingly strong pro-life presence in Central Ohio is credited with contributing to the decision to close.
The two abortionists known to work at Capital Care are Harley Blank and Thomas Michaelis. Blank, who also works at the Founder's Women's Health Center abortion clinic in Columbus was honored by Planned Parenthood earlier this year for his 30-year career as an abortionist in Columbus.
Michaelis, who now works at the Capital Care Network abortion clinic in Toledo, has a history of a different sort. In 1991, he was convicted of two counts of Attempted Gross Sexual Imposition, one count of Voyeurism, and one count of Public Indecency. The convictions involved incidents where Michaelis engaged in sexual predation on minor girls.
"Sex crimes are relatively common amongst abortionists. It is the abortion industry's dirty little secret they want no one to know. It is a tragic reality that any woman that walks into an abortion clinic today is placing herself at risk that sex crimes will be committed against her. We certainly won't rest until every one of these predators are out of the medical profession for good," said Sullenger.