Three stunning new developments in the heated battle over abortions in Missouri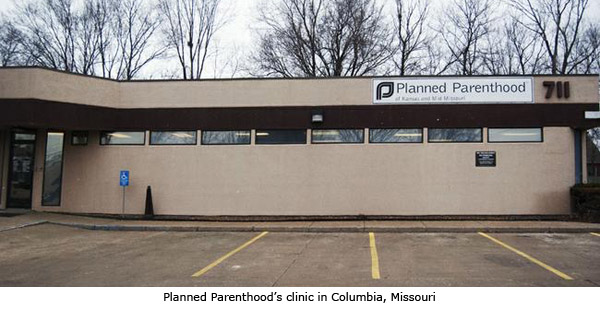 By Cheryl Sullenger
Columbia, MO – As the result of the Eighth Circuit's reversal last week that halted enforcement of a Missouri licensing requirement that required abortionists to maintain hospital privileges near the abortion facilities where they work, the Columbia Health Center Planned Parenthood received an abortion license yesterday and reportedly began scheduling surgical and medication abortions immediately.
"We know that Missouri pro-life supporters have put their hearts and souls into protecting women and their babies from being targeted for abortions in Columbia. We feel their disappointment and grief at the loss of innocent human life that will now resume in their community," said Troy Newman, President of Operation Rescue. "However, this isn't over by any stretch. We know the state will continue to fight to defend their common-sense abortion safety laws, while dedicated pro-life activists will rise to meet the challenge to offer love, hope, and practical assistance to abortion-bound women at the doors of the abortion business."
Satanists denounce Satanists
Meanwhile, in a bizarre turn of events, the Church of Satan has publicly denounced The Satanic Temple (TST), which is challenging Missouri's 72-hour reflection period prior to abortions, calling them a "satire/activist group that uses satanic-themed imagery and language to get media and public attention."
In a statement posted on the Church of Satan web site, a representative known as "Reverend Joel Ethan" wrote:
A little bit of research makes it clear that The Satanic Temple is self-acknowledged satire and an activist group, which pretends to be a religion when it suits their ends. . . We consider anyone claiming to be a Satanist and solely using TST membership as evidence as either being misinformed or as lying. The supposedly "sincerely held beliefs" of TST adherents are scanty, nebulous, and contradictory.
The statement was accompanied by a heavily documented fact sheet exposing the group's origins and a series of leaders all using assumed names.
The Missouri Supreme Court recently agreed to hear The Satanic Temple's claim that the 72-hour abortion reflection period violates their religious beliefs.
"If the Church of Satan's information is true, it is clear that The Satanic Temple is a farce and not a religious group at all. Based on this new information, their challenge to the life-saving reflection period should be immediately dismissed," said Newman.
One example of how the 72-hour abortion reflection period saves lives can be seen in reports from Kathy Forck, a Columbia pro-life leader that was on the scene at the newly licensed Kansas City Planned Parenthood during its first week of offering medication abortions. She noted that of the eleven women received the informed consent information, only four returned for abortions. One of those four women changed her mind at the last minute after speaking to pro-life activists who were praying on the street outside the abortion facility. That left only three out of eleven women who actually carried through with abortions.
"The reflection period, coupled with the prayer and offers of help from pro-life supporters on the street is a powerful combination that is effective at saving lives. If Planned Parenthood was really about respecting a woman's choice, they should be completely supportive of the reflection period that gives women an opportunity to thoughtfully consider informed consent literature and all their options," said Newman.
Planned Parenthood sues again
In one final development that proves the abortion businesses are selective about what information is given to their prospective abortion customers, Planned Parenthood Great Plains, Planned Parenthood of the Greater St. Louis Region, and the ACLU filed a lawsuit Tuesday in Jackson County Circuit Court challenging the state-mandated written informed consent aspect of a comprehensive abortion law that is set to take effect in two weeks. (Read the Petition)
The abortion businesses found several objectionable statements in the informed consent literature such as "life begins at conception" and the fact that an abortion "will terminate the life of a separate, unique, living human being."
That lawsuit is expected to be defended by the state.
Newman asked for pro-life supporters to remember those engaged in this fierce battle for the lives of the innocent in Missouri. "We are asking supporters around the country to pray for Missouri and the efforts to protect women and babies from exploitation by Planned Parenthood," said Newman. "I have every confidence that in the end, the cause of Life will prevail."
Read related story