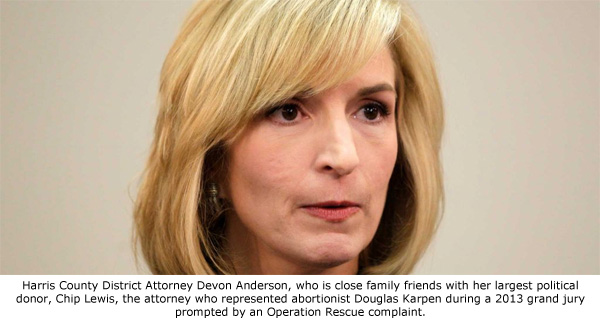 By Cheryl Sullenger
Houston, TX — Yesterday, motions were filed in Harris County, Texas, on behalf of David Daleiden seeking to toss out the criminal charges against him brought by a grand jury in retaliation for his undercover videos that exposed Planned Parenthood Gulf Coast's involvement in the illegal sale of aborted baby remains.
The motions accuse the office of District Attorney Devon Anderson of colluding with Planned Parenthood – who was supposed to be the subject of the investigation — and others to improperly extend the grand jury for the purpose of launching a new investigation against Daleiden and his associate, Sandra Merritt.
The motion also present six exhibits to support their accusations, which focused on public statements made by PPGC's attorney, Josh Schaffer, who not only admitted to having communication with Harris County prosecutors throughout the "investigation," but bragged that he persuaded Anderson to turn the grand jury against Daleiden.
Schaeffer was also quoted in an Associated Press article stating that "the grand jury never even voted on possible criminal charges" against Planned Parenthood. Schaffer's statement was in conflict with Anderson's press statement that Planned Parenthood had been "cleared." If no vote was taken, no determination on Planned Parenthood was ever made.
In fact, once Daleiden and Merritt were charged, evidence was released by Operation Rescue's Texas attorney, Briscoe Cain, that proved Planned Parenthood Gulf Coast was engaged in providing fetal body parts from aborted babies to four public-funded Texas universities. That evidence was ignored by Anderson.
Grand jury proceedings are supposed to be secret, but apparently, this one leaked like a sieve – but only in the direction of Planned Parenthood and its cronies," said Operation Rescue President Troy Newman, who served as a founding board member for Daleiden's Center for Medical Progress. "The grand jury was so tainted with improper conduct that all the charges against Daleiden and Merritt should be thrown out immediately, with a huge apology included!"
According to Daleiden's brief, there appeared to be a free-flow of information passing between Anderson's office, Planned Parenthood, and the National Abortion Federation, (NAF). Last year, the NAF sued Daleiden and Newman in a San Francisco Federal Court to block the release of incriminating videos taken at NAF meetings that allegedly showed the NAF was also involved in the illegal sale of aborted baby remains. Later, Planned Parenthood filed its own suit in that same court against Daleiden, Newman, and others who were involved with the CMP.
On January 5, 2016, Daleiden's attorneys representing him in the NAF case received a letter from NAF attorneys notifying them that "certain video evidence covered by a Temporary Restraining Order (TRO) had been produced" to the Harris County Grand Jury.
Exhibit C attached to Daleiden's motion to quash the charges against him is the key to understanding how the "secret" grand jury process was violated.
That exhibit consists of an e-mail from Anshu Mitchell to one of Daleiden's attorneys, Katie Short, of Life Legal Defense Foundation. Mitchel is an attorney with the Harris County District Attorney's office. In that email, Mitchell notes that "we were providing copies of what you had given us to both Josh Schaffer [PPGC's attorney] and Randy Schaffer. The Schaffers are both partners in the Houston law practice The Schaffer Firm.
If grand jury proceedings are supposed to be secret, why would Anderson's office provide Planned Parenthood's attorneys with items produced by Daleiden, especially if Planned Parenthood was not the target of the investigation?
"The defendant believes and is informed that the National Abortion Federation was notified of the contents of Mr. Daleiden's grand jury production by Planned Parenthood Gulf Coast," stated Daleiden's attorneys in his motion to quash the Harris County charges. "Defendant also believes and has been informed that, throughout the instant grand jury proceedings, prosecutors provided some or all of the evidence produced to the grand jury – including the TRO videos and other material produced by Daleiden – to the target of its investigation, Planned Parenthood Gulf Coast."
Daleiden's attorneys also note that the grand jury was wrongly extended beyond its expiration time for the purpose of improperly shifting the investigation onto Daleiden and Merritt.
"Allegations of collusion and deception are nothing new for Devon Anderson's office. We believe Anderson also allowed personal biases to subvert the grand jury process in 2013, when another abortionist provider, Douglas Karpen, was never charged despite several eyewitnesses and photographs of babies who were said to have been born alive and murdered by slashing their necks and twisting their heads nearly off," said Newman. "There is definitely a disturbing history of suspicious conduct here."
Anderson is well-known to be a close friend of Karpen's attorney, Chip Lewis. After Anderson's grand jury "no-billed" Karpen, Lewis donated $25,000 to Anderson's political campaigns.
"The actions taken by Anderson's grand juries in both the Daleiden and Karpen cases reek of corruption," said Newman. "Not only should charges against Daleiden and Merritt be dropped, but while they are at it, an independent prosecutor should be appointed by someone not affiliated with Devon Anderson to reopen the Douglas Karpen murder investigation."
Read Daleiden's Motion to Quash Indictment (Felony)
Read Daleiden's Motion to Quash Indictment (Misdemeanor)
Read more about the Karpen murder case.