Complaints filed this week demand immediate inspections in Mississippi in light of Alabama's findings
By Cheryl Sullenger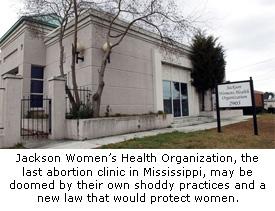 Jackson, MS — The scheduled closure of New Woman All Women, a troubled abortion clinic in Birmingham, Alabama, is now focusing the spotlight on its sister clinic, Jackson Women's Health Organization, the last remaining abortion clinic in Mississippi.
Both clinics are owned by abortion profiteer Diane Derzis, who currently owns clinics in Alabama, Mississippi, Georgia, and Tennessee in spite of having no formal medical training.
Derzis-run abortion clinics have long and sordid histories of botched abortions, health code citations, and violations of the standard of care that have landed women in the hospital. An inspection by the Alabama Department of Public Health (ADPH) conducted in response to complaints filed after a January 21, 2012, incident that hospitalized a total of three abortion patients resulted in a 76-page deficiency report that was more than enough to prompt the ADPH to launch revocation proceedings against the clinic. That deficiency report was one in a long series of citations filed against that clinic since 2003.
Last Friday, less than 24 hours after pro-life groups demanded action, the ADPH announced that it had reached a consent agreement with Derzis to close the New Women All Women abortion clinic. The clinic must stop doing abortions by May 11 and all operations are to cease by May 18.
Derzis' abortion clinic in Jackson, Mississippi, is run the same way as her now condemned Alabama abortion business. In fact, it employs some of the same abortionists, including Bruce Elliott Norman, who was the abortionist on duty at NWAW that day in January when three of his abortion patients were hospitalized with complications arising from violations in the standard of care. Two women were overdosed on an IV drug, and another woman landed in the ICU with heavy bleeding after she was left unmonitored while being dosed with a strong medication that causes powerful uterine contractions.
Operation Rescue has filed a formal complaint with the Mississippi Department of Health asking for an immediate investigation of JWHO in light of the violations discovered by Derzis' clinic in Alabama and the agreement to permanently close that clinic.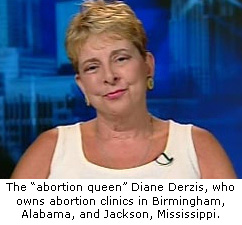 "It is unfathomable how these shoddy clinics can be seen as anything other than predatory businesses that exploit vulnerable pregnant women for profit while cutting corners on women's health," said Troy Newman, President of Operation Rescue and Pro-Life Nation. "Women need to be protected from these dangerous abortion businesses."
With the recent abortion complications in Alabama in mind, Mississippi's legislature quickly passed HB 1390, which provides some of the protection women so desperately need. Those protections include ensuring that abortionists are board certified or eligible in obstetrics and gynecology, and requiring that abortionists maintain admitting privileges at a local hospital.
"The Legislature had every right to pass this law for the sake of public safety, as evidenced by the scathing Alabama report. Of course, the abortion apologists are angry about this bill because it makes them accountable to a higher standard, which they apparently think women do not deserve," said Newman. "Opposition to this common-sense safety law shows a complete lack of concern for women on the part of abortion businesses that want to continue to subject women to unqualified abortionists with little or no emergency care back up plan."
Mississippi Gov. Phil Bryant has voiced support for the bill and is expected to sign it within the next few days.
The legislation blindsided abortion supporters who fear that the bill might close Mississippi's last remaining abortion clinic and claim that would punish poor women. However, it makes little sense to keep a clinic open that admits it cannot comply with the law or common sense safety standards.
"Even poor women deserve good health care," said Newman. "Subjecting them to what amounts to little more than quackery is certainly not in their best interests."
Derzis threatened to sue if she cannot comply with the new law, but there is little that one can claim as onerous in a potential suit to block the bill. Derzis admits that all three abortionists employed by her in Mississippi are board certified ObGyns. The clause mandating that abortionists must maintain local hospital privileges has already been upheld as Constitutional in Federal Court.
"The Mississippi law is about ensuring that women are treated within the standards of patient care. If any facility – abortion or otherwise — cannot meet minimum safety requirements, it is in the public's best interest that the facility close, as we saw in Alabama. If we were talking about establishing safety standards on pet hospitals or nail salons, we would not even be having this conversation," said Newman. "Women deserve better than what they get at a shoddy Derzis-run abortion mill."
Derzis admitted culpability for life-threatening health and safety violations by signing the consent order to close New Woman All Women and thereby relinquishing her right to contest the deficiencies listed in report. Those violations included:
• Clinic staff was not properly trained to provide safe quality patient care.
• Failure to have policy and procedures related to medication errors and the administration of medications.
• There was no documentation that the two abortionists employed by Derzis were even qualified to do abortions.
• Abortionists made illegible notations on patient charts that made determining critical information about patient care impossible. In several cases, the abortionist's notes about patient care and/or condition were completely false.
• Lack of documentation of medications administered.
• Inaccurate preparation and administration drugs resulting in overdoses or inadequate pain management.
• Use of equipment with inspection dates from 2007 or no inspection date at all.
• Failure of on-call nurse to return patient calls, document correct dates on reports, or notify the physician of patient problems.
The Alabama report indicated that at least six women were hospitalized due to standard of care violations. There is every reason to believe that these same unsafe practices exist at Derzis' Jackson Women's Health Organization. The Mississippi bill may prevent other women from suffering the same fate as Derzis' Alabama customers.
In the meantime, Operation Rescue's complaint urges the Mississippi Department of Health to act immediately to conduct a thorough inspection and review of Jackson Women's Health Organization in light of the devastating findings at Derzis' Alabama abortion clinic.
The public is asked to contact the Mississippi Department of Health and ask that it conduct a full review of the Jackson Women's Health Center.
Mississippi Department of Health
Louisa Denson, Director, Women's Health Division
E-mail: louisa.denson@msdh.state.ms.us
Voice: (601) 576-7950
View JWHO's profile on AbortionDocs.org
View NWAW's profile on AbortionDocs.org