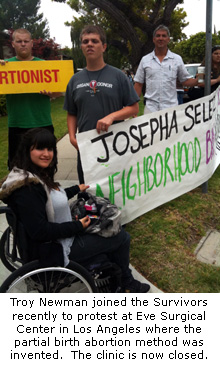 Los Angeles, CA — The Eve Surgical Center, the Los Angeles abortion clinic where late-term Partial Birth Abortions were invented, has closed. The California Catholic Daily has published an article about the closure that we have posted for your convenience below.
Eve was once a secret abortion clinic where women in their latest terms of pregnancy would submit to experimental abortion procedures inflicted upon them by abortionist James McMahon, who died of a brain aneurysm in 1995. His techniques are still in general use today by late-term abortionists who have modified the process to now begin with a fatal injection into the baby's heart in order to kill the baby before extraction of his or her body.
Operation Rescue discovered and exposed the clinic through protests, like a recent one by the Survivors, which was attended by Operation Rescue President Troy Newman.
The abortionist who had worked there for years, Josepha Seletz, quit her job at Eve last year and now operates the Pro-choice Medical Center in Beverly Hills.
"The closure of this abortion clinic where grisly experiments were done on women and their viable babies is a huge victory for the pro-life movement. It closes a dark chapter of history that eventually led to the outlawing of the barbaric partial birth abortion procedure," said Newman. "Exposing the secrets of Eve Surgical Center helped bring a greater awareness of the horrific nature of abortion to the American people."
We are including a recording of the Eve Surgical Center phone message informing callers of the closing.
______
Killing babies since the 1980s
Eve Surgical Center, a late-term abortion business in Los Angeles, closes

http://calcatholic.com/news/newsArticle.aspx?id=1c012d28-574e-4099-9900-2e268056fbcf
The telephone message for the infamous Eve Surgical Center in Los Angeles says that the business is now closed.
Eve Surgical Center at 10150 National Boulevard has been open for killing unborn babies since the 1980s. It was first run by Dr. James McMahon, who had no specialty training and boasted that he "developed" the Partial Birth Abortion method.
In a 1990 Los Angeles Times feature article, reporter Karen Tumulty, provided this description:
McMahon has developed his own method that he calls intrauterine cranial decompression. He arranges the fetus so that he can remove it feet first. Before the skull emerges, he "collapses" it by inserting a three-millimeter instrument known as a cannula and extracting its fluid. By keeping the fetus intact, he says, he runs less risk of internal injury to the woman.
"I want to deal with the head last, because that's the biggest problem," he adds levelly. "From my point of view, the fetus is a potential problem to the patient."
"Frankly," he adds, "I don't think I was any good at all until I had done 3,000 or 4,000."
In 1990 the California Medical Board filed an Accusation against McMahon for six cases of negligence against female patients.
In 1992 the California Secretary of State suspended Eve Surgical Center, but McMahon ignored this.
Dr. McMahon further stated that he did 1,200 abortions annually until his death in 1995 from a brain aneurysm. Shortly before his death he was given last rites and a Catholic burial at Holy Cross Cemetery (Field of Martyrs section). A few days before his death McMahon provided key testimony to Sen. Ted Kennedy to read in Congress in support of Partial Birth abortion.
Cardinal Mahony defended the abortionist's burial in a Catholic cemetery this way: "Do you think we should start judging everyone who is buried in the cemetery?"
In 1996, McMahon's wife, Gail, sold Eve Surgical to Dr. Christopher Columbus Dotson, a graduate of Howard University Medical School.
In October 1997 Dotson filed articles of incorporation with the California Secretary of State for Eve Surgical Center. On December 2, 1997, the Secretary of State suspended the Eve Surgical corporation.
Like McMahon, Dotson paid no attention and kept the abortion business going. He secretly operated under the name of Youlom Medical Corp.
Dotson has lived at an elegant mansion in Beverly Hills. The exclusive property, with luxury amenities, is for sale for $ 9 million.
Dotson is currently 80 years old. He has had a total of 63 civil cases filed against him in Los Angeles County Superior Court, including 17 for medical malpractice, one for divorce, and one for paternity.
The medical board disciplined Dotson for causing the death of Ramona Jackson in 1992, but ignored the death of Oriane Shevin in 2005, despite a $1 million settlement in the wrongful death case against Dotson.
Dotson last made headlines when he agreed to be the "practice monitor" for his friend, Dr. Andrew Rutland, who was accused of causing the death of Ying Chen in 2009 during an abortion in an acupuncturist office.
In 2010 the Medical Board dropped Dotson as a monitor when they were reminded of Dotson's history of discipline. Rutland surrendered his license.