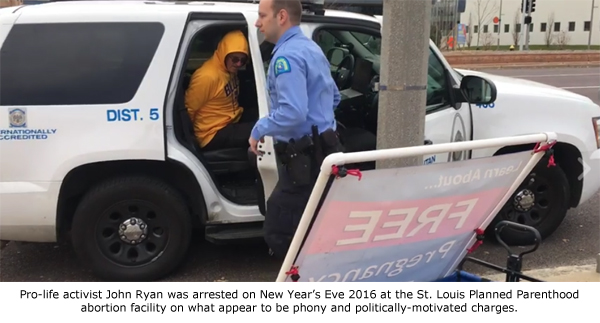 By Cheryl Sullenger
St. Louis, MO – A felony case against pro-life activist John Ryan, who was falsely accused of making a terrorist threat to a Planned Parenthood worker, has been dropped, but a new misdemeanor case was filed in its place on April 6, 2017.
Ryan, a long-time pro-life advocate who regularly offered help to abortion-bound women at the Planned Parenthood abortion facility in St. Louis, Missouri, was arrested on December 31, 2016, after having a brief conversation with a clinic worker. He was released the following day.
In another development, a Planned Parenthood petition for an injunction to keep Ryan 150 feet away from Planned Parenthood offices in the St. Louis area was withdrawn in March.



Brad Blake, Ryan's attorney, told the St. Louis Post-Dispatch that he was not told why the charge against his client was reduced. Blake told the newspaper that Ryan has always maintained his innocence and even passed a polygraph test.
Ryan believes the Planned Parenthood employee made a false report, accusing him of telling her there were bombs inside the abortion facility. The abortion facility was searched by police, but inexplicably was never evacuated during the search despite the seriousness of the accusations. In fact, Planned Parenthood continued to treat patients, who were allowed to come and go freely during the search.
Ryan's brief conversation was witnessed by at least a half-dozen people, who deny he ever made any threatening remarks.
"It looks like prosecutors are having second thoughts about Planned Parenthood's spurious accusations, as well they should," said Troy Newman, President of Operation Rescue. "This case is an attempt by Planned Parenthood to punish an innocent citizen who was simply exercising his First Amendment Rights. Planned Parenthood's accusations have no credibility, and we urge the City of St. Louis to completely drop this bogus case against Mr. Ryan in the interest of justice."