Operation Rescue urges the City of Las Cruces to revoke the abortion facility's business permit due to deception and possible zoning violations.
By Cheryl Sullenger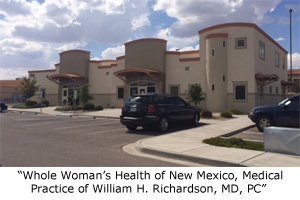 Las Cruces, NM – A new abortion facility in Las Cruces, New Mexico, operated by the Texas-based Whole Women's Health abortion chain, was caught "red-handed" operating without a valid business permit in an area that may not be properly zoned for that business.
Seeking to avoid safety standards in Texas that shut down two of its five Texas abortion centers, Whole Women's Health targeted New Mexico where an absence of abortion laws allows even the most disreputable to run abortion businesses without fear of inspection or oversight.
Whole Women's Health (WWH) soon set up shop in Las Cruces where it could continue its substandard operations without accountability. With much fanfare, WWH announced that it would open for business on September 15, 2014, with the intention of targeting Texas women for abortions, encouraging them to cross state lines where they could avoid waiting periods and parental consent laws for minors.
However, when that day arrived, pro-life supporters who visited the new clinic location discovered a darkened and obviously closed office. WWH cited undefined "logistical issues" as a reason for the delay.
"Soft" opening
Nearly three weeks ago, Whole Women's Health in Las Cruces quietly opened for business. Pro-life supporters from 40 Days for Life reported witnessing a steady stream of women coming and going from the facility.
Martha Beasley, a pro-life activist who managed prayer vigils at the clinic, repeatedly called city offices and questioned whether the new abortion business was properly permitted and zoned for surgeries.
In a call placed by Tara Shaver of Protest ABQ on October 17, 2014, a Las Cruces code officer told her that the abortion clinic claimed to have a valid business permit. That permit, it turns out, belonged to Vista Surgical Associates, the previous medical business that occupied that office, and was improperly passed off by WWH employees as their own. The code officer later admitted to Shaver that the office "was in the process of getting" their business license. However, that proved not to be the case. At the time of this call, the abortion facility had made no effort to obtain a business license.
Listen to an excerpt of the conversation:


Further questions prompted additional inquiries to the clinic by the code officer, where WWH personnel convinced him that they were not seeing patients. They wrongly claimed the steady stream of traffic into the office was simply employees, contractors, or venders who were helping to get the business set up.
Surgical abortion appointments with no permit
However, recorded telephone conversations documented the fact that the Las Cruces Whole Women's Health facility was in fact conducting surgical abortions and other services illegally up until the afternoon of October 27.
Tara Shaver of Protest ABQ and this correspondent each made recorded calls seeking abortion appointments at Whole Women's Health in Las Cruces. Shaver placed her call on Thursday, October 16, 2014, received an appointment for an abortion on October 21. I placed a call to WWH on October 21 and received an offer of a surgical abortion appointment for the following day, October 22.
A WWH employee told Shaver to plan on being at the clinic for up to five hours after the abortion procedure. She was also told that they were currently doing abortions up to 12 weeks of pregnancy, but that would expand as they developed a "clientele" in New Mexico.
I was told during my call that only surgical abortions were available at the Las Cruces office. Although I posed as a woman only seeking information, I was heavily pressured to schedule the abortion for the following day. I was told that my concerns would be addressed during my appointment.
During both phone calls, questions about who would be providing the abortions was met with evasiveness and non-answers.
Permit application after the fact
Documents supplied to Operation Rescue show that it was not until Thursday, October 23 — after several days of abortions were completed — that WWH's mysterious abortion provider first applied to the City for a business permit in response to several complaints from Beasley and others. Pro-life activists reported that the foot traffic to and from the abortion business halted for the day, but later resumed. [View the application.]
"There can be no doubt that Whole Women's Health was conducting business and providing surgical abortions prior to applying for a valid business permit," said Troy Newman, President of Operation Rescue. "We caught them red-handed breaking the law and using deception to cover it up."
Late Monday, October 27, a business permit was finally issued — but not to Whole Women's Health. Instead, the permit is in the name of their heretofore secret abortionist's newly-created New Mexico company.
Mystery abortionist revealed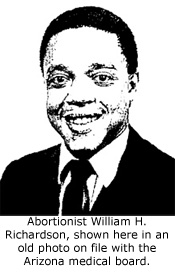 After weeks of refusing to identify their abortion provider, just days ago, Whole Women's Health announced on their website that their Las Cruces provider is William H. Richardson, a Tuscon abortionist who is best known for filing a lawsuit in 2009 that unsuccessfully challenged the constitutionality of Arizona abortion laws.
Richardson, who operates Tuscon Women's Center, is a former abortionist for Planned Parenthood who was first licensed in Arizona in 1989. In 1993, the Pima County Health Department placed a "Letter of Concern" in his file for a recordkeeping lapse. He was granted a license to practice in New Mexico just four months ago on June 13, 2014.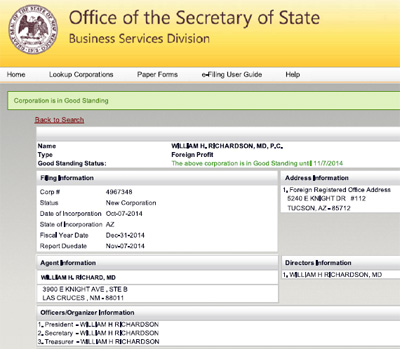 On October 4, 2014 — two weeks after WWH's planned opening — Richardson created a new company, "William H. Richardson, MD, PC," for his work at the Las Cruces Whole Women's Health, but when registering the new company with the New Mexico Secretary of State, he apparently confused the Las Cruces address, which is located on East Loman Avenue, with his Tuscon abortion clinic, which is located on East Knight Avenue. He mistakenly reported his new Las Cruces address as 3900 East Knight.
"We certainly hope Richardson doesn't suffer such confusion during an abortion procedure and grab the wrong instrument or drug vial," said Newman. "His address mistake certainly does not engender confidence in his mental acumen."
Confusing dual identity
The official name of the Las Cruces abortion business now appears to be "William H. Richardson, MD, PC." The Whole Women's Heath website refers to it as "Whole Woman's Health of New Mexico, Medical Practice of William H. Richardson, MD, PC." However, all the permit applications and business filings were all done under Richardson's company name. Nothing has been filed under the Whole Women's Health moniker.
The dual name appears intentionally confusing, especially since Richardson facility is referred to as "Whole Women's Health" when doing business.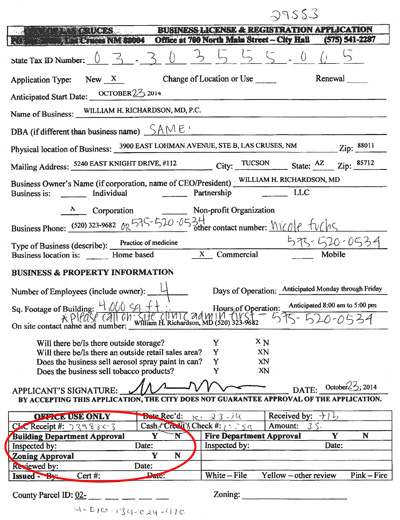 Zoning questions
There is also question about whether the East Loman building is properly zoned for surgical abortions. The zoning approval boxes on Richardson's business permit application were left blank, indicating that zoning approval was not sought.
Currently the building's zoning designation allows for only minor medical practices. During a recorded conversation, Shaver was told that WWH's goal is to provide abortions after 12 weeks and possibly as late as 18 weeks once it "builds" its New Mexico "clientele."
The second trimester abortions cannot be considered "minor" medical procedures since they would involve multi-day procedures that are much riskier than those done in the first trimester. Surgical abortions, particularly those done after 12 weeks, have resulted in documented patient injuries and deaths. The facility appears to be in a zone that is incompatible with those practices.
Could it be that the WWH/Richardson abortion enterprise is again using deception to evade zoning requirements?
"Too great of a danger to women"
"Because of the deception involved in trying to pass off an invalid business permit as their own, and due to questions about zoning, we urge the City of Las Cruces to revoke Richardson's business permit," said Newman. "To add to concerns, this abortion business is importing someone from out of state to conduct surgeries on a part-time basis. This means he may not be available to women in the event of medical emergencies that result from abortion complications. That is completely unacceptable and poses too great of a danger to women to allow this business to continue."
Newman's concerns are valid ones based on Whole Women's Health history of health and safety violations.
In Texas, a 2011 Operation Rescue investigation documented violations at Whole Women's Health in Austin and McAllen involving the illegal dumping of recognizable aborted baby remains in a public dumpster. The two abortion centers were heavily fined as a result.
In addition, Operation Rescue reported two Whole Women's Health abortionists, Alan H. Molson and Robert E. Hanson, for violations discovered during that same investigation, resulting in thousands of dollars in fines.
Molson, 62, admitted that he was not routinely present for post-abortion follow-up visits, which were done by unqualified medical assistants, who also improperly handed out prescriptions for birth control pills that were pre-signed by Molson.
Hanson, 74, admitted that he saw patients for the first time on the day of the abortion and failed take complete medical histories or conduct proper physical exams. He also admitted to inadequately monitoring vital signs during abortions.
Public action needed
Since New Mexico has no laws that would hold abortion facilities accountable to meeting any kind of safety standards, it falls to each city in that state to protect citizens from substandard businesses that pose credible risks to public safety, as does the WWH/Richardson abortion business. While the fine for operating without a valid business permit is only $500, it is possible for the City Las Cruces to revoke a permit once it is issued.
"We are sure that if the City of Las Cruces understood the dangers of this particular abortion chain, they would not want such a business operating in their city," said Newman. "We invite concerned citizens to contact the city's Building and Development Services Department and ask them to deny their business permit."
Please contact Robert Kyle, and ask that his department revoke the business permit issued to William H. Richardson, MD, PC due to safety concerns and given the checkered history of the Whole Women's Health abortion chain in Texas with which his abortion business is affiliated.
Building & Development Services
Robert Kyle, Administrator
Voice: 575-528-3106
E-mail: rkyle@las-cruces.org
[Note: All recorded conversations were edited for length. Full, unedited recordings are on file with Operation Rescue.]