By Cheryl Sullenger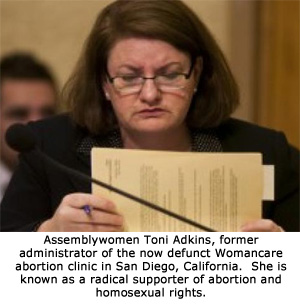 Sacramento, CA — In California, a bill known as AB154 sits on the desk of Gov. Jerry Brown awaiting his signature. This bill would dramatically expand surgical abortions in California by allowing nurse practitioners (NPs), certified nurse midwives (CNMs), and physician assistants (PAs) to conduct surgical "aspiration" or suction abortions of the kind generally used in the first trimester of pregnancy.
The legislation was introduced by Assemblywomen Toni Adkins, the former administrator of a failed abortion business in San Diego. Adkins has long attempted to dangerously expand abortion services, once opening an abortion clinic in a predominately Hispanic neighborhood (using an abortionist that would later lose his medical license after killing a woman during a botched 20-week abortion) that soon closed due to financial mismanagement and lack of business. Apparently not one to learn from failure, Adkins is now expanding abortion in an ever-decreasing market, through the use of non-physicians.
Adkin's legislation is the result of a study conducted at the University of California San Francisco by the Bixby Center for Global Reproductive Health in association with Advancing New Standards in Reproductive Health (ANSIRH) for the purpose of proving that non-physician abortion are safe. The study recruited NPs, CNMs, and PAs for training in surgical abortions under a state waiver that exempted participants from the law that banned non-physicians from performing abortions.
Radical abortion advocates
Participants in the study, like Adkins, all have histories of radical abortion activism.
The two of the three primary investigators in this experimental program are not even licensed physicians. Tracy Weitz, PhD, Director of ANSIRH, obtained her doctoral degree in medical sociology. Her goal is to find "creative ways" to expand abortion. She is also seeking ways to expand access to the more risky late-term abortions.
Diana Taylor, PhD, is a nurse practitioner. She has long been a proponent of doing away with laws that prevent "advance practice clinicians" from conducting surgical abortions. She currently serves as a board member for Clinicians for Choice, an affiliate of the National Abortion Federation.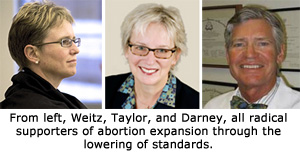 The third primary investigator on the non-physician abortion study was Dr. Phillip Darney, an ObGyn who serves as director of the Bixby Center for Global Reproductive Health. Darney is a radical abortion activist and proponent of lowering the standard of care for abortionists so they do not have to abide by the higher obstetrical standards. He testified on behalf of late-term abortionist Shelley Sella, who was charged by the New Mexico Medical Board for negligence involving a 35-week abortion on a high-risk woman with a history of previous cesarean section delivery that resulted in a ruptured uterus. Darney's testimony that abortionists should be exempt from obstetrical standards, which were admittedly violated by Sella, helped clear Sella of the charges against her.
Safety questioned
The study's results were published in the American Journal of Public Health on January 17, 2013, declaring that the rate of complications from non-physician abortions were essentially equivalent to the rate of complications from physician abortions.
"Abortionists, particularly in California, tend to be among some of the worst in the nation. To compare non-physician safety to the horrific track record of that motley crowd is a frightening prospect," said Troy Newman, President of Operation Rescue, who worked for years in California to expose dangerous abortionists and bring them to justice.
For example, one abortionist, Andrew Rutland, was a licensed physician who had his medical license revoked in 2002 after his negligence was found responsible for the death of two babies during delivery. His license was restored in 2007. The disgraced Rutland found employment in the abortion industry where (predictably) he killed a woman during a botched abortion in a dirty, ill-equipped acupuncture office. He surrendered his license rather than face Board accusations that his negligent treatment qualified as a homicide.
Unsafe track-record of licensed abortionists
Rutland is not an anomaly. Over the past decade or so, one California abortionist after another has been subjected to disciplinary action or license removal for shoddy abortions and/or criminal conduct.
• Abortionist Laurence Reich was convicted of raping and molesting his female patients in the 1980s. With his license restored in the 1990's Reich went to work at an abortion clinic where he had unrestricted access to vulnerable women. Once again, he was caught sexually abusing his abortion patients and surrendered his license in 2007, yet when his clinic was raided by police a year later, they found Reich still at work doing abortions.
• W. Constantine Mitchell was convicted of billing and insurance fraud in the 1980s. Later, was found covering up for Rutland's shoddy practices under the guise of a "supervising physician." Mitchell allowed Rutland to engage in abortions outside his presence in violation of a medical board order. He continues to do abortions in California.
• Phillip Rand was an elderly abortionist in Southern California who botched a 20-week abortion in Orange County in 2004 then abandoned the patient in his haste to get to another San Diego County abortion clinic where more abortion patients waited. The patient died. Rand, who was 83 at the time, was forced to surrendered his medical license.
• Nolan Jones suffered multiple disciplinary actions for a series of badly botched abortions and finally had his medical license revoked in 2009 for falsifying medical records to cover up his shoddy practices and for violating his terms of probation.
• George Dalton Flanigan III, was placed on probation in 2007 for gross negligence and incompetence, and for failing to report a felony Medi-Cal fraud conviction. His license was restored in 2012 and he now continues to conduct his abortion business without restriction.
• Feliciano Rios, a Chula Vista abortionist, pled guilty to felony perjury and insurance fraud in July, 2009. He was later busted a few months later for illegal possession of firearms. Rios continues to operate an abortion clinic.
• Nicholas Braemer surrendered his license in 2000 after the California Medical Board filed a petition against him for two seriously botched abortions that landed patients in the hospital, and for aiding in the unlicensed practice of medicine.
• Bruce Steir killed Sharon Hamptlon during a botched abortion at his abortion clinic in Moreno Valley. So horrific were her injuries that Steir was eventually convicted of manslaughter and served time in prison for her death.
• Suresh Gandotra killed Magdalena Ortega Rodriguez during a horrifically botched abortion at 30 weeks gestation. Gandotra fled the country to evade murder charges. There is still a valid no-bail arrest warrant on the charge of murder for Gandotra in San Diego County.
These are only a few of the long list of California abortionists who have been caught subjecting women to negligence and incompetence. They were all licensed physicians with years of training and experience. They have provided a very low standard to which non-physicians are to be compared.
No reporting requirements
Given the history of abortion abuses in California and the lack of reporting laws, there is no way to know the complication frequency for non-physicians, who are suddenly empowered to do surgical abortions.
"Abortionists simply do not self-report abortion complications. Anyone who thinks they do is completely naive about what actually goes on inside abortion clinics today," said Newman. "In fact, our experience shows that they do everything they can to conceal complications."
The new California law is guaranteed to be signed by Gov. Brown, a staunch abortion supporter. This ill-advised measure will subject women to a social experiment by radical abortion proponents to see if they can survive a lower standard of care over an extended period of time. The dangers to women are compounded by the fact that there is no way to quantify the success or failure of this social experiment because there is no mechanism in place to monitor the complications once the law in enacted.
Massive complications predicted
And there will be complications – we predict very bad ones – because the non-physicians lack the training to treat women who do suffer common abortion complications, such as a torn cervix or a perforated uterus. The non-physicians will not be able to attend to their hospitalized patients and fix their mistakes because they lack the skill and authority to do so. This will create a lack of continuity of care that will pose serious, life-threatening delays in treatment.
Women suffering such complications will simply be packed off to a local hospital – if they are lucky – where emergency room staff will be forced to figure out what went wrong and try to clean up the mess. This is already standard procedure for most licensed physicians that engage in abortion practices, and we can only expect the same or worse from non-physicians.
Adkin's new social experiment of abortion expansion runs counter to the national trend to hold abortionists to greater accountability and oversight. Abortion clinics operated by licensed physicians are closing at an unprecedented rate due to a lack of business and a failure to comply with minimum health and safety standards and other laws. California's reckless new law that lowers the standard of care to unacceptable levels inevitably will doom vulnerable women injury and death. We predict it will be a complete failure.
Read Text of AB154