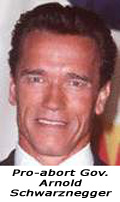 Sacramento, CA — Pro-abortion Gov. Arnold Schwarzenegger has told a California newspaper that he would "kill" anyone who took one of his minor daughters for an abortion without telling him.
"I have a daughter. I wouldn't want to have someone take my daughter to a hospital for an abortion or something and not tell me. I would kill him if they do that," Schwarzenegger told a reporter for the Sacramento Bee.
The movie star, now California Governor, later clarified his remarks indicating that he would not literally "kill" someone who took his daughter for an abortion, but would be very upset as a parent.
Schwarzenegger continued, "It will be the ultimate of being outraged about it and angry about it."
"They call me when my daughter falls off the jungle gym in the school and they say, 'What do you want us to use? Can we put a Band-Aid on it? Do you want to come in? She's crying a little bit.'
"They call us about everything. I don't want them in that particular incident not to call us."
Schwarzenegger's comments were in response to questions concerning a ballot initiative in California that would require the parents or guardians of minor girls to be notified of their intentions to have abortions 48 hours prior to the act.
In spite of his remarks, Schwarzenegger is still undecided as to whether he will endorse the measure.
"I think Gov. Schwarzenegger's initial response to the parental notification legislation was from his heart. What parent wouldn't be outraged that their little girl could be taken for an abortion without their knowledge? It is the ultimate betrayal of their parental rights," said Operation Rescue President Troy Newman.
"However, when politics become involved, often common sense goes out the window," Newman continued. "We pray that this interview will cause Gov. Schwarzenegger to realize how incompatible with life and family his beliefs about abortion really are. We call on Gov. Schwarzenegger to take the courageous stand that his heart is telling him to take, and endorse the parental notification ballot initiative."
Read the full story in the Sacramento Bee.