Abortion Clinic in Rockford, Illinois, Recklessly Endangering Women While Killing Their Babies
By Anne Reed

Abortionist Dennis Christensen does not have a medical license in Illinois, but his chemical abortion clinic, Rockford Family Planning Center, located in a residential neighborhood in Rockford, Illinois, is in operation.
According to Christensen's statements published by a local news outlet in October, he planned to meet local zoning requirements by arranging for the "manager of the site" to actually reside within the abortion clinic as her primary residence. The Rockford Zoning Ordinance, however, requires the operator of the business to live at the property as a primary residence.

The events that led to the decision to place an employee in the abortion business as an actual resident included two letters submitted to the City of Rockford by Christensen's attorney.
The first letter dated September 13, 2022, stated the clinic would operate with only one employee other than Christensen: a registered nurse who would not live at the property but would be responsible for operating the clinic when he was not present. And Christensen would use the building as his permanent secondary residence, residing there occasionally while working.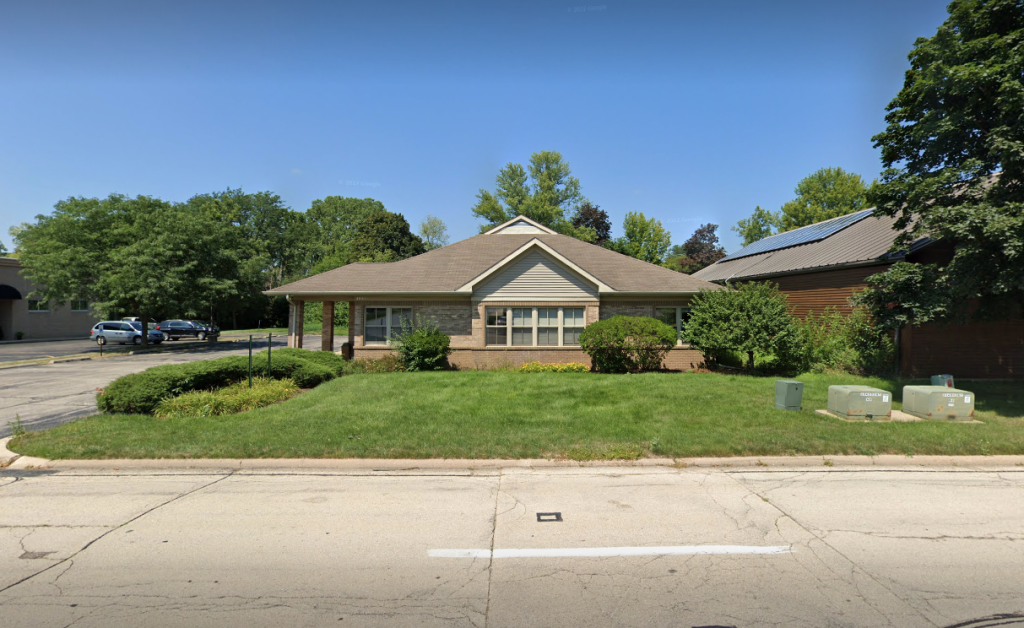 Less than two weeks later, his attorney sent another letter asking for withdrawal of the September 13 letter, stating that while Christensen still planned to reside there on occasion, another employee, other than the registered nurse previously referenced, would reside in the clinic as a permanent resident. The second letter did not mention the "independent consultant," referenced in the first letter, who would perform administrative duties. Therefore, the person now referenced as an "employee" living in the building is presumed to be the previously referenced consultant.
After all the techniques employed by Christensen, his staff, and his attorney, the fact remains that the Rockford Zoning Ordinance requires Christensen, as the operator of the business, to live at the property as his primary residence.
Accordingly, a lawsuit has been filed against Christensen, the city of Rockford, and the Rockford Zoning Board of Appeals for violation of the city's zoning requirements.
Christensen also stated during the media interview last October that he needed to find a state-licensed physician to work in the office while he worked to restore his medical license.
However, when Operation Rescue submitted a Freedom of Information Act request for copies of all paperwork relating to Christensen's state medical license application and renewal, the Illinois Department of Financial and Professional Regulation returned documents from the mid-1970s when he originally applied – and nothing more.
Perhaps his hesitation to apply is explained by Christensen's past. He and his clinic administrator were previously sued by the state of Illinois and closed due to unsanitary conditions that put women at risk at his former Rockford abortion business.
To this day, the state's online verification site shows that Christensen's license has been expired since 2017.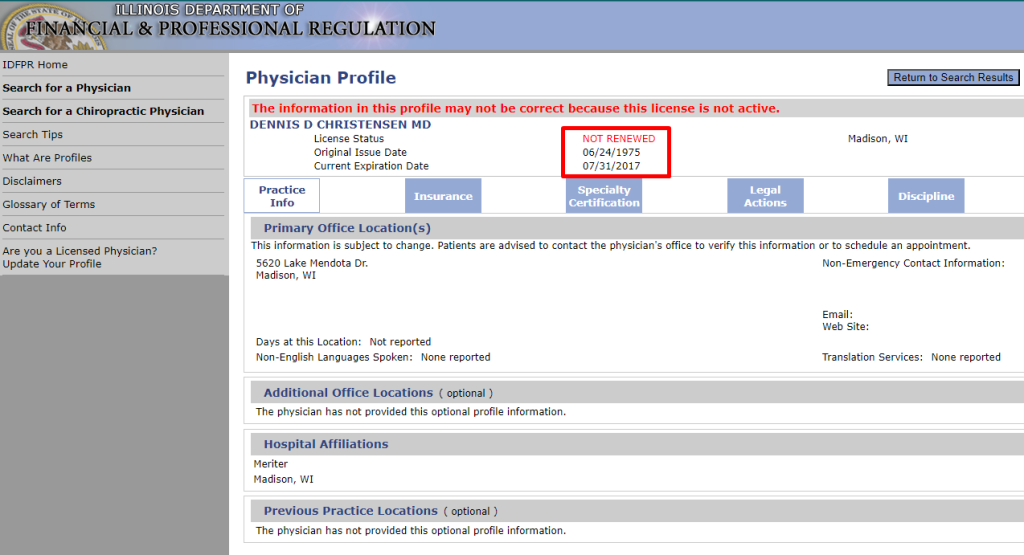 On January 13, three months following Christensen's statements to the press indicating he would take steps to restore his medical license, Gov. J.B. Pritzker (D) signed HB 4664 into law, which authorized physician assistants and nurse practitioners to perform abortions. This is especially concerning because it came after former Gov. Bruce Rauner (R) signed House Bill 313 in 2017, now Public Act 100-0513, which amended the Nurse Practice Act to allow advanced practice registered nurses to practice "without entering into a written collaborative agreement with a doctor."
The combination of the two laws would have allowed Christensen to operate according to plan if he employed a nurse practitioner. But an associate of Operation Rescue, a Rockford local, initiated an investigative phone call to the clinic and was told the abortion-inducing drugs are dispensed by a nurse who is overseen by a physician. The abortion clinic staff, however, refused to name the physician.
The abortion clinic staff member who communicated the information over the phone did not refer to the dispensing person as a nurse practitioner (an "advanced practice registered nurse" as referenced in Illinois law) – but only as a nurse. This information relayed during the phone call is consistent with the details provided in the letters submitted by Christensen's attorney to the city of Rockford.
Who is the physician overseeing this nurse? Christensen is not licensed by the state of Illinois, and a registered nurse is not qualified under Illinois state law to operate an abortion clinic independently.
There is no evidence of any effort on Christensen's part to restore his Illinois state medical license. Instead, by all appearances, a registered nurse is performing the duties legally permitted only by a state licensed physician, nurse practitioner, or physician assistant.
Kevin Rilott of Rockford Family Initiative and other citizens have sent multiple email communications to Rockford Mayor Tom McNamara (D) and other city officials expressing concern over the alarming "special privileges being granted to this dangerous and unlicensed abortionist."
When Rockford citizens learned of the new killing center at 611 Auburn Street months ago, pro-lifers began holding peaceful protests outside the property. Threats and violence initiated by pro-abortion activists have been abundant for months before and after it opened on January 6.
One pro-abortion woman was charged with battery for her actions toward a woman exercising her first amendment rights protesting outside the facility.
The Rockford Family Initiative has also notified the proper authorities about concerns of human trafficking. The complaint stated that since the abortion business opened on January 6, pro-life sidewalk counselors have witnessed numerous teenage girls being taken into the abortion clinic by older men.
The complaint further stated, "Abortion clinics are an essential tool of the sex trafficking industry … used to eliminate the evidence and result of trafficking, abuse, and statutory rape that has taken place."
The former Rockford abortion clinic operated by Christensen was in business for over 25 years before being closed by the state, and there are no known public records indicating suspected human trafficking or statutory rape were reported to authorities.
In addition to Christensen's dangerous chemical abortion clinic operating on Auburn Street, the unlicensed abortionist purchased an animal emergency clinic at 4236 Maray Drive in Rockford last summer as a future location for killing babies by surgical abortion.
Gov. Pritzer has made it clear that he aims to make Illinois "an island of reproductive justice" following the U.S. Supreme Court's overturning of Roe v. Wade. The state was among 11 other states that recently filed a lawsuit against the FDA demanding that all safeguards be dropped from Mifepristone, the dangerous drug that kills the child and causes the mother severe bleeding during a chemical abortion.
"What has become painfully clear is that Illinois is a destination for a new kind of life-threatening, back-alley abortion," said Operation Rescue President Troy Newman. "The state is authorizing and promoting the killing of innocent babies at advanced gestational ages and allowing unqualified allied health providers to perform abortions.
"The recklessness already legally present in the state is apparently not enough for Christensen and the city of Rockford. This illegal killing center currently operating, as well as Christensen's plans for another abortion business in the city, needs to be shut down for good.
"The lawlessness in Rockford just adds to the dangerous, legal abortion clinics spread throughout the state that continue to put abortion-vulnerable mothers at extreme risk – including those traveling from other states."

You can help Operation Rescue investigate and expose the abortion cartel and its contributors by:
Sharing reports like this one on social media (click logos below to find us on GETTR, gab, and Truth Social)