Wilmington, DE — A shoddy abortion facility associated with the notorious abortionist Steven Chase Brigham says it has halted surgical abortions as of September 11, 2015, after the Delaware Division of Public Health threatened to shut them down. Premiere Ob/Gyn, located in Wilmington, plans to say in business by selling abortion pills.
But now the clinic's landlord also wants the clinic out. Dr. Parham Farhi, a dentist who owns the property occupied by Premier Ob/Gyn, says that he was told nothing about abortions when agreed to lease to what he thought was just a regular doctor's office. He has offered to pay Premier Ob/Gyn $5,000 to break the lease.
"I don't want blood money. I don't want to be associated with these people," Farhi told the News Journal.
Premier Ob/Gyn failed to acquire accreditation that is required for surgical abortion clinics in Delaware after repeated notices from the DPH. Delaware allows abortion businesses one year to obtain proper accreditation or face closure.

At first, clinic representative Kimberly Glunt objected the state notification that Premier could face closure, stating that the old clinic that operated under the same name at the same address closed in late 2014 and that the new clinic only began operations on January 8, 2015. However, last week, Glunt voluntarily halted surgical abortions in order to stop state efforts to shut down the facility.
"The back-and-forth with this facility is not something we have experienced with any other facility that has performed invasive medical procedures," said Dr. Karyl Rattay, director of the Division of Public Health, who further noted that the situation with the Premier Ob/Gyn clinic was "unique."
"Whenever Brigham's name comes up, you can guarantee that deception will be involved," said Troy Newman, President of Operation Rescue.
Operation Rescue has confirmed that Premier Ob/Gyn is no longer doing surgical abortions, but continues to eagerly schedule women for medication abortions.
As for Glunt's story about a change in ownership, Operation Rescue also confirmed that Premier Ob/Gyn is still affiliated with Brigham's notorious American Women's Services abortion chain as it was when it first opened last year. In fact, a receptionist answered a call placed to Premier Ob/Gyn on Tuesday identifying it as American Women's Services.

Unsurprisingly, Glunt has been involved with deception involving an illegal abortion business in the past.
She was listed as the president of Integrity Family Health, a Brigham-owned abortion facility opened surreptitiously in Philadelphia, Pennsylvania, in 2013 – three years after Pennsylvania authorities ordered Brigham to halt all abortion activities in that state. That order also banned him from future ownership in any Pennsylvania abortion business.
The Pennsylvania Health Department did not buy Glunt's claims that Brigham was not involved and issued her a closure order for the illegal abortion mill on November 25, 2013.
Brigham's often complex deceptive tactics have been on full display dating back into the 1980s when he received his first medical license and disciplinary action. In 1998, he spent 120 days in jail for billing fraud. Since then, Brigham has had his medical licenses revoked or surrendered under pressure of revocation in New York, Pennsylvania, Georgia, and California.
In addition from being banned from participation in abortion businesses in Pennsylvania, Brigham was essentially run out of the State of Maryland in 2013, where he was never licensed, and ordered to shut down his three Maryland abortion clinics after the discovery of the death of patient Maria Santiago, multiple health and safety violations, and the oral administration of an IV drug.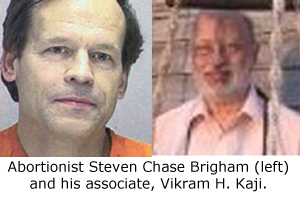 In December, 2010, Brigham and his associate, Nicola Riley, were arrested and jailed on murder charges after police discovered the bodies of 35 late-term babies inside a bloody freezer at a secret abortion clinic Brigham was operating in Elkton, Maryland. Police had responded to a call from a local hospital where Brigham and Riley took a patient with a severely botched late-term abortion. The murder charges were later dropped after an expert witness pulled out of the case.
But as a result Brigham's only remaining medical license in New Jersey was revoked. Because non-licensees cannot own medical clinic in New Jersey, Brigham initiated a phony "transfer" of ownership to his longtime employee, abortionist Vikram Kajai, a convicted sex offender.
However, Operation Rescue filed a letter of complaint with the New Jersey Attorney General's office after acquiring evidence that the transfer was a sham.
The Attorney General's office agreed and filed an administrative complaint against Kaji for his part in Brigham's scheme to deceive New Jersey authorities.
The embattled and precarious nature of Brigham's abortion empire may have contributed to Glunt's sudden willingness to halt surgical abortions in Delaware in exchange for keeping the clinic open. Maintaining a constant money stream money from medication abortion sales is better for Brigham's strained abortion business than no money stream at all.
Operation Rescue is hoping the landlord's efforts to evict Premier Ob/Gyn is successful, but in case it is not, OR staff is preparing a letter to the Delaware Division of Health urging it to close Premiere Ob/Gyn for good due to its intentional efforts to deceive the department.
"As long as Premiere Ob/Gyn is allowed to operate, women are placed at risk from Brigham's shoddy practices that characterize all of this abortion-related dealings," said Newman. "I would not be surprised once the publicity blows over if we find these people have illegally resumed surgical abortions at some point. The only way to ensure that women are protected is to shut this clinic down for good."