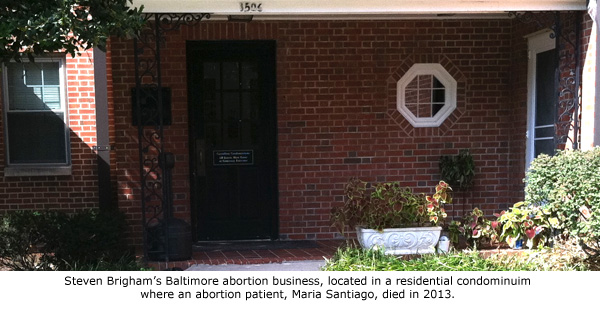 By Cheryl Sullenger
Baltimore, Maryland – Operation Rescue has learned that the disgraced New Jersey abortionist Steven Chase Brigham has flown the under the regulatory radar to reopen three Maryland abortion clinics that were shut down by the state in 2013 for dangerous abortion practices, including the death of one patient.

Undercover phone calls confirmed that abortions were being scheduled for his Baltimore, Silver Springs, and Cheverly locations, which are still advertised on his American Women's Services website.
In order to avoid having to re-license his abortion clinics, Brigham's Maryland locations are offering only medication abortions. Facility licenses and inspections are only required if surgical abortions are conducted.
"Right now, Brigham is profiting from medication abortions at three abortion clinics that the State of Maryland said were too dangerous to operate," said Operation Rescue President Troy Newman. "By restricting abortions to those done by pills or injections, Brigham can operate without oversight, without inspections, and without any accountability. This is a recipe for disaster for the women who are duped into thinking he is running legitimate medical offices. There is nothing legitimate about Brigham's medical or business practices, as his record of abortion abuses proves."
Previous licensing issues
It is questionable whether the staff of these facilities is competent to conduct medication abortions.
Maryland law requires that abortions only be done by licensed physicians, but that has meant little to Brigham and his abortion clinic employees. On May 2013, it was discovered that unlicensed workers at Brigham's Maryland abortion clinics were illegally administering misoprostol to women without a licensed physician present. Misoprostol is a drug that causes uterine contractions and is often used to cause or facilitate abortions.
The Maryland Department of Health and Mental Hygiene (DHMH) suspended the facility licenses of Associates in OB/GYN Care in Baltimore, Silver Springs, and Cheverly, after all three abortion offices failed to correct life-threatening health and safety violations.
In 2010, Brigham was ordered to cease and desist from the practice of medicine in Maryland — where he was never licensed — after it was discovered he was operating an illegal bi-state late-term abortion scheme at a "secret" abortion facility in Elkton. Brigham's New Jersey medical license was later revoked, citing his pattern of deception and shoddy practices that have made him unfit to practice medicine in six states.
Patient Death
In March 2013, inspectors discovered that a patient, Maria Santiago, died during an abortion at Brigham's Baltimore abortion facility, which is located in a residential condominium complex. [Read the CAD and Police Report]
The abortionist involved in the fatal abortion, Iris Dominy, was not certified in CPR at that time and failed to use a defibrillator on Santiago, who suffered cardiac arrest. Inspectors later discovered that the defibrillator did not work and staff had not been trained in its use.
Dominy received only a reprimand for her negligence that resulted in Santiago's death.
Pattern of deceptive practices
However, Brigham still continues to operate an estimated 17 abortion clinics up and down the eastern seaboard despite his chronically dangerous and deceptive conduct that includes (but by no means is limited to):
• Operating an illegal late-term abortion scheme where abortions would be started in New Jersey and finished in New York. This resulted in the revocation of Brigham's New York medical license.
• Attempting to evade New Jersey abortion limits by starting late-term abortions in that state and ending them illegally in Maryland.
• Operating an illegal abortion facility in Pennsylvania after having been ordered not to engage in the business of abortion in that state.
• Engaging in a "sham" transfer of his New Jersey abortion clinics to a convicted sex offender who denied owning them when questioned by authorities. Brigham continues to operate these clinics illegally.
• Falsifying clinic logs in Maryland to indicate George Shepard was conducting the abortions when in fact Shepard, an 88-year old with failing memory, was incapable for doing abortions due to a paralyzed arm. In fact, it was Brigham who was doing the abortions.
• Having his Florida medical license revoked for seriously botched abortions after the medical board found that his defense posed arguments that were "not supported by competent, substantial evidence."
• Committing deception and fraud by advertising "painless" and "safe" abortions. A New Jersey judge later ordered him to stop the false advertisement (pp 43-44).
"The fact that Brigham continues to defy the law despite years of disciplinary sanctions is an indicator that he really belongs in jail," said Newman. "He has proven that his shoddy abortion mills exploit, injure, and even kill women and are among the worst in the nation. It is dangerous and foolhardy to allow him to operate abortion businesses with or without oversight. We call on the Maryland Department of Health and Mental Hygiene to once again shut down Brigham's Maryland abortion businesses – this time for good!"
Take action!
Please e-mail the Maryland Department of Health and Mental Hygiene and demand the immediate closure of Brigham's Associates in OB GYN (AKA American Women's Services) in Baltimore, Silver Springs, and Cheverly.
E-mail: dhmh.healthmd@maryland.gov