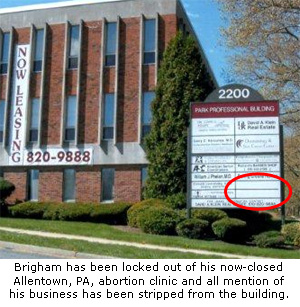 Allentown, PA — Two abortion clinics with connections to the notorious abortionist Steven Chase Brigham have been ordered closed by the Pennsylvania Department of Health.
Allentown Women's Services was forced to close when it lost its lease at 2200 Hamilton St., Suite 200, in Allentown. The Pennsylvania Department of Health revoked its license on April 10, 2012, citing "infrastructure failure" after landlord David A. Klein Real Estate terminated the lease, changed the door locks, and stripped the clinic name off all the building's signage. Local pro-life activists report that Brigham's office and medical equipment is still inside the locked office and no known effort has been made to remove it.
In the closure order, Anna Marie Sossong, the PDH's deputy secretary for quality assurance wrote:
"In addition, I would note that the Department of Health long has witnessed a chronic inability by AMS to comply with the most fundamental statutory and regulatory requirements. These recent events have shown that AMS is unwilling or unable to comply even with the most basic requirements of the law established and designed to assure the health and safety of the patients."
American Women's Services in Pittsburgh was ordered closed by the Department of Health after it failed to report the resignation of its Medical Director. Local activists indicate that there has been no replacement. The clinic was ordered to cease abortion services as of April 17, 2012.
The Medical Director at Allentown Women's Services also resigned earlier this year, but was replaced by long-time Brigham employee Vikram Kaji, an abortionist who has been disciplined for sexually abusing at least three of his patients and indiscriminately prescribing controlled dangerous substances.
Both clinics were ordered by the State to update the American Women's Services web site to reflect the fact that they are banned from doing abortions. However, as of this writing, the web site still listed the two offices as supplying abortions through 24 weeks of pregnancy.
Both Pennsylvania abortion clinics have ties to Brigham, who made recent headlines when he was arrested and charged with murder for operating an illegal late-term abortion business in Maryland where police discovered the frozen remains of 35 late-term aborted babies. Those charges were later dropped after an expert witness withdrew from the case under pressure from abortion groups.
Brigham's Pennsylvania medical license is inactive and cannot be renewed. In July, 2010, Brigham was banned by the State of Pennsylvania from operating or controlling any abortion clinics in that state citing violations that endangered the public. Brigham circumvented the order by transferring ownership of his clinics to Rose Health Services, a company said to be owned by Brigham's mother, and continued advertizing the clinics as part of his chain of 16 Abortion mills that operate in four states.
"Brigham has openly shown disregard for nearly every law on the books. He is a dangerous man who is not above deceiving authorities about the true nature of his disreputable abortion businesses," said Troy Newman, President of Operation Rescue and Pro-Life Nation.
"His deception in Pennsylvania is finally exposed and his clinics there are closed, but he continues to operate clinics in New Jersey, Maryland, and Virginia. This poses an intolerable risk to women. Authorities in all these states are well aware of Brigham and while he is not allowed to practice medicine in any of them legally, they continue to allow him to operate his sleazy abortion mills. This is wrong and we will continue to work through the system to correct this problem until Brigham and his ilk are out of business for good."
Read Brigham's profile on AbortionDocs.org
Read about other troubled Brigham abortionists.