Despite her Maryland suspension, Nicola Riley continues to quietly do abortion in Utah, raising concerns about the safety of women in that state


By Cheryl Sullenger
Salt Lake City, UT — Operation Rescue has obtained additional open record documents that show abortionist Nicola Riley, an employee of the notorious Stephen Chase Brigham, has a history of criminal problems that earned her a year at the U.S. Military Prison at Ft. Leavenworth, Kansas, and a dishonorable discharge from the U.S. Army.
Riley made headlines when the State of Maryland suspended her medical license after a botched late-term abortion exposed her part in Brigham's illegal scheme to circumvent abortion laws in two states. She is also accused of aiding and abetting the unlicensed practice of medicine by helping Brigham do abortions at a secret late-term abortion clinic in Elkton, Maryland, where Brigham has no medical license. Brigham's New Jersey medical license has since been suspended for illegally starting abortions as late as 36 weeks at his Voorhees, New Jersey office, then transporting his patients across state lines to Maryland where the abortions were completed.
Earlier in life, Riley appeared to have a bright future ahead of her. She attended the United States Military Academy at West Point, New York, and earned a Bachelor of Science degree in 1987. She was commissioned as an officer in the U.S. Army and posted to Ft. Carson, Colorado.
In June, 1991, two soldiers under her command were convicted of credit card fraud and criminal impersonation. Riley admits she knew about the criminal activity, but did not report it in a timely manner. The delay was long enough for authorities to charge as an accessory, but it is unclear just how deeply she was actually involved in the scam.
Riley pled "no contest" and was sentenced to serve one year at the Ft. Leavenworth military prison after which she received a dishonorable discharge from the Army.
After her discharge, Riley eventually returned to school and obtained a medical degree from the University of Utah in 2002.


Operation Rescue received a redacted copy of Riley's Utah medical license application from the Utah Division of Occupational and Professional Licensing through an open records request. The 37-page document reveals that Riley submitted her application for a medical license in Utah on June 10, 2004, and was granted a license on July 14 of that same year.
Transcripts show that Riley failed the United States Medical Licensing Examination Step 1 three times, finally passing with only five points to spare in 2002 after nearly two years of trying. It took her an additional 15 months to pass steps two and three.
Translating her scores into letter grades, she would have passed with a D grade overall.
In 2004, Riley passed her Utah Controlled Substances Law and General Law exam, with just two points above a failing score.
"In Riley, we are looking at a convicted felon who barely is qualified to practice medicine," said Operation Rescue President Troy Newman. "It is not surprising that she became an abortionist. She may have not have possessed the competency for any higher calling."
In fact, Riley appears to have gone directly into the abortion business upon licensure. She told the Maryland Board of Physicians that she trained with abortionists for a year after her licensure before taking a position as Medical Director at SMP Family Medicine, PC, where she worked under the radar for the past five years doing abortions up to 14 weeks gestation.
Riley was trained to do abortions through twenty weeks gestation at Planned Parenthood in Denver and Colorado Springs, Colorado. She also trained with abortionist Regula E. Burki during her Residency at St. Mark's Hospital in Salt Lake City, and with abortionist Madhuri Shah, who does abortions to 20 weeks at the Utah Women's Clinic in Salt Lake City. Riley also told the board that she trained under another male abortionist, whose name she could not remember, at a place she referred to as "Mount Olympus" even though there are no known abortion clinics in Salt Lake City with that name. (Riley-MDBP Interview, p. 51)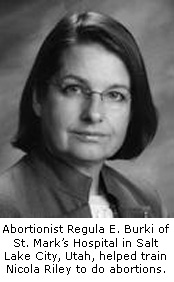 In 2002, Riley had married fellow medical student Dustin Eric Coyle, an anesthesiologist ten years her junior. Sometime later the couple divorced. Seeking full custody of her children, Riley sought to establish a work history in the Virginia-Maryland area where she hoped she could eventually move her family. (Riley MDBP Interview, p.3) She interviewed with four abortion businesses and in a decision that reflected extremely poor judgment, she took a job as a contract employee at Brigham's troubled American Women's Services doing first and second trimester abortions, while training to do risky third trimester abortion procedures.
She admits she participated in the abortion of a 33 week baby on her first day on the job at Brigham's secret abortion clinic in Elkton, Maryland, on July 30, 2010. That abortion was started by Brigham in New Jersey the previous day. When police raided the Elkton mill, remains of aborted babies were found the remains of 35 aborted babies in a freezer. Clinic logs seized from the clinic indicated that the gestational ages ranged as high as 36 weeks.
Details of Brigham's late-term abortion scheme and the botched late-term abortion of a young woman that exposed it can be read in Operation Rescue's investigative report "Botched Abortion Nightmare: 'I wish I never heard of them.'"
Riley has an open medical license application pending in Virginia, where she would stay with relatives when working for Brigham every other weekend.
Currently, Riley's SMP Family Medicine abortion clinic in Utah is not taking abortion patients. However, Operation Rescue has learned that she continues to quietly do abortions at the Wasatch Women's Center in Salt Lake City.
"If Riley is not fit to practice in Maryland, she isn't fit to practice anywhere," said Newman. "How many abortion injuries and deaths do we have to hear about before the authorities put their foot down on these abortion quacks and force them into another line of work that does not include maiming and killing people?
"We plan to make sure the Medical Boards in Utah and Virginia understand the horrific nature of Brigham and Riley's illegal late-term abortion racket by sending them the records we obtained from New Jersey detailing patient D.B. abortion nightmare. Riley's license needs to be suspended in Utah and denied in Virginia to make sure no one else suffers harm at her hands again."
View Riley's entire Utah Medical License Application
Note: Documents supplied under open records laws are public. Medical licensing applications are open records and available to the public in order to insure full disclosure and accountability. Reprinting such records is a completely legal right of citizens who are granted documents under open records laws.