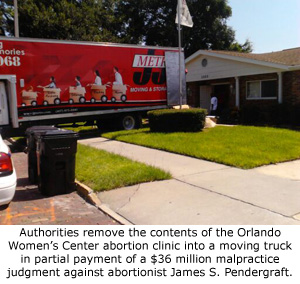 Orlando, FL – Operation Rescue has learned that property is currently being seized from the Orlando Women's Center. We have also confirmed that the abortion clinic, the Flagship office of James Scott Pendergraft IV's five office abortion chain, has been closed.
Michelle Herzog of Pro-life Action Ministries told Operation Rescue she witnessed authorities removing one of the abortion tables and other abortion equipment and loading it into a large moving truck.
Pendergraft was hit with a massive In 2011, Pendergraft was hit with a whopping civil medical malpractice judgment of $36,737,660.16 in compensatory and punitive damages in a case involving a botched 20 week abortion that resulted in the live birth of a child physically damaged by Pendergraft's incompetent abortion process amid what was described as "third world conditions" with virtually no counseling. He has refused to pay the judgment.
It is thought, but not yet confirmed, that the seizure may be related to that judgment.
A clinic receptionist is telling callers the Orlando Women's Center is "closed for maintenance" and are unsure whether the clinic will reopen at this time.
This is a breaking story. Please check back for updates.