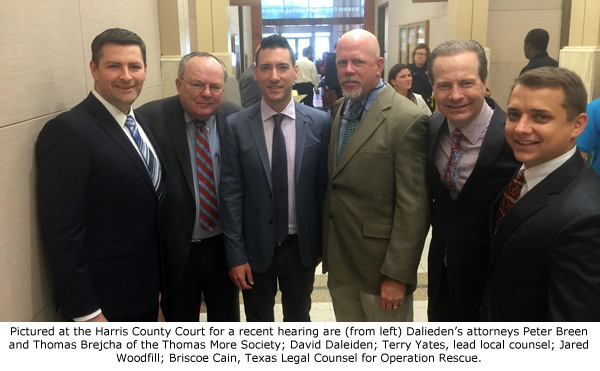 By Cheryl Sullenger
Houston, TX – The Harris County District Attorney's Office has asked a judge this morning to dismiss the felony counts it had filed against David Daleiden and Sandra Merritt, undercover journalists with the Center for Medical Progress who exposed Planned Parenthood's participation in the illegal trafficking of aborted baby remains for profit.
"This is vindication of the work of David Daleiden and the Center for Medical Progress. I am so pleased that justice has prevailed! These false charges can no longer be used by Planned Parenthood and their cronies as a smokescreen to hide their own criminal conduct," said Troy Newman, President of Operation Rescue and a founding board member for the Center for Medical Progress.
Daleiden and Merritt had originally faced one felony each for using actor's I.D.s and a misdemeanor count for attempting to purchase aborted baby organs from Planned Parenthood's high-volume late-term abortion facility in Houston, Texas. The misdemeanor counts were earlier dismissed.
The pro-life activists' attorneys were in court this morning to argue their motion to dismiss the last of the charges when the District Attorney's office asked for the dismissal.
This is a breaking news story. Look for updates later as more information becomes available.