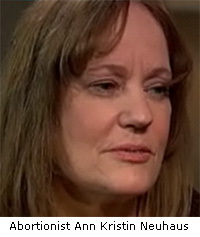 Topeka, Kansas – The Kansas State Board of Healing Arts has ordered the revocation of the medical license of abortionist Ann Kristin Neuhaus, stating that Neuhaus' practice of providing late-term abortion referrals to George Tiller was "professionally incompetent" and constituted "unprofessional conduct."
The case was the result of a 2006 complaint filed by Operation Rescue staffer Cheryl Sullenger. KSBHA prosecutor Reese Hayes formally notified Sullenger of the revocation order this morning.
"Based on the Board's initial order, we have no doubt that George Tiller conducted illegal abortions, knowing fully that Neuhaus issued mental health diagnoses to support late-term abortions without having seen the patient or after an inadequate consultation with the patient that did not include a proper mental health evaluation," said Troy Newman, President of Operation Rescue.
"Had Tiller lived, it is certain that his medical license would also have been revoked since he faced a similar complaint petition based on the same eleven patient files. The decision to revoke Neuhaus' license vindicates ten years of our work in Kansas and proves that we were correct in our allegations that Tiller was doing illegal abortions."
The eleven counts against Neuhaus were based on eleven patient records involving girls between the ages of 10-18 who received post-viability abortions in 2003 at Tiller's now closed abortion clinic in Wichita, Kansas. At that time, before post-viability abortions could be done, Kansas law required a second consenting opinion that the continuation of a pregnancy would cause "substantial and irreversible impairment of a major bodily function" of the woman. Neuhaus provided all of Tiller's late-term abortion referrals at that time and referred each of the eleven patients for abortions on mental health grounds.
However, according to Administrative Judge Edward J. Gaschler, who wrote the Board's initial order that was released to Operation Rescue today, there was no evidence that Neuhaus ever saw many of the patients she referred for post-viability abortions.
In addition, there was no evidence that she conducted proper mental health evaluations. Neuhaus used a computer program called Psychmanager Lite to input answers to "yes or no" questions to generate diagnoses in spite of warnings from the program manufacturer not to rely on the program without conducting evaluations that Neuhaus failed to perform.
Dates on the computer printouts, indicate that the dubious diagnoses were made days or weeks after the abortions were begun.
Neuhaus's initial order will be taken up by the full Board at their April meeting where it is expected to be finalized.
Operation Rescue will release a full statement soon concerning the details and implications of this order.