Killing of Black baby highlights the targeting of Blacks for abortion and prompts the showing of "Maafa 21" on Friday, October 9, in Miami
UPDATE! Important Leadership meeting information is added below.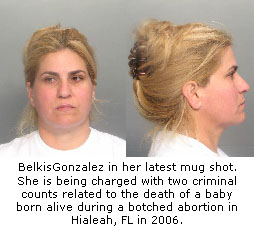 Miami, FL – Pastors from the Black Community are asking for murder charges in addition to the two felonies already field against former abortion worker Belkis Gonzalez, who was responsible for the death of a black baby who was born alive during an abortion at a Hialeah, Florida abortion clinic in 2006.
Dr. Johnny Hunter of LEARN and Rev. O'Neal Dozier, Pastor of the Worldwide Christian Center Church held a press conference today to discuss the case which is scheduled for a hearing on October 9.
Belkis Gonzalez, an unlicensed abortion worker, was on duty when a 19-year old woman arrived at the abortion clinic to complete an abortion started by Pierre Renelique the previous day. When Renelique failed to show up to finish the abortion, the woman gave birth to a little girl, Shanice Osbourne, who was moving and breathing at the time of the delivery. Gonzalez then cut her umbilical cord, shoved her in a biohazard bag with caustic chemicals, and tossed her up on the abortion clinic roof to hide her body from the authorities.
Three years later, after substantial public pressure from Operation Rescue, Gonzalez was arrested and charges with two felonies counts of practicing medicine without a license and evidence tampering. Gonzalez was on probation at the time of her arrest for conducting medical duties without a license. If convicted, she could face five years on her previous charge in addition to 15 years in prison on the current charges, even without the murder charges.
"When Belkis Gonzalez decided not to call 911, when she decided instead not to clamp the cord so Shanice would bleed to death, when she decided to stuff Shanice into a bag so she would suffocate, that was cold blooded murder and Gonzalez must be held accountable with homicide, not minor charges," said Rev. O'Neal Dozier.
"By not charging Gonzalez with murder, the prosecutors are making the statement that Shanice's life lacked the value of other human beings. That is an insult to Shanice, who deserves the full measure of justice for her short and painful life," said Operation Rescue President Troy Newman, who helped sponsor the Miami event with Dr. Hunter and Rev. Dozier.
Shanice's death draws attention to the disproportionate targeting of Black women for abortion in this nation. While only 13% of American women are Black, they account for 36% of all abortions.
In response to that, Dr. Hunter will be screening the film "Maafa 21 – Black Genocide in the 21st Century" on Friday, Oct. 9 at 7 PM at Sierra Norwood Calvary Baptist Church, located at 495 NW 191 St. in Miami. He will be available to answer questions following the showing.
There will also be an important Leadership Meeting prior to the court hearing.
Leadership Meeting: Thursday October 8th, 3:00 pm
Location: "Miami" Revival Tabernacle Assembly of God
2085 NW 97th St, Miami, FL 33147-2549
Host: Pastor Scott with Rev Johnny Hunter
Below is a news video of an interview with Rev. Dozier. While the report claims the trial will begin on October 9, 2009, Operation Rescue has confirmed with the court that Gonzalez will have a hearing in this case on that date, but the trial date has yet to be set.