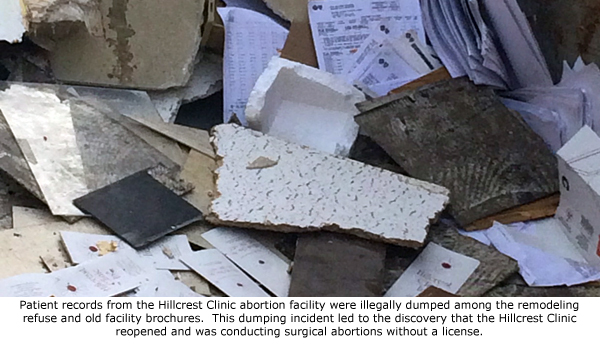 By Cheryl Sullenger
Baltimore, MD – Even though Baltimore's Hillcrest Clinic was temporarily closed in February 2016, a group a pro-life supporters continued their routine vigil outside the abortion facility. One activist happened to notice papers blowing down the sidewalk from the nearby commercial dumpster that was a sign renovations were in progress. Being a good citizen, she retrieved the litter of paperwork so she could return it to the dumpster.
But as she causally glanced at the documents, she became alarmed by what she saw.
The papers were medical records from patients who had received abortions.
There were names, addresses, and even a copy of a woman's photo identification card – all blowing down the sidewalk for anyone to find. When she looked inside the dumpster, she found "buckets" of medical records strewn amongst the broken pieces of office furniture, ceiling tiles, and miscellaneous debris deposited by contractors working on the remodel.
The activist, who asked that she not be identified, was concerned that privacy laws such as the Health Insurance Portability Accountability Act (HIPAA) were being broken, and that the abortion business had committed a breach of trust. She put the medical records back in the dumpster then took photographs to document the incident.
On the advice of Operation Rescue, a complaint along with her photos was filed with the Maryland Department of Health and Mental Hygiene (DHMH). Then, she waited to see what would happen next.
Reason for Concern
The Hillcrest Clinic first opened in 1973, soon after the Roe v. Wade Supreme Court decision decriminalized abortions in all 50 states, and claims to be the first legal abortion facility to ever open in Baltimore. While Hillcrest is affiliated with the National Abortion Federation, that hasn't made it safe by any means. Over the years, there have been a slew of medical malpractice suits and disciplinary actions against its abortionists.

For example, in 1999, Hillcrest abortionist Earl McLeod was working for Potomac Family Planning Center in Rockville when one of his abortion patients, 27-year old Jennifer Halner, died from complications to anesthesia that were exacerbated by negligence, including a lack of patient monitoring, emergency drugs, and equipment.
When it was discovered that Halner had suffered cardiac arrest, the anesthesiologist working with McLeod grabbed an undersized pediatric BVM oxygen mask and began bagging her. If this sounds familiar it should. The same thing happened to another abortion patient, Lakisha Wilson, in Cleveland, Ohio, in 2014. She also died.
McLeod was placed on probation for three years and ordered to maintain emergency equipment at his abortion facility, including adult sized oxygen masks and a defibrillator.
Despite the safety issues, it wasn't until 2013, when Maryland first began requiring abortion facilities to be licensed in the wake of the Steven Brigham illegal late-term abortion scandal, that the Hillcrest Clinic received its first inspection.
Of course, violations were found, including:
• Lack of procedures for dealing with safety issues, such as fires or mechanical hazards.
• Failure to train nine employees in patient transfer procedures.
• Improper labeling and storage of drugs.
• Failure to record discharge diagnosis in patient files.
• Failure to ensure proper sterilization of surgical instruments.
Once a plan of correction was submitted, the matter was considered closed and an ambulatory surgical facility license was issued to the Hillcrest Clinic, allowing it to conduct surgical abortions.
There is no record that any other inspection was done over the next three years.
Operation Rescue has been informed that the Hillcrest Clinic shut down for renovations on February 1, 2016, when it was apparently taken over by Potomac Family Planning Center – the same business where McLeod killed Jennifer Halner. It is believed that this was when the ambulatory surgical facility license that was initially issued to Hillcrest in 2013 was terminated.
It was just under three weeks later that private abortion patient medical records were found blowing out of the dumpster and down the street.
No License
On April 14, 2016, the Maryland Department of Health Care Quality issued a letter to the pro-life complainant noting that the Hillcrest Clinic had been inspected and that her allegations were in fact substantiated.
But there was a catch.
"However, since the [Hillcrest Clinic] was not licensed by our office at the time of the complaint investigation, we were unable to cite any deficiencies. Our Office did notify the Maryland Board of Physicians and the Office of Civil Rights of our findings," the letter stated.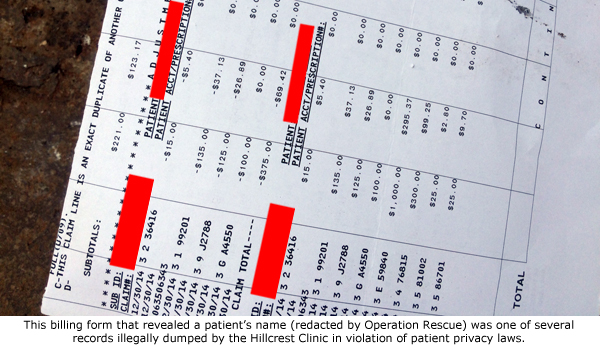 To date, there has been no word from the Board of Physicians or the Office of Civil Rights on the patient privacy violations.
Yet, the admission that the Hillcrest Clinic was not licensed for abortions at the time of the inspection is an important one. The abortion facility did not apply for a new ambulatory surgical facility license until April 12.
On April 19, it was discovered that the Hillcrest Clinic had reopened for business. Operation Rescue confirmed that the abortion facility was providing surgical abortions four days per week. A check of the DHMH's listing of licensed abortion facilities showed no listing for the Hillcrest Clinic.
A local Maryland activist confirmed with a phone call to the Maryland Department of Health Care Quality on May 2, that the Hillcrest Clinic had indeed applied for a new ambulatory facility license, but that the application had not yet been approved.
Without an ambulatory surgical facility license, Hillcrest Clinic cannot legally conduct surgical abortions. That means since at least April 19, 2016, it was conducting surgical abortions in violation of the law.
Operation Rescue has filed a complaint with the Department of Health Care Quality seeking the shut-down of the unlicensed abortion business.
"Hillcrest is operating an illegal abortion facility in Maryland right now, yet the Department of Health Care Quality doesn't seem to care," said Operation Rescue President Troy Newman. "Abortion regulations aren't just for show. They are there to make it harder for abortionists to kill people. That's why its so important that the laws are enforced and tough penalties are assessed when violations are found. What good are those regulations if they are not enforced? This places the lives of women at risk from shoddy, substandard abortion businesses that are allowed to operate outside the law."
The Hillcrest Clinic certainly isn't the first illegal abortion facility operating in Maryland. Operation Rescue recently reported on another abortionist, Harold O. Alexander, who was caught conducting late-night surgical abortions at his unlicensed facility in Forestville. Operation Rescue submitted documentation to the DHMH only to be notified that its complaint was being buried in Alexander's extensive disciplinary file without action.
"There are major problems at the Maryland Department of Health and Mental Hygiene, which oversees the Board of Physicians and the Department of Health Care Quality. It is knowingly allowing unlicensed surgical abortion facilities to operate in that state in violation of their own regulations," said Newman. "Its unwillingness to enforce the law is placing the lives of women at risk. It is time for new leadership within the entire bureaucratic structure of the DHMH. Someone should be fired, if not prosecuted for this dereliction of duty."