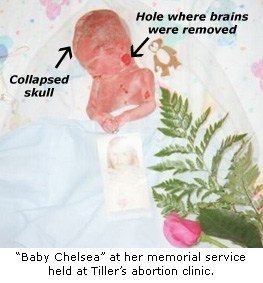 The story of a late-term baby aborted by George Tiller
[This is a reposting of a story we ran in 2001. It is still as relevant and heart-wrenching today as it was when it first appeared. -OR]
On June 12, 1998, a young couple aborted their 7-month old pre-born baby at George Tiller's Women's Health Care Services in Wichita, Kansas. They had been flown in from their home state of New York at the expense of their medical insurance carrier. Their baby, "Chelsea", (not her true name), had been prenatally diagnosed with Cystic Fibrosis, a genetic disease that today is treatable, although not curable.
Chelsea's mother, a professing Catholic, had been upset by the diagnosis and had resisted the doctor's suggestion to abort. The father, however, did not want the inconvenience of raising a child with special medical needs and pressured his wife to abort their daughter.
Chelsea was aborted using a modified version of the partial birth abortion method that Tiller credits himself with inventing. The a few days before, Chelsea's mother had undergone an ultrasound, where Tiller had located the baby's heart and injected it with Dioxin, a drug that paralyzed Chelsea's heart and caused her death. Later that week, Mom reported for the final "procedure." Chelsea's body was delivered intact, but marred from the grasping instruments used to locate her leg and bring her lower body down into the birth canal. Her skull was punctured and suctioned out, her head was crushed, and the remainder of Chelsea's limp body was birthed.
Following the abortion, George Tiller baptized Chelsea, wrapped her in a blanket, and presented her to her parents for viewing, commenting that, "Your baby was a very efficient parasite." Tiller then snapped Polaroid photos of the parents and their now-dead child. As the mother held her baby's body, fluids and blood from the incision at the base of the skull began to leak down her arm. "I felt like my life was draining down my arm," she remarked later.

The parents photographed themselves with the child they had just murdered, placing religious objects and toys around her lifeless body. In the photographs, one can clearly see the image of Jesus, representing the Catholic faith of the mother and a gold-colored cross, representing the Protestant faith of the father.
Chelsea's remains lie in a Wichita grave marked with a stone engraved with her true name and the phrase, "Our Angel." An obituary appeared in the hometown newspaper noting that Chelsea was "stillborn."
Today, Chelsea's parents deeply regret having aborted their daughter. They still struggle with the grief and guilt and live in an uneasy state of denial. They have since given birth to another daughter who has also been diagnosed with Cystic Fibrosis.
A sidewalk counselor who had spoken to the family originally gave the photographs of Chelsea and her parents to Operation Rescue in July, 2001. OR contacted Chelsea's family and was granted permission to use the photos with the hope that the images of Chelsea would help to save others from her fate.