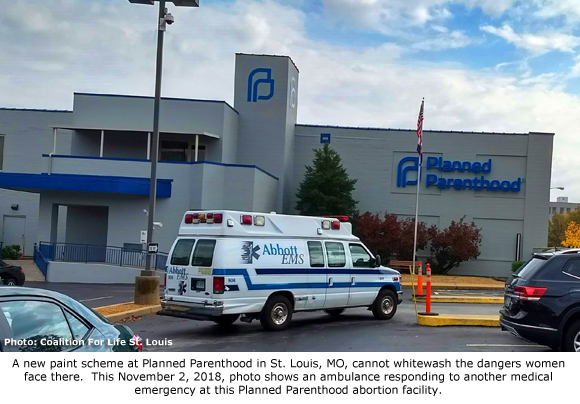 By Cheryl Sullenger
St. Louis, MO – Planned Parenthood's motion for a temporary restraining order blocking the state from enforcing laws and regulations is in the hands of Judge Michael Francis Selzer this morning as the nation awaits his ruling that could pave the way for Missouri to become the first abortion free state since 1973.
The drama now playing out had to do with Reproductive Health Services Planned Parenthood's unwillingness to comply with a licensing and public safety investigation as the clock ticks down on its facility license, which expires at the end of the day.
RHS Planned Parenthood, located in St. Louis, is the last remaining abortion facility in Missouri.
"We are awaiting on pins and needles for the judge's decision. We would rejoice to see Missouri become the first abortion free state. We understand that lot of hard work and many years of prayer by many pro-life activists and supporters – including our office – have gone into this moment," said Troy Newman, President of Operation Rescue.
According to Dr. Randall Williams, the Director of the Missouri Department of Health and Senior Services, Planned Parenthood's lack of cooperation in preventing the Department from interviewing its doctors is unprecedented.
In an interview with NPR yesterday, Dr. Williams stated, "I can only say that there were concerns about standard of care and policy. And all of that information will be made public in our final report, but I cannot speak to it in detail now. What Planned Parenthood is doing here is literally unprecedented. . . They've always cooperated in the past. We've interviewed their doctors for years. This year is the first time they've ever said that they wouldn't be interviewed."
The DHSS has sought interviews with seven licensed physicians who conduct abortions at RHS Planned Parenthood, three of which were trainees. All seven were involved in patient "outcomes" that Williams says it must "by law investigate."
A press statement made by Gov. Mike Parson on May 28, 2019, elaborated on Planned Parenthood's lack of cooperation in a detailed timeline of events.
He noted that as Planned Parenthood's expected license renewal date approached, Department of Health conducted an annual inspection of RHS Planned Parenthood on March 11-13, 2019, and found several deficiencies of state laws and regulations that required correction prior to the renewal of their facility license. In the two months since, those deficiencies have not been corrected.
"On April 3, 2019, The Department of health started an investigation of Planned Parenthood facilities in St. Louis related to a series of incidents that raised concerns about the quality of care, patient safety, and statutory and regulatory compliance," Gov. Parson stated.
It is believed that the "incidents" referred to by Gov. Parson included 74 documented medical emergencies that required patient transport directly from RHS Planned Parenthood to hospital emergency rooms. Those incidents have been carefully documented by Operation Rescue with the help of local pro-life activists in Missouri.
A week later, the Department of Health requested interviews with the seven licensed physicians, but Planned Parenthood informed them that they had no obligation to make physicians available for interview with state health department officials. Each physician sought their own legal representation and the Department of Health was notified to take up the matter of interviews with those attorneys.
It was not until May 16, 2019, that Planned Parenthood finally submitted their application for license renewal on the final day it could be accepted by the Department of Health. This was done with Planned Parenthood's clear understanding that their facility license expired on March 31, 2019.
When DHSS indicated that it could not renew RHS Planned Parenthood's facility license without their cooperation with the investigation and compliance with state laws and regulations, Planned Parenthood filed suit against the DHSS seeking a temporary restraining order to prevent officials from ending their licensing privileges.
It is that decision that is currently pending, but is expected at any time before the end of the day. If no decision is issued, Planned Parenthood will be forced to stop all abortions immediately at the end of business today.
Both Gov. Parson and DHSS Director Williams have made it clear that if Planned Parenthood cooperates and comes into compliance, then a license will be issued. So far, that has not happened.
Operation Rescue plans to issue a statement on the court ruling as soon as it becomes available.