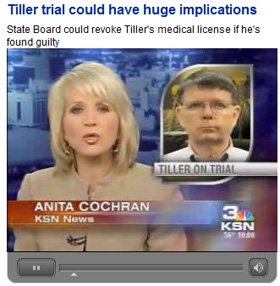 Wichita, KS – The final pool of jurors for the trial of late-term abortionist George R. Tiller was selected today. From this final group, six jurors and two alternates will be chosen on Wednesday morning. These will be the people that will sit in judgment of Tiller during his trial, which is set to begin on Monday, March 23.
This trial is expected to have huge implications for the pro-life movement nationwide. If convicted, the Kansas Board of Healing Arts could suspend or revoke Tiller's medical license, and force his late-term abortion mill to close. (View informative news video discussing this.)
Today, two more jurors were dismissed because of their strong pro-life beliefs. Yesterday, one woman was also dismissed for that same reason. One juror was dismissed on Monday because he had difficulty understanding English, and another for having heard too much publicity about the case and wanting to have nothing to do with it.
No jurors have been dismissed because they expressed strong "pro-choice" beliefs.
One juror expressed concern that he would not be qualified for the jury because he had never heard of George Tiller. Judge Clark Owens told the young man that his lack of knowledge of Tiller meant that he was likely the most qualified juror. That comment evoked laughter among those present in the courtroom.
"We are again calling on men and women of faith to come to Wichita to pray for this historic trial," said Operation Rescue President Troy Newman. "This is the moment we have been praying for and working toward. We need press in and fervently pray for justice, because if that prayer is answered, the lives of countless innocent babies will be spared. This case is literally one that will decide life of death for thousands of children."
Starting on Sunday evening, and on each evening until the trial concludes, there will be prayer rallies held at Living Word Outreach, 3033 S. Hillside in Wichita at 7 PM.
"We urge pro-lifers to make every effort to be at those prayer rallies," said Newman. "Now is the time to press in with prayer and ask God to finish the work He started and bring a final end to Tiller's horrific abortion business."
Please listen to daily trial updates by Troy Newman on the Bott Radio Network!