Pro-Life groups launch petition calling for Federal Judge Nanette Laughrey to recuse from Planned Parenthood's case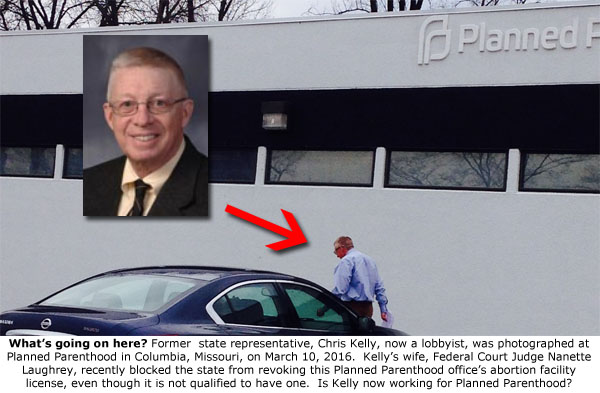 By Cheryl Sullenger
Columbia, MO – Federal Court Judge Nanette Laughrey, who is blocking the Missouri Department of Health and Senior Services from revoking the abortion facility license of the Columbia Planned Parenthood facility, is being called on to recuse from the controversial case after pro-life activists photographed her husband, lobbyist Chris Kelly, entering that same facility on March 10, 2016.
Laughrey, a Clinton appointee, issued a preliminary injunction in December, 2015, after Planned Parenthood sued to keep its abortion license even though it does not qualify for one. The Columbia Planned Parenthood facility has no licensed physician with local hospital privileges, which is a prerequisite for licensing.
Laughrey's husband, Chris Kelly, is a recently retired Democratic State Representative from Columbia who established a new consulting firm in January 2016, and registered as a lobbyist with the Missouri Ethics Commission.

Kelly was spotted by pro-life activists entering the Columbia Planned Parenthood abortion facility, which is currently the subject of Laughrey's protection, and began to photograph him. Witnesses tell Operation Rescue that Kelly later slipped out the back door, presumably to avoid being further photographed at the facility.
Pro-life activists from Missouri tell Operation Rescue that they have lost confidence in Laughrey and no longer believe the state's side of the case will get a fair shake in her court.
"Kelly's meeting at Planned Parenthood raises serious questions about his relationship with the abortion organization. This casts an appearance of impropriety on Laughrey's dubious decision to allow Planned Parenthood to maintain an abortion license that it obtained through questionable means," said Operation Rescue President Troy Newman. "We call on Judge Laughrey to recuse from the case due to her husband's apparent involvement with Planned Parenthood."
A Senate sub-committee investigation last summer discovered that abortionist Colleen McNicholas, who was dispensing abortion drugs at the Columbia facility, held only bogus "refer and follow" privileges that did not allow her to treat patients at University Hospital. Those so-called privileges were obtained with the improper assistance of a Missouri University employee, and deceptively passed off as full staff privileges to the Department of Health, which issued the Columbia Planned Parenthood an abortion license for which it was never qualified.
Once the ruse was discovered, Missouri University revoked McNicholas' "refer and follow" classification, which left the Columbia Planned Parenthood without a legally qualified abortionist. This prompted the Department of Health to initiate revocation proceeding against Planned Parenthood's abortion facility license.
Planned Parenthood sued. Judge Laughrey has allowed until June 30 for Planned Parenthood to locate another abortionist that complies with the legal requirement to maintain proper hospital privileges within 30 miles of the facility, but that might not be easy.
Most reputable physicians want nothing to do with abortion. The two abortionists currently affiliated with Planned Parenthood of Kansas and Mid-Missouri, Orrin Moore and Ronald Yeomans, are not qualified for hospital privileges in Columbia.
Currently, no abortions are taking place at the Columbia Planned Parenthood facility. To replace the lost revenue, the organization that operates it, Planned Parenthood of Kansas and Mid-Missouri, started selling abortion drugs last month at its facility in Wichita, Kansas.
"Instead of upholding Missouri law, Laughrey is helping Planned Parenthood circumvent it. Now that we see her husband has a relationship with Planned Parenthood, it is clear that Laughrey must recuse, especially since this isn't the first time concerns of impropriety have surfaced related to her position as judge over cases influenced by her husband," said Newman.
When Kelly served as a state representative, there were public concerns of undue influence in other cases before Laughrey in which Kelly had some involvement, but Laughrey always refused to recuse.
"The situation with Planned Parenthood in Columbia has been fraught with deception and scandal. We simply cannot afford to take Laughrey's word for it that her husband will not influence the case," said Newman.
Laughrey should step down fro this case before scheduled oral arguments, which are set for April 28, 2016. (Trial briefs were just filed on April 4. Read Planned Parenthood's brief; Read the State's Brief)

Operation Rescue has launched a petition calling for Judge Nanette Laughrey's recusal from Planned Parenthood of Kansas and Mid-Missouri v. Lyskowski, case number 2:15-cv-04273-NKL.
Sign the Petition