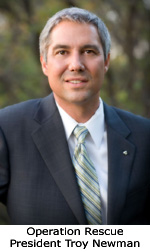 Washington, DC – Operation Rescue will hold a joint press conference in conjunction with several other pro-life/pro-family groups on Friday, May 15, 2009, at 10:00 AM in Washington, DC, to announce the launching of a national campaign to stop tax-payer funded abortions.
The press conference will be held in front of the White House on Pennsylvania Avenue across from Lafayette Park.
President Obama has promised massive health care reform, which is sure to include tax-payer funded abortions, which Obama has classified in previous talks as "essential health care."
An ever increasing number of Americans do not support legal abortion in most cases. In the past six months alone support for abortion has dropped by eight percent, in reaction to Obama's radical abortion agenda.
"It is morally reprehensible and fiscally irresponsible to fund an abortion industry that is morally opposed by nearly half of all Americans," said Operation Rescue President Troy Newman. "Pro-life groups, including ours, have recently exposed abortion clinics for engaging in criminal conduct, including the non-reporting of child rape, the commission of illegal abortions, and practicing medicine without proper licensure. It is unconscionable that taxpayers should be forced to fund these businesses that are operating outside the law.
"The abortion industry is one that is self-destructing. All over the country, abortion clinics are being exposed and closed. We cannot allow the Obama Administration to further endanger the stability of our nation's financial future by wasting money on bailouts to a failing abortion industry."
Earlier this month Operation Rescue worked with members of the Kansas Legislature to defund Planned Parenthood abortion clinics in that state. Operation Rescue provided legislators with a recording of an undercover phone call to Planned Parenthood that revealed a willingness to look the other way in a case of child sex abuse. After the recording was made public, an amendment to the state budget redirecting Title X money to hospitals and other legitimate medical facilities, passed easily in both houses. It now awaits the signature of the governor.
Newman will be in Washington, DC, over the weekend meeting with national leaders to garner support for the new campaign to stop tax-funded abortions.