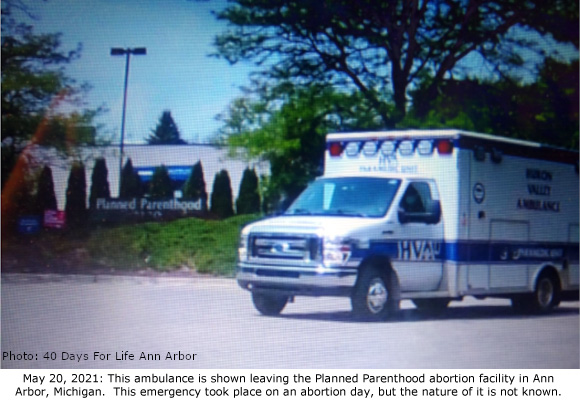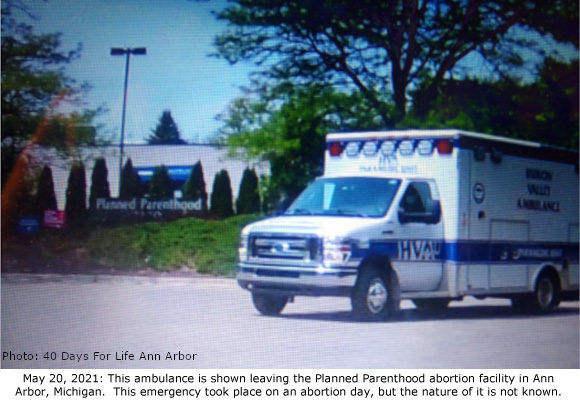 By Cheryl Sullenger
Ann Arbor, MI – The 40 Days for Life organization in Ann Arbor, Michigan, has reported that an ambulance was called to the Planned Parenthood abortion facility there for a woman who suffered abortion complications so serious that she required ambulance transport to a nearby hospital.
This is the third medical emergency at this Planned Parenthood facility so far in 2021.
Ambulances were also spotted at there on February 19 and 24 and were photographed by alert participants in 40 Days for Life vigils.
In all cases, women were transported by Huron Valley Ambulance, a private commercial ambulance service. It appears that there have been no 911 records released by Ann Arbor authorities since one incident in 2015 in which Planned Parenthood requested that an ambulance respond without lights or sirens.
"Abortion facilities only call for ambulances when it is absolutely necessary, so we believe that all three of these medical emergencies were very serious in nature," said Troy Newman, President of Operation Rescue.
This facility is associated with the University of Michigan's Ryan Residency Training Program in Abortion and Contraceptives (Ryan Program) and the Fellowship of Family Planning (FFP), which are operated through the Bixby Center for Global Reproductive Health at the University of California San Francisco. Both programs offer abortion training to hospital residents. (Learn more about these programs and their depopulation agenda.)
Planned Parenthood's abortionist Lisa Harris oversees the FFP program abortion training at the Ann Arbor Planned Parenthood.
Abortion facilities that participate in these abortion training programs have been known to experience frequent medical emergencies.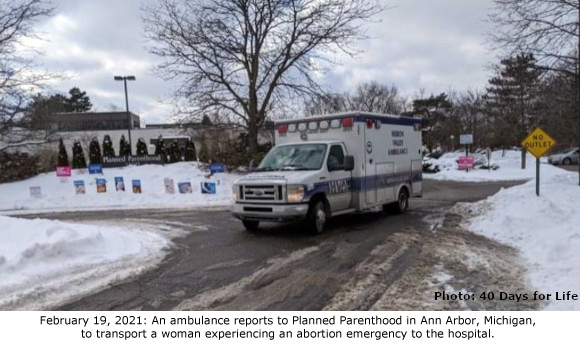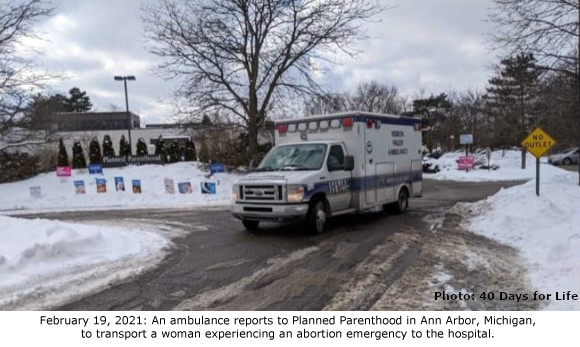 According to 40 Days for Life Ann Arbor, there have been at least 13 medical emergencies at this Planned Parenthood since 2015.
Those emergencies took place on the following dates:
March 12, 2015: Requested no lights or sirens for woman suffering abortion complications.
June 26, 2015
December 13, 2018
March 12, 2019
March 22, 2019
May 28, 2019
May 19, 2020
February 19, 2021
February 24, 2021
May 20, 2021
"Women need to be aware that abortion is not as safe as Planned Parenthood would have them believe," said Newman.  "The 'abortion is safe' rhetoric is really just a 'fake news' marketing tool to get women in the door, but, as these emergency incidents show, the reality for many women is something very different."