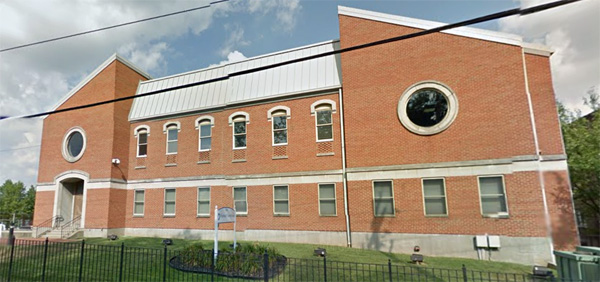 By Cheryl Sullenger
Columbus, OH – There were 170 reported complications to abortions done using the drug RU486 in Ohio over the past two years, according to Ohio Health Department complication forms obtained by Operation Rescue.
The RU486 drug is a pill also known as Mifeprex or Mifepristone. It is commonly prescribed with Misoprostol (Cytotec) to induce abortions up to 10 weeks gestation.
However, it is likely that the reported abortion complications do not account for all complications related to abortion drugs in Ohio. Not included in these reports were incidents where women did not return to the abortion facility, but reported directly to the hospital or their own doctors for care.
Failure to report?
Could under-reporting also be occurring at the abortion facilities? It appears so.
According to Ohio abortion statistics for 2018, the latest year currently available, there were a total of 6,103 abortions done using the RU486 drug, but only 89 abortion complications reported. That means the percentage of complications is an extremely low 0.015%, which is unheard of even in abortion-promoting literature.
Abortions using the RU486 (Mifepristone or Mifeprex) drug in combination with Misoprostol generally carry a 5% complication rate – much higher than surgical abortions.
"It is very clear that there is gross under-reporting of abortion complications happening in Ohio," said Troy Newman, President of Operation Rescue. "This gives the false impression that the abortion pills are safer than they actually are, and that creates a danger for women."
There are two abortion facilities that stopped reporting abortion drug complications.
In 2018, the Bedford Heights and Columbus Planned Parenthood locations lodged a combined 21 RU486 complication reports. Operation Rescue has confirmed that both are facilities conduct surgical abortions and pill abortions and did so throughout the entire period of 2018-2019.
However, in 2019, no medication abortion complication reports were filed by those two Planned Parenthood abortion facilities. Since services have not changed at those two locations, it would be essentially impossible that no medication abortion complications took place at these facilities in 2019.
This makes it very likely that the number of RU-486 abortion complications actually went up in 2019, not down and the available reports show.
"Abortionists are not known for their transparency or their honesty. I have no doubt that there has been under-reporting, just based on the way abortionists object to any and all accountability laws and act as though they are above them," said Newman. "In my experience, it's a mistake to take any abortionists at their word, especially when it comes to anything that might reflect negatively on their business."
By the Numbers
Nevertheless, information in the available records is revealing information.
Reported abortion pill complications totaled 89 in 2018 with eight facilities reporting. In 2019, seven abortion facilities reported 81 complications. This slight decrease is likely due to the lack of reporting by the Bedford Heights and Columbus Planned Parenthood facilities. One new pill clinic in 2019 reported just one complication.
In the two-years of reports, incomplete abortions, where the baby had died but all the tissue had failed to pass, accounted for 60 percent (102) of all complications reported over the two years. There were 56 reports of incomplete abortions in 2018 and 46 in 2019.
There was a total of 58 cases of failed abortions reported. This is where the woman remained pregnant with a living baby after taking abortion-inducing drugs. Thirty such failures took place in 2018 and 28 in 2019.
Women who experienced failed abortions were scheduled or referred for surgical abortions.
However, one woman who received abortion drugs from the Founders Women's Health Center in Columbus, had a failed abortion attempt in 2019, but left the abortion facility still pregnant without having made any abortion arrangements.
"We hope that woman decided to keep her baby," said Newman. "That would be the only happy moment in reading these RU486 abortion complication forms."
At least three woman who received abortion drugs required hospitalization. Of those, two women received blood transfusions due to heavy blood loss. One was hospitalized for an unstated abortion pill complication.
About half of all reported abortion complications resulted in women receiving second abortions through surgical means. Three women were forced to undergo three separate abortion attempts due to repeated abortion pill failure.
Other types of complications included hemorrhaging, severe bleeding, retained blood clot, and an infection that required antibiotics.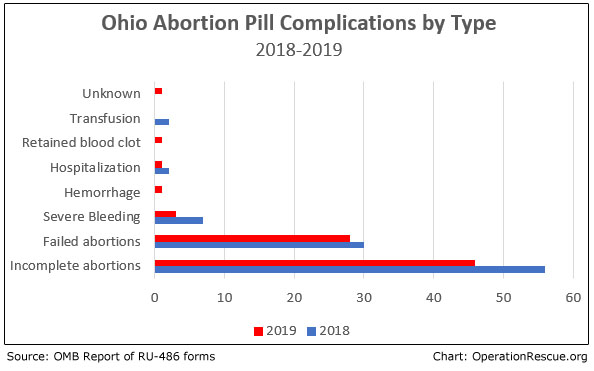 Worst Offenders
In both years, Planned Parenthood, which operates a high-volume abortion facility in Cincinnati, filed the most reports of complications related to abortion-inducing drugs with 27 in 2018 and 24 in 2019 for a total of 51 reports.
The following is a list of all Ohio abortion facilities and the number of medication abortion complications reported to the Ohio Department of Health.
The complication reports must be signed by the abortionist who dispenses the abortion drugs.
During 2018-2019, abortionist Mitchell Reider of Preterm, which is another high-volume abortion facility in Cleveland, filed 23 RU486 abortion complication reports, the most overall.
In 2018, Sapna Kalsy's name appeared on twelve RU486 abortion complication forms, the most that year. She works at the Planned Parenthood in Cincinnati.
In 2019, Catherine Romanos, who works at Women's Med Dayton, and Mitchell Reider, who works at Preterm, tied for having signed the most abortion complication forms at 14 each.
The following is a breakdown of the number of reports filed by each abortionist.
Number of Ohio Abortion Drug Complications by Abortionist – Final by Cheryl Sullenger on Scribd
"Reporting laws are very important to understanding the true scope of the dangers women face when ingesting abortion drugs. Failing to report these complications not only gives women a fraudulent sense of safety, but is also illegal," said Newman. "More must be done to ensure that the abortion complication reporting laws are strictly followed and we call on the Ohio Department of Health to conduct a thorough investigation into this under-reporting scandal, especially at Planned Parenthood facilities."
View the RU-486 Event Forms: