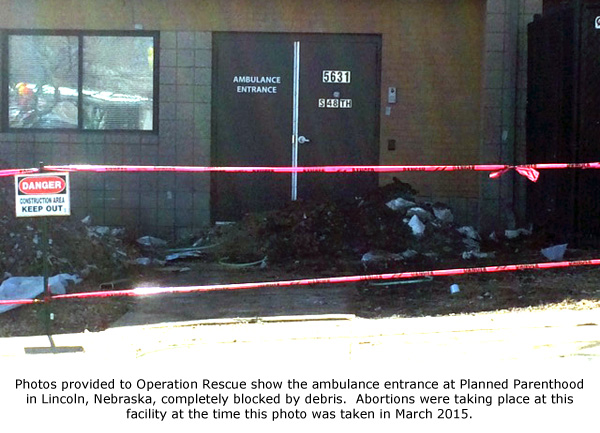 By Cheryl Sullenger
Lincoln, NE — Planned Parenthood of the Heartland has announced that its Lincoln, Nebraska, abortion clinic has halted abortions for now, citing the "unanticipated departure" of its "long-time" abortionist.
This announcement comes days after Operation Rescue received a letter of confirmation on March 27, 2015, that the Lincoln Planned Parenthood facility is under investigation the Office of Acute Care Facilities after it received Operation Rescue's complaint against the abortion clinic for unsafe conditions that could have delayed or prevented emergency help from accessing the facility.
Operation Rescue received photographs of the abortion clinic's ambulance entrance from a confidential informant showing the area around the door cordoned off and completely blocked. A 5-6 foot deep trench, piles of dirt, and construction debris would have prevented ambulance personnel from using the entrance or getting a gurney in the door in the event of a medical emergency. Abortions were taking place at the Planned Parenthood facility at the time the photos were taken in March 2015.


The timing of the complaint closely coincided with the "unanticipated departure" of Planned Parenthood's abortionist.
"It is a relief to know that abortions have halted in Lincoln for the time being, especially in light of the hazardous conditions that could endanger the lives of women suffering serious abortion complications," said Troy Newman, President of Operation Rescue. "We hope the Lincoln Planned Parenthood will never reopen."
A spokesperson for Planned Parenthood, Angie Remington, told a reporter that abortions are expected to resume as soon as another abortionist can renew her Nebraska medical license.
Planned Parenthood also maintains an abortion facility in Omaha, but the sudden departure of the Lincoln abortionist, who also worked at the Omaha facility, has seriously curtailed abortion availability there as well. Currently, the Omaha facility is being staffed by a very part-time Iowa-based abortionist, according to Remington.
The majority of patients are being referred to Planned Parenthood's Council Bluffs, Iowa, office for medication abortions or to Des Moines, Iowa – three hours and 187 miles away — for surgical abortions.
The notorious late-term abortionist LeRoy Carhart also operates a surgical abortion clinic in Bellevue, Nebraska, but Planned Parenthood will not refer to him.
"It seems Planned Parenthood would rather women make the six-hour round trip to Des Moines than refer to LeRoy Carhart, which says a lot about Planned Parenthood's opinion of him and the fierce competition for every abortion dollar," said Newman.
In Texas, Mississippi, Wisconsin and other states, abortion providers are fighting to keep open abortion facilities that cannot comply with state safety laws when closing them would mean long drives for women to the next nearest abortion facility. Court arguments made by abortion supporters have indicated that drives longer than 150 miles or crossing states lines create an undue burden on women.
"It seems that a 150-mile drive to an abortion clinic in another state is an 'undue burden'– unless it means that women will patronize a competitor. Then referring women to for out-of-state abortions that require a 400-mile round trip is just fine," said Newman. "This really highlights the hypocrisy of their spurious arguments."