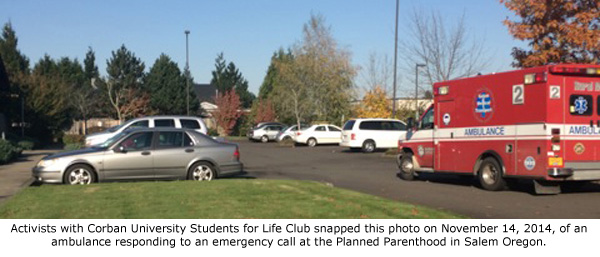 By Cheryl Sullenger
Salem, OR – Activists in Salem, Oregon, have informed Operation Rescue that a woman was transported by ambulance from the Salem Planned Parenthood abortion facility on Friday, November 14, 2014.
Members of the Corban University Students for Life Club witnessed and photographed the incident.
According to one witness, the ambulance arrived with no lights or sirens and was greeted by a Planned Parenthood employee. Eventually, a woman on a stretcher was wheeled out of the Planned Parenthood office and loaded into the awaiting ambulance.
"They did not want us to see her, so they put up a screen as she was taken out of the building," one of the students witnessing it said. "But it did not work. We could see the woman's shadow through the screen."
"While many state that we need legal abortions to protect women from unsanitary abortion conditions, this event is a simple reminder legal abortion clinics are not safe and legal abortion still hurts women. In Oregon, we have no health standards for our abortion clinics and this must change," said Bethany Janzen. President of Corban University Students for Life Club.
Abortionist Mark David Nichols has known affiliations with the Salem Planned Parenthood.
"Once again, a Planned Parenthood abortion clinic has hospitalized a woman suffering a serious condition that the facility was not equipped to handle. This adds to the growing documentation that is painting a startling picture of abortion dangers, which completely contradicts Planned Parenthood's 'safe and legal' mantra," said Troy Newman, president of Operation Rescue. "The condition of the woman remains unknown, and with the veil of secrecy that surrounds abortion in this country, we may never know if that woman survived."
Read about additional documented abortion-related medical emergencies.