By Cheryl Sullenger
Jacksonville, FL – Rescue units were dispatched to the Jacksonville Women's Choice abortion facility in Jacksonville, Florida, on February 15, 2017, for a patient who was suffering a medical emergency. She required hospitalization for treatment the abortion business was not equipped to provide.
Pro-life activists on the scene provided Operation Rescue with video of the incident. Radio communications confirmed that the patient was having seizures.
"This is a sight that is becoming far too common at our nation's abortion facilities. That is because abortionists are bottom of the barrel as far as observing patient care standards. For some reason, abortionists act like those standards and other laws simply don't apply to them," said Operation Rescue President Troy Newman. "All that corners-cutting ends up endangering women."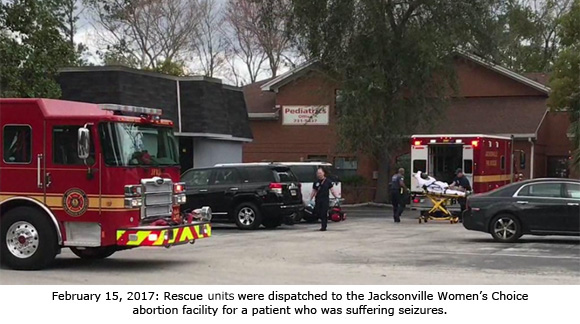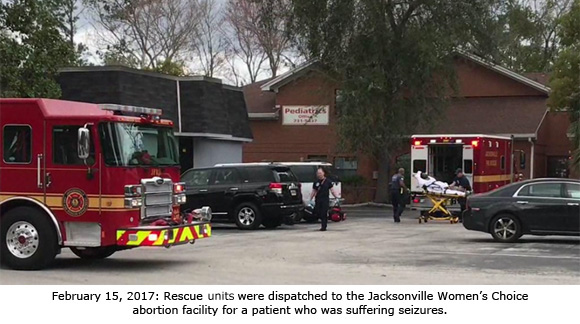 Jacksonville Women's Choice is a member of the National Abortion Federation, which has been implicated with Planned Parenthood in engaging in the illegal sale of aborted baby remains.
Jacksonville Women's Choice has been the site of previous medical emergencies. It has also been fined repeatedly for violations of abortion reporting laws and cited for multiple health and safety deficiencies.
"Reporting on medical emergencies at abortion facilities, which do not have the capacity to treat women when things go wrong, helps to expose the dangers of abortion that the National Abortion Federation wants to keep hidden from the public," said Newman. "We hope reports and videos will reach women with the truth about abortion dangers and convince them to seek other alternatives than abortion – for their own sakes as well as for their children."
For more documentation about abortion abuses at this clinic, view its facility profile at AbortionDocs.org.