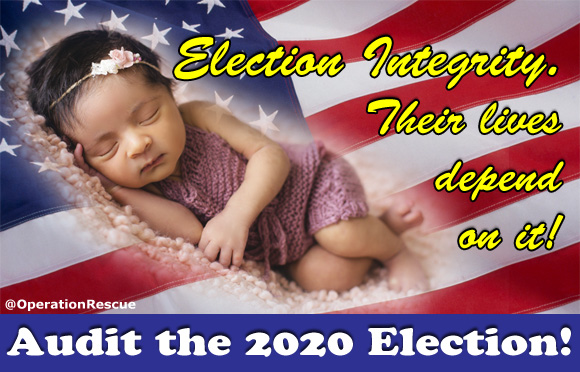 UPDATE August 10, 2021, 10:02 a.m.:
For those of you who are wondering, Mike Lindell has been forced to delay the start of his Cyber Symposium because his servers have been blocked by an "attack." 
The program has just begun but Frankspeech.com is still spotty. In the meantime, you can watch live on Right Side Broadcasting Network on Rumble.com. There is no RSBN live feed of the Cyber Symposium on Youtube. One American News Network (OANN) is supposed to be carrying the live feed as well.
Lindell also encouraged everyone to tune in at 7:00 p.m. tonight when there will be information that "is going to change the world."
Ask yourself why Lindell's channel Frankspeech.com and LindellTV.com are being blocked just at the 9:00 a.m. announced start time for the Cyber Symposium. What is it that certain people do not want you to see?
Follow @OperationRescue on Twitter and Telegram for the latest updates.
________
By Cheryl Sullenger
Election integrity is a crucial concern to pro-life advocates because it is only through secure and fair elections that we can elect pro-life representatives at the local, state, and federal levels that will stand for Life in our government.
It's no secret that President Donald Trump's suspicious defeat in the 2020 Presidential Election cast a blow to the pro-life movement that has essentially neutralized our ability to influence the Democrat-controlled Federal government. The current administration has moved quickly to undo many of President Trump's pro-life achievements. It is also attempting to dispense of the decades-old Hyde Amendment that blocked the use of Federal tax money to pay for abortions and is threatening to pack the U.S. Supreme Court with pro-abortion fanatics that would shift the Court back to the pro-abortion left – perhaps permanently.
This week, Operation Rescue is focusing attention on several possible events that are set to happen, perhaps the most notable of which is the Cyber Symposium hosted by Mike Lindell that will be streamed for 72-hours straight on August 10, 11, and 12. It can be viewed at Frankspeech.com.
This Cyber Symposium is expected to present solid evidence of numerous aspects of election fraud and cheating. Lindell claims that the fraud was enough to impact the outcome of the 2020 Presidential election as well as many down-ballot races. Operation Rescue will watch and report on this unprecedented event.
If the claims are true, as pro-life supporters and patriotic Americans, there certainly is a need to understand this and work to correct it BEFORE the next elections or risk losing our ability to stop the current Administration's efforts to promote, expand, and fund abortions, while silencing those who speak out against this egregious human rights abuse.
This week, we are also awaiting the possible release of a long-anticipated interim report from the Cyber Ninjas, which conducted the forensic audit of the November 3, 2020, election results in Maricopa County, Arizona. which is said by some to have found significant evidence of election tampering in favor of pro-abortion Democrat Joe Biden.
Movement to audit every state
A new movement as sprung up that is seeking cyber forensic audits in every state. For those with Telegram accounts, chat rooms have been set up to discuss the possibility of launching cyber forensic audits of the November 2020 election in nearly every state. You can access the list of states and click to join the conversation here: https://t.me/AmericaFirstAudits/1190
Captain Seth Keshel has now completed his analysis of voter registration, patterns, and trends in every U.S. state. He has published his findings that report which states and counties have significantly diverged from long-standing trends and are in need cyber forensic audits. It is informative and compelling work that makes the case for election audits and reform.
Watch for Operation Rescue's reports this week on data presented during the 72-hour Cyber Symposium and other related news that may impact pro-life efforts to stop abortion.