UPDATE: It is our understanding that Dr. Lopez has stopped providing abortions. We wish him the best. Information below is a matter of public record and is provided for informational purposes. -OR Staff

By Cheryl Sullenger
Mobile, AL – As a Federal Court hears arguments challenging an Alabama abortion law one abortionist from that state highlights the need for hospital privileges and state oversight.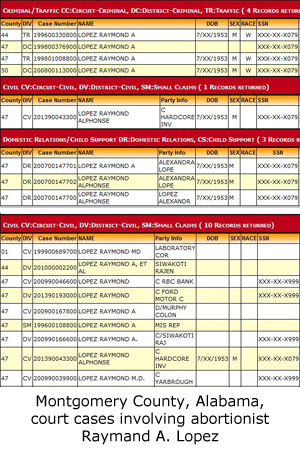 Abortionist Raymond Lopez, from Huntsville, Alabama, checked in to the Madison County Jail for 23 consecutive weekends between November 2013, and April 2014, serving time on a "domestic relations" case.
In Alabama, "domestic relations" violations can range from non-payment of alimony to violation of a protection order.
Since 1996, Lopez has been the subject of 14 court cases, including two criminal cases filed in 1998 and 2008.
The abortion clinic where Lopez works, the Alabama Women's Center for Reproductive Alternatives (AWCRA), has been cited for serious health code violations at least seven times between 2001 and 2013, with multiple violations for each deficiency report filed.
Most recently, a survey of AWCRA was conducted on January 8-9, 2013, where inspectors found unsanitary conditions, expired drugs, and an uncalibrated ultrasound machine. AWCRA failed to clean medical equipment – including procedure tables – between patients. One abortionist failed to provide women with an opportunity to view an ultrasound of their babies prior to an abortion, as required by law.
Other violations dating back years included:
• Staff giving injections without wearing gloves.
• More expired drugs.
• Failure to properly prepare IV medications in accordance with medical standards. (Multiple occurrences.)
• Improper labeling and storage of pre-drawn drug syringes. (Multiple occurrences.)
• Administration of controlled substances without specific doctor's orders.
• Failure to implement a required Quality Improvement Program.
• No documentation that three abortionists had the required training and experience to conduct abortions.
• Failure to properly monitor women in recovery.
• Failure to document fetal age or possibility of viability prior to abortions.
• Women calling back with complications (such as heavy bleeding) did not have access to professional staff members.
• Lack of a required infection control committee.
• Missing drugs
• Failure to log complications, such as possible perforations, heavy bleeding, or hospitalizations that resulted from an abortion procedure.
• A botched 28-week abortion — misdiagnosed as 20 weeks — that required emergency hospitalization.
[View all AWCRA inspection reports.]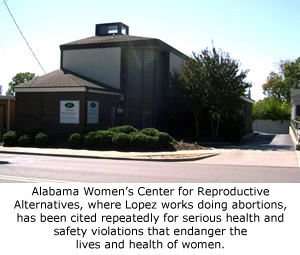 The new Alabama clinic licensing law, H.B. 57, also known as the Women's Health and Safety Bill, is being challenged by Planned Parenthood Southeast, which operates abortion facilities in Montgomery and Mobile, and Reproductive Health Services in Mobile.
No stranger to controversy, Planned Parenthood Southeast recently closed its Birmingham abortion clinic after one of its abortionists, Yashica Robinson-White, was charged with Medcaid billing fraud and another employee was caught illegally selling drugs in the facility's parking lot.
The new law requires that abortionists maintain hospital privileges within 30 miles of the abortion clinic where they work. The abortion businesses are fighting the law by arguing that abortion facilities are safe, meet high standards, and rarely have abortion complications.
However, the inspection records from Lopez' abortion clinic say otherwise. In addition to routine substandard practices, the records indicate that there appears to be a routine failure to log complications and incidents where women require emergency hospitalization.
"One simply cannot take the abortionist's word for the number of abortion complications at any particular abortion facility since they are notoriously poor at keeping records of such incidents," said Troy Newman, President of Operation Rescue.
Surprisingly, Lopez actually is one of the few Alabama abortionists that maintains hospital privileges. His affiliation is with Crestwood Medical Center in Huntsville.
However, it is doubtful that the hospital that granted Lopez privileges was even aware of his criminal record, series of incarcerations, or the abysmal safety history of the abortion clinic where he works.
Operation Rescue staff has recently apprised Crestwood Medical Center of Lopez' record and requested that his privileges be terminated. If Lopez loses his hospital privileges, as he should, this will validate the benefits of the new law.
Certainly hospital privileges have not prevented Lopez from being arrested and jailed on multiple occasions, nor has it kept the abortion clinic where he is employed from committing years of violations of patient care and safety standards.
Thankfully, Lopez' hospital privileges may not be enough to keep AWCRA open because it cannot meet the facility requirements that are also found in Alabama's new abortion law. Currently, AWCRA is seeking to relocate to a new building that it hopes will comply with the new safety standards. Disturbingly, one building that is under consideration is located adjacent to a Middle School. Local activists are protesting the move in order to protect young students.
But even a new building will not solve AWCRA's penchant for shoddy medical practices that have racked up years of health code and patient care violations. It is sure to take those with it.
"The hospital privilege requirement is a very necessary regulation that can weed out abortionists that cannot qualify for hospital privileges or that do not live locally and cannot provide a continuity of care for abortion patients that require emergency hospitalization," said Newman. "Lopez is a case in point for why abortion clinics require greater oversight and accountability. The hospital privilege requirement simply adds another layer of protection of women from substandard abortion practices which are prevalent in Alabama abortion clinics today."