By Cheryl Sullenger
Jefferson City, MO – Missouri Administrative Hearing Commissioner Sreenivasa Rao Dandamudi issued an order this morning staying the decision by the Department of Health and Senior Services (DHSS) not to renew Reproductive Health Services Planned Parenthood's abortion facility license.
The order was issued today to allow RHS Planned Parenthood, located in St. Louis, to continue conducting surgical abortions when the Circuit Court's preliminary injunction expires an 5:00 p.m today – over the objections of the DHSS who found the abortion facility in substantial non-compliance with Missouri laws and regulations related to patient safety.
The DHSS was investigating harm cased to at four women who received abortions at RHS Planned Parenthood last year. One of those women nearly died from hemorrhaging over half her blood volume after an ill-advised 21-week abortion at RHS Planned Parenthood despite having a placenta that covered, at least in part, the cervical opening.
The DHSS had sought to interview all seven licensed physicians involved in those botched abortion incidents, including residents who participated in training programs through Washington University St. Louis and Barnes Jewish Hospital.
Five abortionists hired attorneys and refused to submit to investigatory interviews.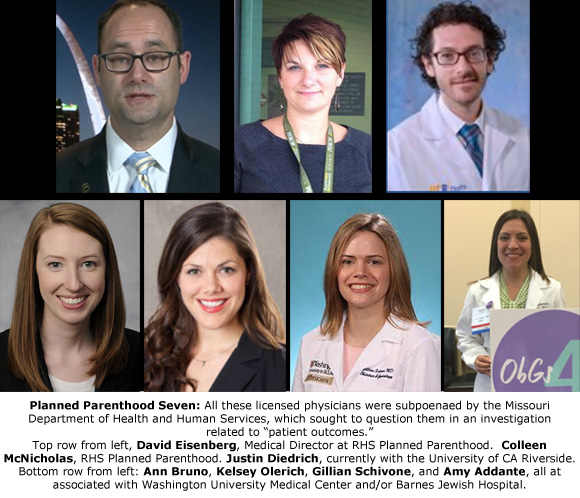 Because the DHSS was hindered from talking with the abortionists to hear their side of the story, the DHSS was forced by a St. Louis Circuit Court deadline to infer that there was no reasonable explanation for the incidents that resulted in patient harm. The DHSS then refused to renew RHS Planned Parenthood's facility license.
Commissioner Dandamudi disagreed that basing the decision not to renew the license primarily on RHS Planned Parenthood's refusal to provide physician interviews and issued the stay.
"The DHSS must be allowed to enforce Missouri laws and regulations or else Planned Parenthood will continue to inflict life-threatening injuries on women," said Troy Newman, President of Operation Rescue, which has documented 74 medical emergencies at RHS Planned Parenthood that required emergency patient transport by ambulance to local hospitals.
Newman continued, "The arrogance that Planned Parenthood has exhibited shows that they believe they are above the law. It is obvious that they believe that abortion facilities should be exempt from oversight and act out that believe by defying the law and oversight agency they should be accountable to. We pray the AHC will open their eyes to this fact and act to protect women by shutting this dangerous abortion facility down for good."
But today's decision is only a temporary one. An eight-hour hearing has been scheduled for August 1, 2019, in St. Louis where the merits of the case will be heard.
Read the Order Granting Motion to Stay dated June 28, 2019.
Read the unredacted 62-page Statement of Deficiencies below, which details serious injury to women during botched or failed abortions at RHS Planned Parenthood.
1922-CC02395 – 6-13-2019 – Exhibit A by Cheryl Sullenger on Scribd