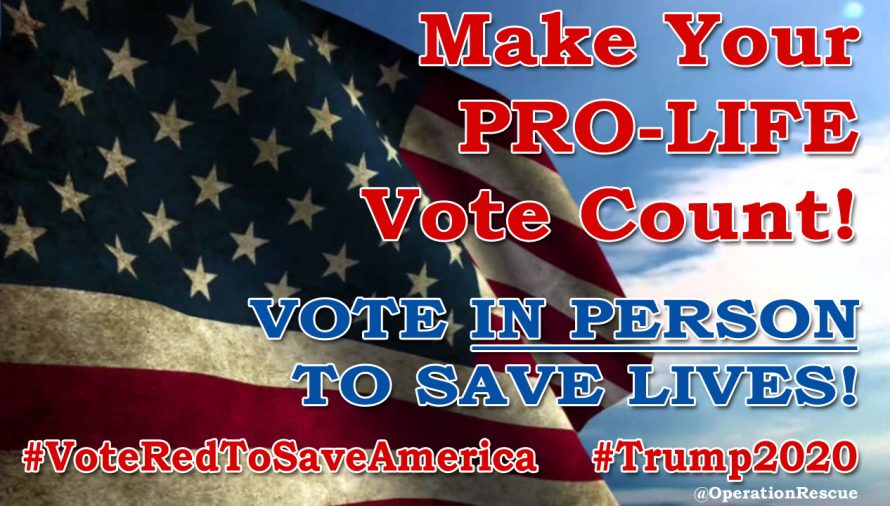 Vote In Person to Ensure Your Pro-Life Vote Counts!
By Cheryl Sullenger
Washington, D.C. — Operation Rescue is encouraging all pro-life supporters to vote in person, if at all possible, because of the threat of voter fraud posed by mail-in balloting.
President Donald J. Trump, who is pro-life and has promised to continue his fight to protect the unborn and their mothers if re-elected, has repeatedly warned against universal mail-in voting on Twitter.com.
Mail in ballots substantially increases the risk of crime and VOTER FRAUD!

— Donald J. Trump (@realDonaldTrump) April 12, 2020
U.S. Attorney General Bill Barr has confirmed that universal mail-in balloting is a system "fraught with the risk of fraud and coercion." On September 2, 2020, General Barr told CNN's Wolf Blitzer, "Elections that have been held with mail have found substantial fraud and coercion. . . This is playing with fire."
Even the Associated Press seems worried about ballots being rejected instead of counted. An article posted September 7, 2020, stated the following:
If ballots are rejected at the same rate as during this year's primaries, up to three times as many voters in November could be disenfranchised in key battleground states when compared to the last presidential election, according to an Associated Press analysis of rejected ballots.
Mail-in voting is almost exclusively promoted by Democrats in states controlled by Democrats, leading to the belief that the mail-in voting is an attempt to suppress the Republican vote, which favors Trump and other pro-life candidates.
"Every pro-life vote needs to be counted, because each one represents a voice for those most at risk — the innocent unborn babies who cannot speak for themselves. The best way to ensure that your vote is counted is to go to the polls and vote in person," said Newman. "Polling places are going to great efforts to ensure that in-person voting is safe for everyone, so there is no need to fear getting out to vote."
Amplify the Pro-Life Message with OR's Election Memes
With 54 days before Election Day, and with early voting in progress in some states now, it is more important than ever to voice support for President Trump and make our pro-life voices heard.  Operation Rescue has created a pro-life meme library that can be used to post on social media between now and Election Day.
Memes are especially useful because of their effectiveness, and because social media suppression algorithms cannot yet detect the content of memes, making them more likely to get past the censors with the message of Life. New memes are being added to Operation Rescue's meme library regularly.
Election/Voter Resources: