By Cheryl Sullenger, Senior Policy Advisor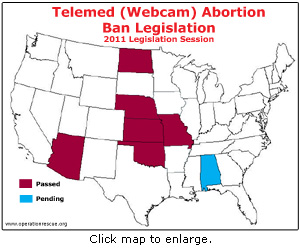 Since the shift in state legislatures during last year's mid-term elections, pro-life legislation has flooded the states in unprecedented numbers, with over 900 bills introduced this year alone. Legislation includes such topics as the defunding of abortion providers, parental and informed consent laws, and clinic regulations.
Pro-life efforts that had been stymied by pro-abortion legislatures are flourishing in the greenhouse effect created by the new political shift.
"Now that the stage has been set for us, activists are driving the train on the new wave of laws that will restrict rampant abortion, close clinics, and save lives," said Operation Rescue President Troy Newman.
"We can point to some of our own projects as an example to illustrate how activists and legislators can partner to protect women and their pre-born babies," said Newman. "The predatory abortion cartel has been largely unaccountable for decades, and has become increasingly more dangerous as they cut corners on women's safety and abuse technology to increase profit margins. As we expose these dangers, the legislation has followed.
Webcam Abortions
That has not been more evident than in the matter to Telemed or Webcam abortions. This practice first began at Planned Parenthood clinics Iowa in 2008. Women are denied a physical examination by a licensed physician, and are allowed only a brief consultation with an abortionist over an Internet video conferencing connection. The abortionist then pushes a button on his computer, which activates a drawer containing the abortion pills. The woman takes some of the pills, then goes home to take the rest. She never sees the abortionist again.
In March, 2010, Operation Rescue conducted an undercover investigation of the practice and publicly exposed it. Complaints filed with the Iowa Medical Board revealed an oversight organization that was unwilling to act to protect women from this dangerous misuse of technology that cut corners on women's safety in order to increase the abortionists' profit margins.
Operation Rescue worked with local and national pro-life groups to further expose the webcam abortions along with Planned Parenthood's announced five-year plan to expand them to all of their clinics across the nation.
In 2011, twelve states introduced legislation that would essentially ban webcam abortions. So far Arizona, North Dakota, Nebraska, Kansas, Oklahoma, and Missouri have passed such laws. Other states have legislation in place that would prohibit webcam abortions.
"This would have represented the largest expansion of abortion services since Roe v. Wade. Thankfully, activists discovering, investigating, and exposing this misuse of technology has led to protections for women in at least six states only one year later," said Newman. "We expect even more states to enact this legislation in future."
Fetal Pain, 20 Week Abortion Bans
In 2009, late-term abortionist LeRoy Carhart announced that he would begin doing late-term abortions at his Bellevue, Nebraska, clinic after the closure of a clinic in Kansas where most late-term abortions in the nation were being done. Operation Rescue, which had blocked his proposed opening of another late-term clinic in Kansas, planned an event in Nebraska to protest Carhart's late-term plans.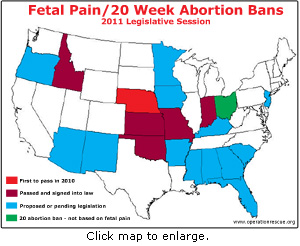 In the pre-event publicity, Carhart's defiant comments about late-term abortions caught the ear of Sen. Mike Flood, who introduced the first late-term abortion ban at 20 weeks gestation based on scientific evidence that babies at that age can feel pain. The bill was passed and signed into law without any legal challenge.
"The fact that abortion groups have not challenged the fetal pain laws shows that they are afraid of what would happen if they lost," said Newman. "That, along with polls that indicate that nearly 80% of the public opposes late-term abortions, has given other states the encouragement they needed to pass this legislation for the protection of babies that are old enough to feel pain and survive outside the womb."
Following Nebraska's lead, Idaho, Indiana, Kansas, Oklahoma, and Missouri have passed late-term bans based on fetal pain just this year. At least 13 other states introduced fetal pain bills, some of which continue to work their ways through state legislatures.
Texas Two-Step
Operation Rescue's recent investigation of Texas abortion clinics that exposed a widespread abuse of abortion informed consent laws prompted the passage of a law requiring sonograms and other information before abortions can be done.
A massive ongoing investigation of 14 abortionists by the Texas Medical Board that resulted from Operation Rescue's investigation has also given the legislature a reason to support a pending ban on state funding of abortion providers.
"Activists on the ground know about the kinds of abortion abuses that are going on in their states. Once these abuses are exposed, the climate now exists where legislatures can act to draw boxes around abortionists' exploitive practices. Since we have never found an abortionist that is in full compliance with the law, each restriction that passes gives us another tool with which we can bring scofflaw abortionists to justice," said Newman.
"These successes should be an encouragement to pro-life activists everywhere that there is something they can do to limit or even stop abortion in their communities. So often we see activists discouraged because they know there are abortion abuses occurring, but they may not be aware that there is a lot they can to expose these abuses, alert the authorities, influence public opinion, and change the laws. We should be energized by these successes, and press the advantage while we have it, in order to change the culture so that we can bring a final end to abortion in America."
___________________
For an online donation of any amount, we will send you a complementary printed copy of our Texas Abortion Abuse Report. Click here to donate now.