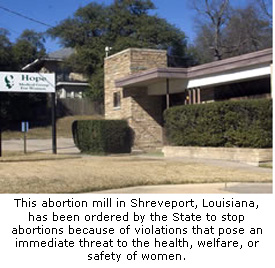 Shreveport, LA — The Louisiana Department of Health and Hospitals (LDHH) revoked the clinic license of Hope Medical Group for Women in Shreveport, LA, last week and ordered them to halt all abortions there. The action was the first immediate suspension under the new Louisiana law that allows the State to order a clinic to cease operations.
According to a press release issued September 1, 2010, by the LDHH, they found the following violations that posed an immediate threat to the health, welfare, or safety of a client or patient:
Several violations were noted during a recent investigation of the facility, including the facility's failure to ensure that a physician performed and documented a physical exam on each patient prior to a procedure, failure to properly monitor vital signs of patients under anesthesia, failure to have proper procedures in place for administering anesthesia and failure to have properly trained professionals performing certain medical procedures related to the administering of anesthesia.
"When we see this level of egregious conduct at a facility, it is incumbent on us to take steps necessary to protect our residents," said LDHH Interim Secretary Anthony Keck. "The Legislature gave us this authority because they recognized we must have the ability to stop unsafe practices that place these already vulnerable women in danger."
Prior to the passage of the new law, known as Act 490, suspension orders could not be immediately enforced, allowing dangerous abortion mills to continue to endanger the public for months.
Such was the case in January, 2010, when the LDHH suspended the license of Gentilly Medical Clinic for Women in New Orleans operated by troubled abortionist Ifeanyi Charles Anthony Okpalobi (pronounced ok-PAH-luh-bee). The State charged Okpalobi's clinic with violating laws requiring that abortion clinics have a licensed nurse on staff, and that they have proper state and federal licensing for controlled substances. Nine months later, the clinic continues uninterrupted operations pending appeal, even though there is no evidence that the dangerous conditions were ever remedied.
At that time, Operation Rescue called on the State of Louisiana to consider the health and safety of women and take action that would allow the State to close this dangerous abortion mill. Now, the laws give the State the ability to act on suspensions in the interest of public safety.
"Given what we know from our investigations in to Louisiana's abortion clinics, the suspension of Hope Medical Group for Women's seedy abortion operations will not be the last suspension issued by the Health Department," said Newman.
"This is more evidence that pro-life laws, when enforced, close abortion mills and save lives. We are relieved that there is now another layer of protection for vulnerable women and their innocent pre-born babies, but we cannot not rest until every abortion mill is closed and our pre-born children are fully protected by law."
Read LDHH Press Release Concerning Suspension