OR says Tiller attorney misrepresented the facts in AP story about abortion-child rape investigation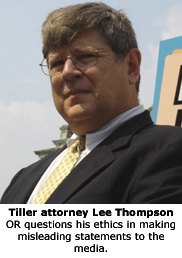 Wichita, KS — An attorney for late-term abortionist George R. Tiller has made false and misleading statements in the media in the wake of the announcement by Attorney General Phill Kline that his office has received and is reviewing the 90 hotly disputed medical records that has been subpoenaed from Tiller and Planned Parenthood in an investigation into the concealment of child rape and illegal late-term abortions.
Lee Thompson was referred to in an Associated Press story published on November 1, 2006, in the Lawrence Journal-World as having said the following:
Thompson said Tiller's records have been reviewed in the past by both a Sedgwick County grand jury and the State Board of Healing Arts, which licenses doctors, without findings of wrongdoing.
"We have always indicated that our clients are innocent of any wrongdoing," Thompson said.
"Thompson is dead wrong and has completely misrepresented the facts in this matter," said Operation Rescue spokesperson Cheryl Sullenger, who has closely monitored this case and written extensively on Tiller's run-ins with the authorities. "The grand jury and the KSBHA never saw the records that Kline's office is now reviewing."
"The fact is that only one medical record was reviewed by the Sedgwick County grand jury and the Kansas State Board of Healing Arts. That single record belonged to Christin Gilbert, a Down syndrome teenager who died from a botched third-trimester abortion procured at Tiller's Wichita abortion mill. It had nothing to do with Kline's abortion clinic investigation, nor did it exonerate Tiller of wrongdoing."
According to a source inside the grand jury that spoke with Operation Rescue about the proceedings, Christin's medical record actually raised questions because of the inadequate documentation of her care and missing notations on the day she died.
"The reason the grand jury did not indict Tiller was because of Fifth Amendment stonewalling and subpoena dodging," said Sullenger. "Tiller and his employees would not testify on the grounds that their testimony would incriminate them. Abortionist LeRoy Carhart, who was responsible for Gilbert's abortion, fled the state in order to avoid the grand jury."
The grand jury source told Operation Rescue that because they could not talk to the people who had the answers to their questions, they could not get a clear enough picture of what happened to issue an indictment. Even at that, Tiller narrowly escaped indictment on four charges by only one vote.
"As for the Kansas State Board of Healing Arts, they have been rated 30th in the nation for their inability or unwillingness to adequately investigate and discipline physicians," said Sullenger. "They are political appointees of a governor who owes her office to the massive campaign contributions of George Tiller during the last election. We considered their dismissal of the complaint against Tiller in the death of Christin Gilbert to be whitewashing and political pandering. Even our grand jury source independently drew the conclusion that the KSBHA was covering up for Tiller."
"Again, Lee Thompson is referring to only one medical record — that of the deceased Tiller patient Christin Gilbert. That record has nothing to do with the 90 medical records now under review by the attorney general's office, and it is a misrepresentation of the facts to say that it is somehow proof that Tiller and Planned Parenthood are 'innocent of any wrongdoing,' — even in the Gilbert case," said Sullenger.
"When an attorney misleads the public like this, it makes you wonder about his ethics — or lack thereof," she said. "People who have nothing to hide don't act this way."
Background:
Read Sullenger's exposé on the Tiller grand jury proceedings that was based on an exclusive interview with an anonymous source inside the grand jury.
Abortion Clinic Investigations Are A Matter Of Life Or Death
Kline's Abortion Clinic Investigations Grossly Mischaracterized