UPDATE MARCH 25, 2014: Aalai has surrendered his Maryland medical license and closed his abortion clinic, the Annapolis Road Medical Center in Bladensburg, Maryland! We thank God for this victory!
—–
This is the second installment in an investigative series about Maryland abortionists who have taken their abortion clinics underground to avoid compliance with new abortion licensing laws.
By Cheryl Sullenger

Bladensburg, MD – The Annapolis Road Medical Center is an innocuous, non-descript name that would not merit a second thought from the casual observer — and owner Mehradad Aalai likes it that way.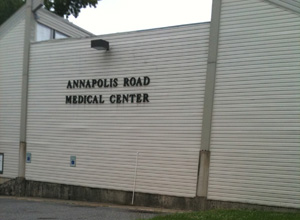 Located at 5632 Annapolis Road, Suite 7 in Bladensburg, Maryland, it is actually the name of a run-down medical office complex that houses an illegal abortion clinic, operating without licensing under new Maryland laws meant to protect women from shoddy conditions and substandard medical care in the aftermath of the Kermit Gosnell murder trial and the Steven Chase Brigham scandal.
In fact, Aalai worked for Brigham at his now-closed Cheverly and College Park abortion clinics, and if there is one thing that is known about Brigham abortionists it's that they are the bottom of a very nasty barrel. Certainly Aalai is no exception.
On May 31, 1994, Aalai pled guilty to one count of Medicaid fraud in a case involving destruction and/or alteration of medical records and obstruction of justice. He was sentenced to three years in jail, which was suspended in lieu of fines and three years of probation.
Based on his criminal conviction, Aalai's Maryland medical license was revoked.
In 1996, the Maryland Board of Physicians reinstated his medical license and placed it on three years of probation. That is a decision that would have dire future consequences, especially for a woman known only as Patient A.
On October 23, 2007, Patient A presented at the Brigham-owned American Women's Services in College Park, Maryland, for an abortion after having been referred there by another Brigham clinic near her home in Virginia Beach. She was 22 weeks pregnant.
Patient A saw Aalai, who began her abortion by packing her cervix with laminaria and told to return the next day. On October 24, Patient A returned to Aalai, who removed the laminaria and inserted another round. At some point, which was never recorded in her medical record, her water broke. Aalai sent her back to her hotel and told her to return again the following day.
On Day 3 of her procedure, Aalai delivered her baby. It is unclear whether the baby was alive or dead at the time of the delivery. While medical board documents detail every other aspect of the abortion, they do not indicate that any drugs were injected into the fetus to ensure death prior to the abortion. There is a curious note about "CNS decompression using a 6 mm vacurette" used as a measure to deliver the fetus. This refers to the suctioning of the brain and decompressing of the baby's skull prior delivery. That notation, along with the lack of mention of any use of drugs to "ensure fetal demise" leaves questions about whether this was an illegal Partial Birth Abortion done on a live baby. The process described in his disciplinary documents appeared to be Aalai's standard procedure for second trimester abortions, but for whatever reasons, the Board did not address the partial-birth abortion concern.
After the baby was delivered, Aalai had difficulty delivering the placenta. The procedure reached well into the evening hours without a successful removal of the placenta. Aalai gave up trying. He indicated to Patient A that her placenta was never removed. He recommended that she visit a local hospital for further treatment, but never explained that her condition was urgent and life-threatening. She told Aalai that she preferred to return to her home 4 hours away and see her regular physician. Aalai agreed she could go. She was given no discharge instructions.
Patient A's mother loaded her into the car and began the long drive back to Virginia. Along the way, Patient A fell asleep and her mother reached over to awaken her. It was then she noticed that her daughter was soaked in blood. Her mother pulled over to the nearest gas station and told her daughter to go to the restroom and clean herself up. When Patient A did not return to the car, her mother went to the bathroom and discovered her slumped over the toilet with blood everywhere.
Her mother called 911. When the paramedics arrived, they were shocked at what they saw. Because the scene was so bloody, they called police, thinking that Patient A had tried to give herself an abortion in that gas station restroom. Once police arrived and discovered the truth, Patient A was transported to a local hospital shortly before midnight where she was found to be in hemorrhagic shock from massive blood loss. She received emergency surgery to remove the placenta and other "products of conception" still inside her. She was also given two units of blood.
The physician that treated Patient A at the hospital filed a medical board complaint against Aalai for endangering the woman's life. A disciplinary judge who heard Aalai's case found him to be not credible and ruled he was guilty of immoral and unprofessional conduct in his treatment of Patient A. He issued a recommendation that Aalai's license once again be revoked.
Instead, the Board suspended his medical license for six months and placed him on two years of probation. That order was signed on December 28, 2011. Aalai remains on probation as of this writing.
To make matters worse, after Aalai completed only three months of his suspension, the Board ordered that the remainder of his suspension be stayed.
Aalai was back in business.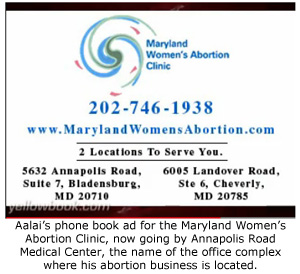 Aalai quit working for Brigham and concentrated on his own business, the Maryland Women's Abortion Clinic in Bladensburg. Upon the passage of Maryland's clinic licensing provisions last year, Aalai dropped that name and simply adopted the name of the business complex Annapolis Road Medical Center, but little had changed of his practice besides a shuffling of paperwork. He continued to operate his abortion business full time at the same address and phone number while failing to apply for licensure.
There is also no record of either business name on file with the Maryland Secretary of State. In fact, the only business ever properly registered by Aalai was the now-defunct Aalai Medical Services, PC, which was forfeited in 2005 for failure to file a property return the previous year.
Operation Rescue's investigator called the Annapolis Road Medical Center on June 20, 2013, posing as a woman who was eight weeks pregnant and seeking an abortion. Aalai answered the phone using yet another business name.
Aalai: Aalai Clinic, can I help you?
Caller: Yes, I was wondering, do you do abortions there?
Aalai: Yes, yes. That's the only thing I do is abortion. I'm an Ob/Gyn doctor, uh-huh.
Maryland law clearly requires that anyone doing regular abortions must be licensed as an abortion clinic. Certainly under Aalai's previous business name, Maryland Women's Abortion Clinic, he would have had a very hard time avoiding licensure. The name change shows a purposeful attempt to evade the law.
The caller told Aalai that she was eight weeks pregnant and he recommended an abortion via medication for the fee of $335 then began a high pressure sales pitch to get his customer in the door as soon as possible.
"I can do it today, if you want to come," he stated.
Aalai asked a few questions and learned that the caller had no children and never had an abortion before. He again recommended the medication abortion and urged her to come to him that day.
Caller: Where are you located?
Aalai: Okay, you can to write the address. Write down the office. If you want to come I can do it today right now.
Aalai gave the caller detailed directions to his office at 5632 Annapolis Road, Suite 7 in Bladensburg the same location as is listed for the former Maryland Women's Abortion Clinic as advertized on a video with the online Yellow Pages.
Aalai's business is also a cash-only one, which is ripe for financial malfeasance by someone like Aalai who has a documented predilection for fraud.
Caller: And what forms of payment do you take? Like–
Aalai: What?
Caller: –like, should I use – do you take cash or –
Aalai: Yeah, cash. Cash.
Caller: Cash. Okay.
Aalai: You have to bring cash. Okay?
Caller: And you're the doctor who's going to see me?
Aalai: What is what?
Caller: And you're the person who's going to be seeing me. Is that right?
Aalai: Right. I am the person that's going to see you. I am the owner of this clinic. Okay?
Caller: Okay, and what's your name?
Aalai: I'm Dr. Aalai. This is a private doctor's office. An Ob/Gyn doctor. If you're my patient you have to make your [unintelligible] share you. Okay?
The caller indicated that she had to speak with her mother first before scheduling since her mother would be paying for the abortion. Aalai seemed determined not to let this customer slip away.
Aalai: Are you going to call me back?
Caller: Yes, I'll call you back.
Aalai: Okay. Today, tomorrow, or when?
Caller: Um, prob—what days are you open?
Aalai: I'm open every day.
It is clear from the undercover call that Mehrdad Aalai is operating a full-time abortion clinic open every day that only provides abortions and no other service. Yet this abortion business is not licensed as the law requires and continues to operate illegally.
Aalai's medical license is currently under probationary status, which requires him to comply with all local, state, and Federal laws. It is clear that his unlicensed abortion business and perhaps his late-term abortion method place him in violation of that probation.
Operation Rescue is asking the Maryland Department of Health Office of Health Care Quality to shut down Aalai's illegal abortion operation and has filed a complaint with the Maryland Board of Physicians notifying them that we believe Aalai is in violation of his probation.
However, Aalai certainly is not the only abortionist flying under the state's licensing radar. Previously, Operation Rescue reported on Harold O. Alexander, who is also operating an unlicensed abortion clinic under the guise of a "doctor's office." Alexander also has a long disciplinary history.
It is clear that abortionists like Aalai and Alexander engage in shoddy practices at clinics that would not pass muster under the new state requirements, even though the Maryland regulations are among the most lax in the nation. That means women are subjected to a lower standard of care that places their health and lives at unacceptable risk.
"The worst of the worst abortionists in Maryland – the ones who need the most scrutiny – are not just ignoring the licensing laws, but are actively evading them. The OHCQ has been slow to act to close these illegal abortion businesses, and that is something that needs to change quickly for the sake of public safety," said Troy Newman, President of Operation Rescue.
Please contact the Office of Health Care Quality and ask them to close Aalai's abortion business for providing regular abortion services illegally without proper licensing:
Phone Number: (410) 402-8000
Toll-free: 1-877-402-8218
Email: ohcq.web@maryland.gov
Read Part 1: Troubled Abortionist Caught Evading New Maryland Abortion Laws