By Cheryl Sullenger

Chicago, IL — The abortionist that was responsible for the late-term abortion death of Tonya Reaves has shut down her All Women's Health abortion facility in Chicago, the Pro-Life Action League has confirmed.
The closure was discovered when members of the Chicago-based group arrived at the clinic on Wednesday, October 29, 2014, for a planned public outreach only to find the facility closed and a "For Rent" sign on the door. A phone call placed by a League member confirmed that the abortion clinic had gone out of business.
All Women's Health was operated by abortionist Mandy Gittler, who was working at a Chicago Planned Parenthood abortion center on July 20, 2012, the day Reaves paid $459 and received a fatal Dilation and Extraction dismemberment abortion of her 16-week pre-born baby from Gittler.
This closure brings the current number of remaining surgical abortion clinics in the U.S. to 572.
"Many independently owned abortion businesses are shutting down due to financial issues," said Troy Newman, President of Operation Rescue. "We would hope that her notoriety as the white abortionist that killed Tonya Reaves, a poor urban woman of color, contributed to her failed abortion business."
Operation Rescue heavily publicized details of Reaves' death while the Pro-Life Action League had conducted protests at the All Women's Health abortion facility in the past.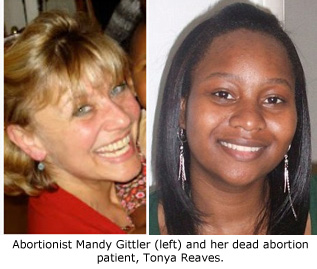 According to records, including Reaves' autopsy report and Gittler's sworn deposition, Reaves suffered internal bleeding and an incomplete abortion, but was not transported to the hospital for over five hours after the bleeding began. By then, it was too late to save her life.
Emergency 911 records obtained by Operation Rescue also showed that Planned Parenthood failed to call 911 for emergency transport, even though they had been instructed earlier in the day by an emergency dispatcher to do so since that was the quickest way to get help.
Gittler attempted to blame Reaves' death on a malformed uterus even though later documentation revealed that Reaves suffered no such condition.
Reaves' family sued Gittler and Planned Parenthood for the wrongful death of Tonya Reaves. The suit was eventually ended in a settlement agreement in which Planned Parenthood must pay $2 million, most of which will go to Reaves' surviving son over the course of his lifetime.
Gittler's Illinois medical license profile indicates that in addition to Planned Parenthood, she may now be working at the troubled National Health Care abortion facility in Peoria, Illinois, where numerous "serious" violations were discovered in 2012, after it underwent its first inspection in over a decade.