By Cheryl Sullenger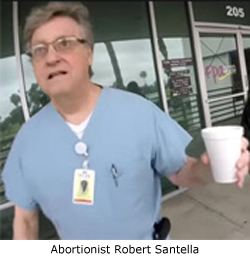 San Diego, CA – Operation Rescue has learned that Robert J. Santella, passed away unexpectedly last year at the age of 74.  Santella was a long-time abortionist for the Family Planning Associates (now FPA Women's Health) abortion facility in San Diego County.  He also operated a private practice where abortions were sometimes done near the campus of San Diego State University.
Santella was best known for an incident captured on video in June 2016, which showed him in a demonic rant against a pro-life activist outside the FPA abortion clinic office where he was working.  Santella was seen in surgical scrubs hissing and growling in a demonic voice as he held scissors to a pro-life activist's throat while professing that he loved killing babies.
"I never listen to Christ," Santella snarled.  "I do have a darkened heart.  I do, I do. Very much so."

As a result of the video, which went viral and gained media attention, Santella was later dropped by the Sharp Healthcare, a group of hospitals where Santella held privileges, and fired from the FPA abortion chain.  The clinic where the incident took place closed in November 2017, but later resurfaced in the East County community of El Cajon.
Santella's firing from FPA ended a relationship with the California abortion chain that dated back nearly 30 years. Early in their business relationship, Santella provided emergency hospital care for FPA abortion patients who suffered serious complications from their procedures.
Santella was hired on full time by the abortion chain in the early 2000s after two previous abortionists quit or refused to work any longer at the San Diego office due to pro-life activism that exposed their misdeeds.
On December 31, 2017, Santella surrendered his California medical license to avoid license revocation based on allegations brought by the medical board that included wrongly prescribing controlled substances to six patients, while failing to perform a physical examination or document reasons for the prescriptions in medical records. He also ignored test results and symptoms of other serious conditions.
When asked why he prescribed opioids to one patient with a history of substance abuse, he callously replied, "[I]n desperation I would refill her medications somehow just to get rid of her."
Santella was also charged with repeated negligent acts in his treatment of a woman who suffered a botched second trimester abortion at FPA Women's Health in San Diego on September 5, 2015, which was first reported by Operation Rescue.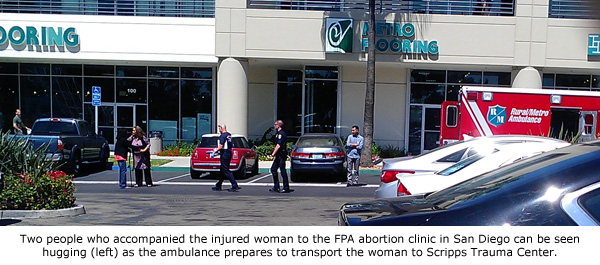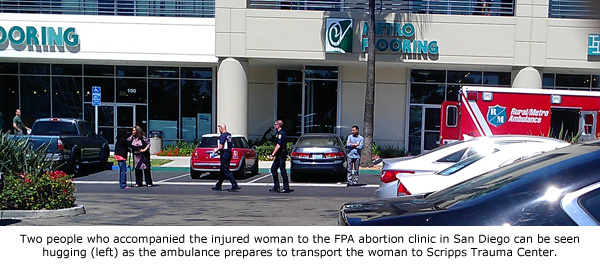 During that abortion, the woman lost over a half gallon of blood when Santella's efforts to halt the hemorrhaging failed. Despite her deteriorating condition, Santella refused to transport her for emergency care. The woman's mother, who had accompanied her to the abortion facility, feared her daughter might die and called for an ambulance.  That call saved her daughter's life.
The woman suffered hemorrhagic shock from bleeding that resulted from an incomplete abortion, perforated uterus, and other internal injuries. She underwent an emergency hysterectomy to save her life, according to the medical board's accusations.
Santella's unexpected death occurred on January 17, 2018.   Less than five months later, on June 3, 2018, his wife, France L. Santella also "passed away unexpectedly."  The couple left no children.
"We want to express our condolences to the surviving family members of Robert and France Santella," said Troy Newman, President of Operation Rescue, which frequently protested Santella's abortion business in the 1990s though the early 2000s.  "I hope that Robert Santella sought repentance before God prior to his passing.  God can forgive every sin, no matter how bad, if one confesses, repents, and puts his faith in Jesus Christ for salvation."