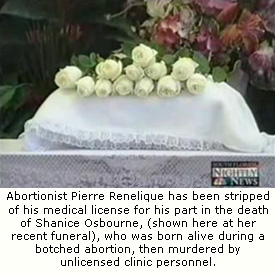 Tampa, FL — This morning, the Florida Board of Medicine revoked the medical license of Pierre Renelique, a Florida abortionist who failed to show up for a scheduled late-term abortion at a Hialeah clinic in July, 2006. As a result, unlicensed workers delivered a live 23-week old baby girl, shoved the struggling baby into trash bag, and stashed her body on the roof.
The Board found Renelique guilty of medical malpractice and delegating responsibility to unlicensed personnel.
"We are very grateful to the Florida Medical Board for stripping Renelique of his medical license. His incompetence led to the brutal death of an innocent baby born alive, and we are grateful that he will not be afforded the opportunity of hurting anyone else," said Operation Rescue Troy Newman. "Justice was delayed but justice has been at least partially served. We will continue to work to hold the abortion industry accountable until women and babies are safe from these incompetent, predatory abortionists."
Police, working on an informant's tip, were able to recover the little girl's body. An autopsy determined that she had air in her lungs and had therefore been born alive. A second evaluation of the autopsy determined that actions taken by unlicensed abortion worker Belkis Gonzalez caused her death.
The baby, Shanice Denise Osbourne, was finally given a proper burial in October, 2008, and just last week a civil suit was filed against Renelique, Gonzalez, and others on behalf of Shanice.
Criminal charges have yet to be filed, but a spokesperson for the state attorney's office told reporters that a decision on criminal charges is expected soon.
"This was the first step in finally holding Shanice's killers accountable for her murder. We look forward to seeing criminal charges filed very soon," said Newman. Operation Rescue has been encouraging calls to the prosecutor David Waksman, who had delayed pressing charges for over two years.
"This is an open and shut case, as shown by the Medical Boards actions today. There is no more reason for delay. Causing the death on someone, even if they are terminal, is still murder in anyone's book," said Newman.