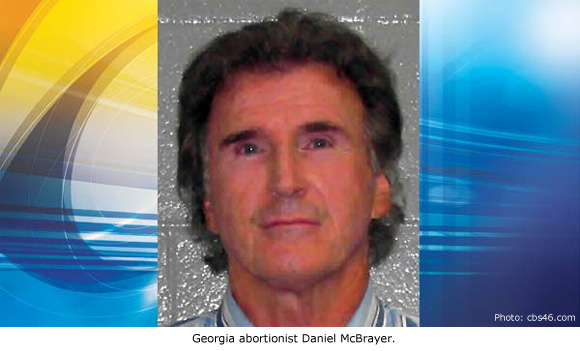 by Cheryl Sullenger
Marietta, GA – In an unusual case with national implications, a jury in Cobb County, Georgia, has found now-retired abortionist Daniel McBrayer and his defunct Alpha Gynecology and Consulting liable for causing a nuisance that affected other tenants of a business park that once housed the abortion business.
The Governor's Ridge Office Park Association and other plaintiffs were awarded almost $1.5 million by a Cobb County jury, including more than $311,000 in attorney fees and expenses, according to Law.com.
The office park association contended that McBrayer was already the subject of frequent protests when he moved into the office in 2009, and understood the disruption his abortion business would have on the neighboring businesses.
Tenants complained to McBrayer about the frequent protests and other disruptions, which violated the association's covenants and restrictions. McBrayer's response was only to put up a security camera, which did nothing to halt the nuisance caused by his abortion business.
Governor's Ridge Office Park Association finally filed suit in 2013, which concluded with the judgement against McBrayer on September 20, 2019.
"This case is important because it gives other office park associations a template to follow when abortion businesses move in and cause disruptions," said Troy Newman, President of Operation Rescue. "We urge office parks where abortion businesses are located to sue for nuisance they cause."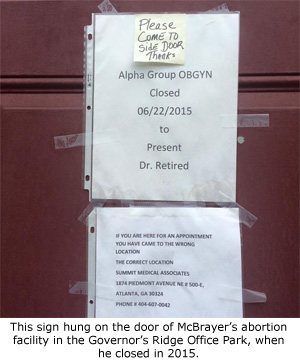 In McBrayer's case, he announced his retirement and shut down his Alpha Gynecology abortion business at that location in 2015. He transferred the property to a family trust, which was also a defendant in the suit.
But instead of actually retiring, McBrayer reopened at another location.   His business closed permanently in 2016, when the landlord sued him for failing to disclose that his business was an abortion clinic.  McBrayer also conducted abortions for Summit Medical Association in Atlanta, Georgia. It is believed he is now finally retired.
But McBrayer was more than a nuisance. He was dangerous to the women that came to him for abortions. His previous troubles were reported on by Operation Rescue in 2016:
In 1989, McBrayer was involved in the death of abortion patient Catherine Pierce, who went into cardiac arrest while unattended after an abortion done at Atlanta Surgi-Center where McBrayer worked at the time. It was found that she was given an overdose of anesthesia, entered a coma, and died five months later.

In 2002, McBrayer was disciplined by the Georgia Board of Medical Examiners for conducting illegal second-trimester abortions in an unlicensed facility. He was fined $5,000 and placed on probation for two years.

McBrayer was arrested in 2009 during a road rage incident. After a traffic altercation, McBrayer got out of his car, walked up to the woman involved, and slapped her in the face.

A suit was filed against him in 2014 by women whose personal information and records were illegally dumped.
"McBrayer was a menace to those around him. I hope that the business park can collect every time he owes them. It won't bring back the babies or the woman he killed, but at least this is some justice," said Newman. "Abortion is a nasty business, as McBrayer's case shows, and I hope this will lead to similar suits around the country."