Operation Rescue calls for Governor-elect Chafee to dump abortionist Rodriguez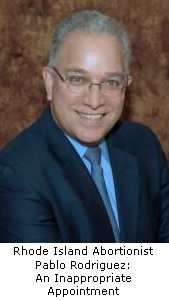 Providence, RI – Rhode Island Governor-elect Lincoln Chafee, who won office as an Independent, has appointed a transition team that includes an abortionist who admits he has committed abortions in an undisclosed South American country where abortion is illegal.
Chafee appointed Pablo Rodriguez, an abortionist who formerly served as Medical Director of Planned Parenthood of Rhode Island. In 2000, Rodriguez, a radical abortion promoter, penned an essay about his abortion work in an unnamed Andean country where he mused about the irony of committing illegal abortions in a room with images of Jesus and Mary hanging on the wall, and made references to the religious protesters outside his Rhode Island abortion clinic. He lamented the possibility of restrictions on abortions in the United States and voiced gratification that he had trained "cholitas" in the Andes to manage "the complications of unintended pregnancy," his euphemism for abortion.
"I never thought that I would be performing an abortion in a room with a picture of Jesus and the Virgin Mary, but there I was, in the middle of the Andes," Rodriguez wrote in the opening statement of his essay.
"Chafee's appointment of an abortionist who admits not only to doing illegal abortions, but has trained others to do them, is one that shows a gross lack of good judgment," said Operation Rescue President Troy Newman. "We call on Mr. Chafee to replace Pablo Rodriguez as soon as possible with someone who has not made a living taking the lives of innocent children through abortion."