By Cheryl Sullenger
Oklahoma City, OK – Abortionist Naresh Patel, who was arrested yesterday morning after months of being under investigation by the Oklahoma Attorney General's office, has posted a $2,000 bond and has been released from jail. His Outpatient Services for Women abortion facility remains closed for now.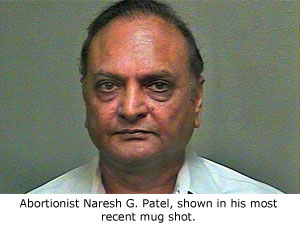 At the time of Patel's arrest, police also executed search warrants on his home and abortion facility.
More details of his charges have come to light, and they reveal a disturbing pattern of exploitation of the women who put their trust in him, thinking he was a legitimate physician.
Patel has been charged with three counts of obtaining money under false pretenses after he told non-pregnant women that they were in fact pregnant and sold them abortion pills.
The three women were actually undercover agents from the Oklahoma Medical Licensure Board, the Oklahoma City Police Department and the Attorney General's Office. He performed a pregnancy test and ultrasound on each woman then told them they were pregnant. He prescribed abortion pills for all three of them and gave them instructions on how to take them.
However, none of the women were actually pregnant.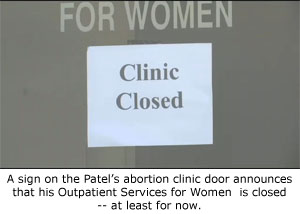 "The outrageous practice of selling abortions to non-pregnant women is actually a fairly common practice among abortionists nationwide," said Troy Newman, President of Operation Rescue. "As the number of abortions drop, abortionists find themselves in greater competition for every abortion dollar. Every time a woman walks away from an abortion clinic with a negative pregnancy test, it represents about a $500 loss to the abortion business. Telling non-pregnant women that they are actually pregnant for the purpose of selling them abortions is a huge temptation to greedy abortionists who want to keep their profit margins up."
If convicted, Patel faces up to three years in jail and a maximum fine of $15,000.
"This type of fraudulent activity and blatant disregard for the health and well – being of Oklahoma women will not be tolerated," Attorney General Scott Pruitt said in a press release yesterday. "Oklahoma women should be able to trust that the advice they receive from their physicians is truthful, accurate and does not jeopardize their health. This investigation is a textbook demonstration of inter-agency cooperation to protect Oklahomans and prosecute the worst offenders."
But greed and a willingness to exploit women at a vulnerable time in their lives are only the most recent allegation against Patel.
In 1993, Patel was charged with one count of "forcible oral sodomy" and one count of sexual battery after a patient alleged that he had sexually assaulted her on an examination table prior to an abortion. She then recorded two phone conversations with him in which she alleged that he asked if she was angry about the assault and apologized for it.
Three victims came forward and told of their horrific encounters with Patel, but somehow the jury failed to convict him.
Patel was also previously disciplined by the Oklahoma Medical Board for Unprofessional Conduct for "failing to maintain dispensing records for dangerous drugs and keep complete and accurate records of purchase and dispensing of controlled drugs" and for injuring a woman during a botched abortion.
In 1993, Patel admitted that he dumped the remains of nearly 60 babies that had been aborted at his clinic in a field near Shawnee, Oklahoma, and had attempted to burn them but only the plastic bags around the remains caught on fire. The bodies were discovered by two passers-by. Patel's excuse that he could not find a service to take away the remains lacked credibility. Because at that time there were no laws in Oklahoma regarding the disposal of aborted baby remains, Patel was never charged.
The current case was sparked by a complaint filed by Operation Rescue in January, 2014, after it conducted an investigation into abuses at Patel's abortion business. Attorney General Pruitt also cited a complaint concerning Pamela King, who received an abortion by Patel, then died four months later of undetected cervical cancer. An autopsy revealed that King was never pregnant.
"This time we hope that Patel will not escape justice," said Newman. "It will be interesting to learn what evidence was collected during the police searches of Patel's home and abortion clinic. I have a feeling we haven't heard the last of criminal charges against this offender."
Read Operation Rescue's March 3, 2014, Special Report: Abortionist Accused of Rape, Sodomy, & Dumping Baby Remains Once Again Under Investigation