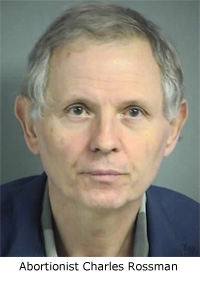 Valdosta, GA – In 2003, abortionist Charles Rossman dispensed a handful of abortion pills to a 23-year old woman who was beyond 30-weeks pregnant, then coldly walked out of the office and locked the door, leaving the woman in labor and alone.
After receiving a 911 call from the woman, police arrived and broke into Rossman's office in time to see her giving birth to a baby boy. Both required emergency hospital care.
The case was particularly shocking due to the callous nature of Rossman's treatment of his patient and the advanced stage of her pregnancy. Unlike some states, such as New Mexico and Maryland, abortions that late in pregnancy are a crime in Georgia.
The police immediately began an investigation, discovering that Rossman had conducted additional illegal late-term abortions. Also, his office was not licensed for child births, which occurred in the case of the patient who was abandoned.
Within a week of stumbling upon Rossman's illicit and very dangerous abortion business, an arrest warrant was issued for Rossman on multiple counts of illegal abortion. If convicted, Rossman faced up to ten years in prison.
At the same time, the Georgia State Board of Medical Examiners correctly determined that he posed a "threat to the public health, safety and welfare" and summarily suspended Rossman's medical license.
Those two actions caused Rossman to dismantle his abortion business and flee the country. He was already gone by the time police attempted to execute the warrant.
During his eleven years as a fugitive from the law, Rossman evaded capture by fleeing from one European country to another.
Interpol finally located Rossman last year in Germany and apprehended him. He was extradited to the U.S. and arrived back in Georgia on January 10 to face three counts of criminal abortion, four drug charges, and a Federal charge of Unlawful Flight to Avoid Prosecution. He is currently being held in Lowndes County Jail without bail.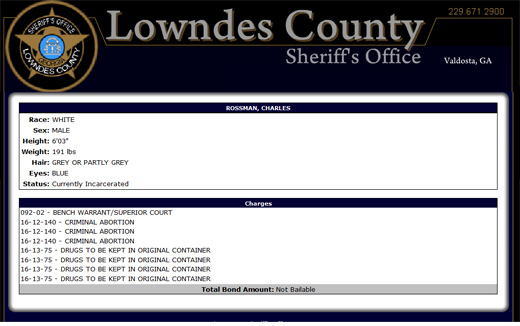 "Rossman is yet another example how abortionists often operate without any concern whatsoever for the law or the lives of women they routinely exploit," said Troy Newman, President of Operation Rescue. "Last year, the murder trial of illegal abortionist Kermit Gosnell raised the question of whether Gosnell was an outlier. The Rossman arrest is yet another example of how illegal and dangerous practices pervade the abortion cartel in this country. The worrisome fact is that Rossman and Gosnell are not alone."
Operation Rescue is currently seeking justice in dozens of cases around the country where there have been documented incidents of illegal abortions, violations of the standard of care, and other abortion abuses. While these cases slowly weave their ways through the system, the abortionists in question continue to endanger lives.
"Enforcement has always been the weak link when it comes to abortion laws," said Newman. "But Rossman's apprehension shows that when authorities are motivated, dangerous abortionists can be apprehended and prosecuted, even if it takes years. There is an object lesson in this for abortionists all over the country who are breaking the law."
Operation Rescue plans to closely monitor Rossman's criminal prosecution.
"After all these years, it's time for Rossman to finally be held accountable for is despicable criminal conduct," said Newman.
[HT:Saynsumthn's Blog]