A Special Report from Operation Rescue
By Cheryl Sullenger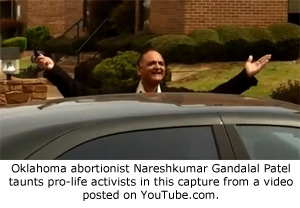 Oklahoma City, OK – Millionaire Oklahoma abortionist Nareshkumar Gandalal "Naresh" Patel, who once faced charges of raping and sodomizing his abortion patients, is once again under investigation after Operation Rescue filed a five-count complaint against him with the State Attorney General's office, the Oklahoma Health Department, and the Oklahoma Medical Board.
The complaints were based on documents and medical waste that had been discarded in a publicly-accessible trash receptacle near Patel's Outpatient Services for Women abortion clinic in Oklahoma City. The material was received by Operation Rescue from an anonymous source on March 18, 2013.
Allegations include:
1. Record-keeping violations and improper disposal of confidential information.
2. Mandatory reporting violations.
3. Improper disposal of medical waste.
4. Failure to protect and properly dispose of employment applications.
5. Failure to observe 24-hour voluntary and informed consent.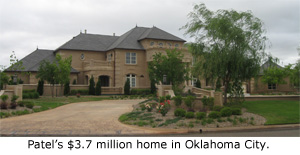 Patel is an abortionist with a long and particularly horrific history of Medical Board disciplinary actions, malpractice claims, and criminal cases. Nevertheless, financial documents found amid the medical records and waste indicate that Patel owns $39.4 million in real estate. His personal income exceeds $1.4 million annually. His net worth is listed at $28 million.
"It's appalling that Patel has lined his pockets by taking innocent life while flouting the law and cutting corners on women's health," said Newman. "Frankly, it's despicable."
Board discipline
In 1990, Patel was disciplined by the Oklahoma Medical Board for Unprofessional Conduct for "failing to maintain dispensing records for dangerous drugs and keep complete and accurate records of purchase and dispensing of controlled drugs."
Records show he was also disciplined for botching an abortion in 1989. Medical Board documents state that Patel "did perform a surgical procedure on patient E.S.B., and said procedure was performed in an unprofessional manner and unprofessional setting."
Unfortunately, Patel appealed to the Oklahoma Supreme Court, which struck the botched abortion charge from Patel's record, allowing only the charge of failing to maintain proper drug records to stand.
In 1992, the State of Ohio issued a reprimand of Patel based on Oklahoma's actions.
History of dumping aborted baby remains
In 1993, Patel admitted that he dumped the remains of nearly 60 babies that had been aborted at his clinic in a field near Shawnee, Oklahoma, and had attempted to burn them but only the plastic bags around the remains caught on fire. The bodies were discovered by two passers-by. Patel's excuse that he could not find a service to take away the remains lacked credibility. Because at that time there were no laws in Oklahoma regarding the disposal of aborted baby remains, Patel was never charged.


Rape and sodomy charges
In 1993, Patel was charged with one count of "forcible oral sodomy" and one count of sexual battery after a patient alleged that he had sexually assaulted her on an examination table prior to an abortion. She then recorded two phone conversations with him in which she alleged that he asked if she was angry about the assault and apologized for it.
Three victims came forward and told of their encounters with Patel.
First patient's testimony
The first victim described how after her abortion, Patel came to the recovery room where she was recuperating. She alleged that "he then started using his penis to rub my hand." She moved her hand away but told Patel she was cold, so he had her moved to a chair in his office where she dozed.
"When I woke up, I felt like two hands in my mouth trying to open it wide. Then I felt another sensation in my mouth," she said.
When asked what was causing the sensation in her mouth she replied, "Dr. Patel's penis."
When she turned her face away, the victim, "saw him discharge some white substance coming out. And he rushed to the bathroom."
Second patient's testimony

The second women to come forward alleged that after she was drugged, she was taken to an examination room and put on a table. She said she heard him unzip his pants and saw him pull them down.
"I felt Dr. Patel enter my rectum with his penis," she said in response to questioning. She indicated that when he finished sodomizing her, he completed her abortion. When she began to come to afterwards, she told the court, "His penis was in my mouth."
Once fully awake from the sedation, the victim said she was in "severe pain" and bleeding heavily. It was later that she discovered, "I had a tampon in my vagina, and I had a tampon in my rectum."
Third patient's testimony
The third patient to make allegations came forward after hearing news reports about Patel and allegations of sexual abuse made by another woman. She noted that she was injected with an unknown drug, after which claimed Paten began to fondle her breasts. While on the examination table, she said, "I heard the zipper of his pants, and he started moving back and forth. And I felt the pressure inside of me." In response to questioning she indicated that the sensation was in her vagina.
After having his way with her, Patel allegedly called a nurse into the room and completed an abortion on the woman.
Patel was somehow acquitted by the jury that heard this graphic testimony.
"Again and again, Patel has slipped away without consequences. If he really did what the women say, it is an atrocity that he got away with it. What is more disturbing is that Patel continues to be in a position where further abuse of this nature can occur," said Newman. "People who are sexual deviants just don't change overnight."
But that was far from then end of allegations against Patel.
Employee obtains protective order
In 2003, one of his employees sought and received a protective order after she told the court that Patel became angry over a difficult patient took it out on her. She said Patel "pushed me hard" in front of patients and other employees. Upset, she took refuge in the women's restroom until Patel allegedly burst in without knocking. According to court records, she said she felt "harassed" and told Patel she did not want to work at his clinic anymore.
Malpractice
Patel has also escaped relatively unscathed from a long list of malpractice cases filed over the years he has been in practice.
A judge ordered Patel to pay $240,000 in damages to a 15-year-old girl left permanently injured following an attempted abortion in June 1989.
According to a news article published in April, 1992:
The medical assistant who witnessed the 1989 abortion attempt on the 15-year-old girl, described how she saw Patel "pull out some tissue and take it in his hands. " Then the woman testified she heard Patel say, "'That's her small intestine,' and he put it all inside … " The doctor then told his assistant to call an ambulance and the girl was rushed to Oklahoma Memorial Hospital. She later underwent emergency surgery for a perforated uterus, where a male fetus was found floating in blood inside her abdominal cavity.
In another malpractice suit, one patient alleged that Patel ignored her medical history of having a previous Cesarean Section delivery and went ahead with a second trimester abortion, during which he seriously injured her. While she lay bleeding profusely, Patel delayed calling for emergency help until one of the patient's friends intervened and insisted that he do so. She was forced to undergo emergency surgery to save her life. That case was dismissed by the court.
Another malpractice case was filed by a patient who underwent an abortion by Patel only to find out later she was 20 weeks pregnant. That suit was also dismissed.
Agreement with University of Oklahoma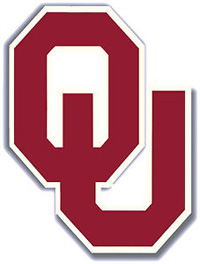 Despite Patel's frightful history, the University of Oklahoma entered into an agreement with Patel and Outpatient Services for Women abortion clinic on February 5, 2013, to provide training services to UO students.
In fact, so cozy is the relationship between Patel and OU that Don H. Garret, M.D., President of the University of Oklahoma School of Medicine, personally invited Patel to attend the Alumni Association's Annual Awards Dinner, which was held last May.
"In light of the new investigation into Patel's abortion operation, we call on the University of Oklahoma to end their agreement with Patel and any other abortionists with which it might be affiliated," said Newman. "The last thing we need is medical school students being trained by an apparent quack like Patel."
Privacy rights trashed
After analyzing the material from Patel's abortion clinic trash receptacle, Operation Rescue determined that violations had occurred and filed the appropriate complaints.
Operation Rescue submitted copies of dozens of documents from Patel and Outpatient Services for Women that included original patient consent forms, signed procedure logs, appointment calendars, financial information, and competed abortion forms, all containing patient names, contact information, and other identifying data.
"Abortion clinics claim to be concerned about patient privacy, yet we have found that abortion clinics are among the most negligent when it comes to disposing of detailed patient information," said Troy Newman, president of Operation Rescue. "Women who get abortions should pretty much expect their contact information, medical records, and financial information to end up where it can be easily accessed by the public, thanks to shoddy abortion clinic practices."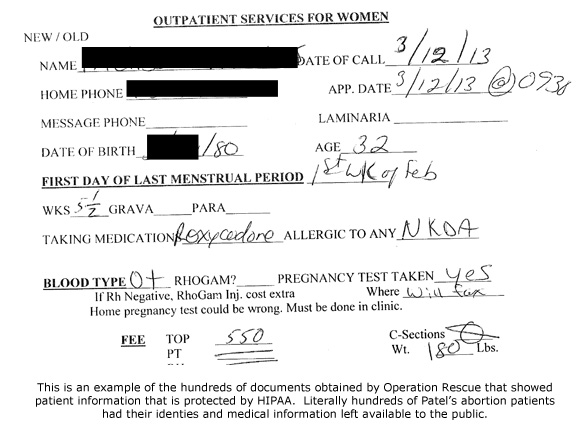 Failure to report
Also discovered among the cache of documents received by Operation Rescue were numerous original Individual Abortion Forms. Oklahoma requires that abortion clinics report each abortion that is done. The presence of the completed forms in the trash indicate that these abortions may not have been reported and that further investigation is required.
Failing to report abortions within 30 days of the abortion is a crime in Oklahoma punishable with a $500 fine per report.
Bloody refuse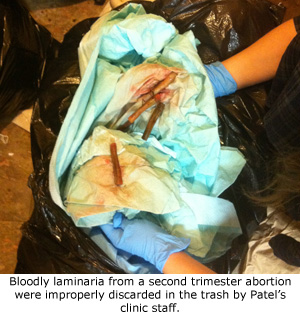 Operation Rescue submitted photos to the authorities that showed several large bloody sticks of laminaria dilators that had been improperly discarded along with other bloody refuse from what appeared to be a second trimester abortion. Also discarded with the bloody trash was a blood-stained broken tenaculum, which is a scissor-like grasping instrument.
The discarded laminaria and broken tenaculum both fall within Oklahoma Administrative Code 252:515-23 that prohibits "the improper disposal of regulated medical waste, including untreated sharps and items contaminated with blood or other human body fluids."
Sensitive employment information
Operation Rescue also found two employment applications that had been recently submitted. The applications contained sensitive private information about job applicants including the height, weight, and date of birth for one individual.
Both state and federal laws and administrative code require certain minimum retention schedules and disposal protocols for employment records, none of which were observed by Patel or his clinic staff.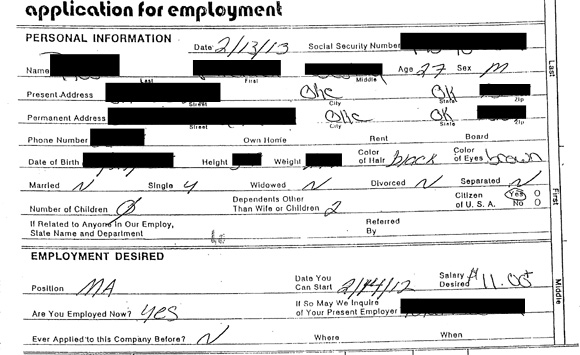 24-hour informed consent violations
Perhaps the most serious of allegations brought by Operation Rescue is that Patel's staff failed to observe the 24-hour voluntary and informed consent laws.
One of Operation Rescue's investigators place a call to Patel's Outpatient Services for Women posing as a woman seeking an abortion. The receptionist at the abortion clinic gave the caller a faulty web address for the "Women's Right to Know" website. The caller was told to read the website then call back for an appointment. About 30 minutes later, Operation Rescue's investigator called Patel's abortion clinic back and scheduled an appointment for a 17-week abortion on the following day.
The caller was not given the name of the physician who would perform the abortion, the medical risks associated with the second-trimester procedure, or other information required by Oklahoma Statute 63 § 1-738.2, nor was the information provided during a consultation in with the Operation Rescue investigator was able to ask questions of the physician.
However, the caller was given detailed information about the clinics limited payment options. This included an emphasis on the fact that the fee for a 17-week abortion started at $1,450, but would likely cost more, and that there would be a 4% surcharge if a credit card was used instead of cash.
Failure to comply with the provisions of the 24-hour informed consent law are serious and are subject to civil contempt, hefty fines, and the suspension or revocation of their medical license.
OR calls for license revocation and clinic closure
"While certainly the results of our investigation don't compare in severity to the rape and sodomy charges he has faced in the past, they do show that in spite of all the legal problems Patel has been through over the years, he still displays a pattern of disregard for the law and a lack of respect for the rights of his patients," said Newman.
Operation Rescue received notification earlier this week that an investigation has been initiated into the allegations.
"We hope that Patel's medical license will be revoked and his clinic permanently closed. If nothing else, the public should be aware of Patel sordid past and proclivity to ignore the law. We hope that by filing these complaints and making his record known that women will be spared the trauma and tragedy experienced by so many of Patel's patients," said Newman.
Read Operation Rescue's letter of complaint